Olivia achieves two year qualification in just 12 months!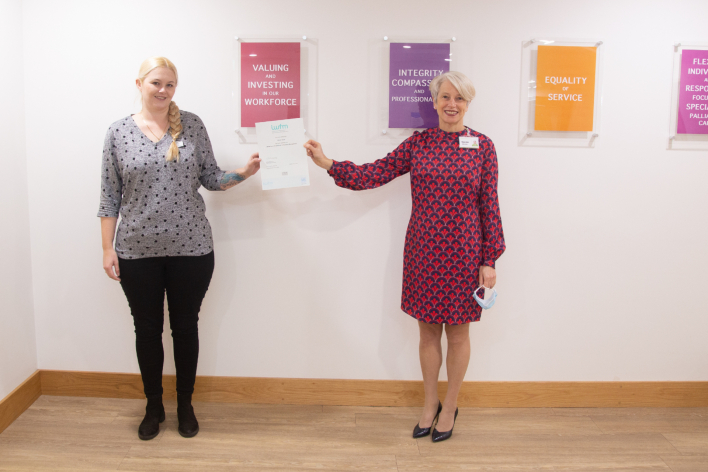 Congratulations were in order for Olivia Scott, Administrator for our Inpatient Unit and the Facilities team, who recently passed a level 3 certificate in Facilities Management with the Institute of Workplace and Facilities Management (IWFM). This is a double celebration as, as she was motivated to study one day a week in her own time, she was able to achieve this two year qualification in only 12 months.
Oliva explains:
"Firstly, I am very grateful for Arthur Rank Hospice Charity allowing me the chance to progress my skills and partake in the IWFM Facilities Management course, which I decided to start in 2020 with the encouragement and support of my colleagues Lynne Hays, Finance Manager and Luke Connor, Estates, Facilities, and Hospitality Manager at the time.
I have gained so much knowledge and have a better understanding of what is involved in Facilities Management; the importance of ensuring legal and regulatory compliance, maintaining business continuity and the different methods for the procurement of facilities supplies and services, to mention just a few.
The six online modules studied included:
Introduction to facilities management
Corporate social responsibility and sustainability in facilities management
Customer and stakeholder relations in facilities management
Specification and procurement of facilities supplies and services.
Health and safety responsibilities in facilities management
Building maintenance in facilities management
Since completing the course in June and with a year to spare, I have gained more confidence in my role and have begun putting my new gained knowledge and skills into practice."
Our CEO, Sharon Allen, OBE added:
"I was so proud to present Olivia with her certificate, to recognise her achievement with this qualification. Supporting the ongoing learning and development of colleagues is an important part of our approach, implementing our value of investing our workforce. Olivia's comment about her increased confidence and putting her knowledge and skills into practice is what it's all about – bravo Olivia!"
Our Charity places a high importance in the investment of the people who work and volunteer for us. We strive to embed equality, diversity and inclusion across the Charity to ensure we provide inclusive and accessible services and create a diverse and inclusive workplace, and our Widening Access Group (WAG) was set up to support this.
Our excellent staff survey results helped us to achieve gold accreditation in the Best Employers (Eastern region) both in 2019 and again in 2021.
Our Cambridge Hospice and our Alan Hudson Day Treatment Centre have both received an 'Outstanding' CQC rating in their most recent inspections.
In 2019 Arthur Rank Hospice Charity was certified as a Disability Confident Committed Employer and we have pledged to change the way we think and act about mental health at work with Time to Change and Time to Talk initiatives.
In March 2021 the Charity joined the Employers' Initiative on Domestic Abuse (EIDA).
If you would like to work for Arthur Rank Hospice Charity, we would love to hear from you. You can find out more about our current vacancies here: https://careers.arhc.org.uk/?_ga=2.2410873.810595849.1638961325-561598332.1622203979#Vacancies