Lymphoedema Service
Treatment and education for patients with primary or secondary lymphoedema with emphasis on best management and encouraging the patient to take on-going control of their condition.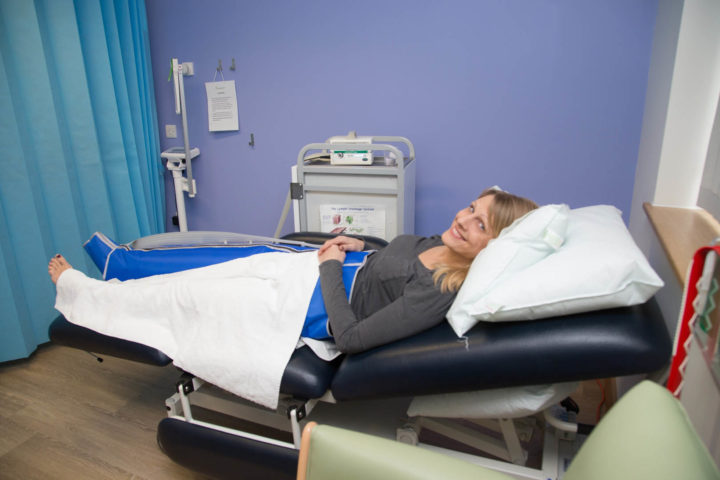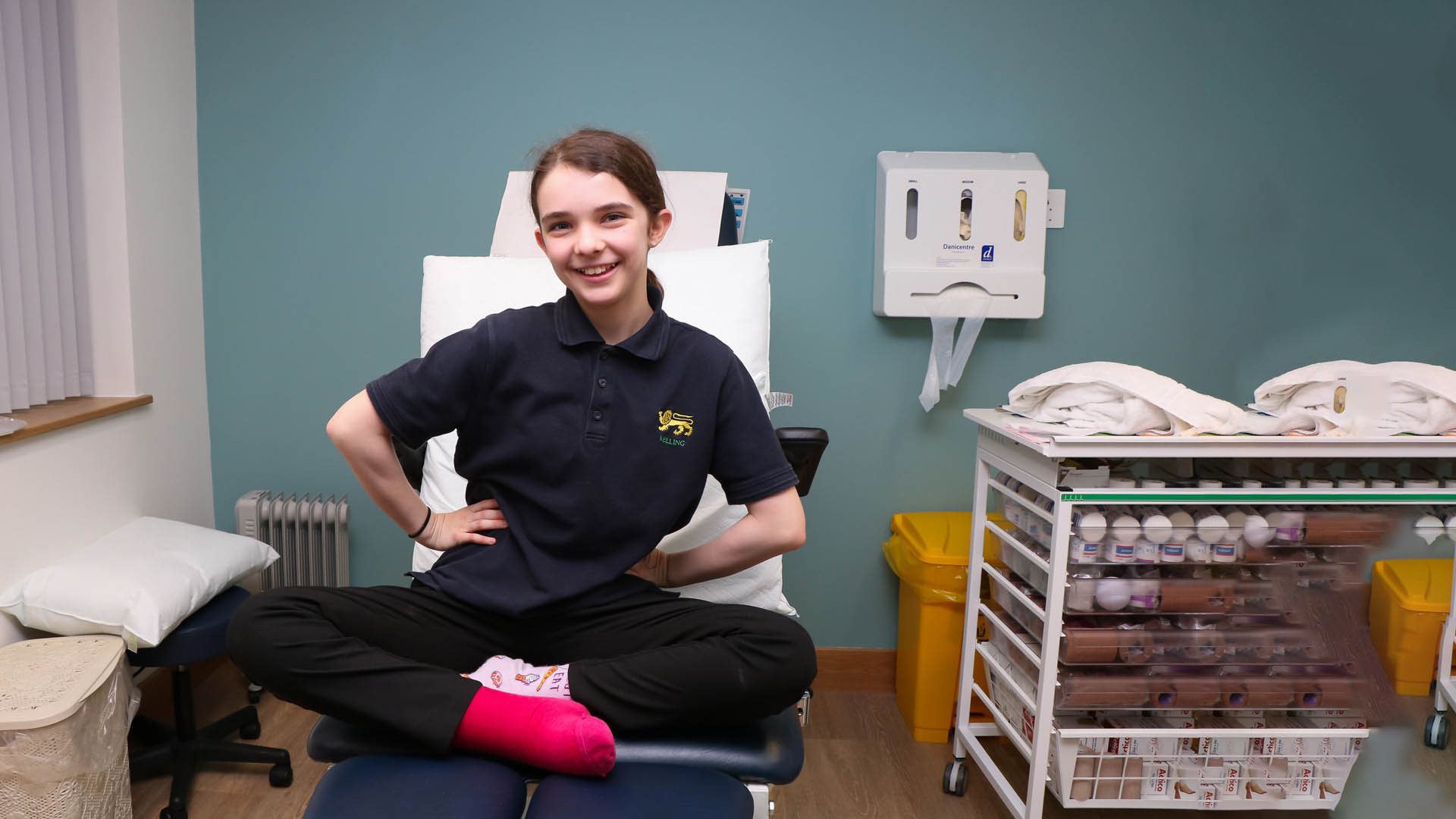 Chronic long term swelling 
Between 80,000 and 124,000 people in the UK are affected by the chronic long term swelling which occurs when the lymphatic system fails either due to a genetic fault (primary lymphoedema) or through damage following infection, severe injury, deep vein thrombosis or treatment such as radiotherapy or surgery for cancer (secondary lymphoedema). Secondary lymphoedema can also occur when blood vessels are not working properly or where a patient has reduced movement, paralysis or muscle weakness.  
Lipoedema is a chronic condition that makes fat accumulate below the waist, often giving you hips, buttocks and legs that are out of proportion with the upper body. The team can provide an initial assessment and education, in these cases, so patients can be quickly discharged to self-manage their condition.  Find out more at Lipoedema UK's website
Lymphoedema is a condition which cannot be cured, but with appropriate treatment it can be controlled and often significantly improved. 
Initial assessment 
Before any treatment can take place, the lymphoedema team will give you an initial assessment lasting 60-90 minutes.  They will diagnose your condition, after a thorough assessment including a physical examination and a review of your full medical history.  They will then explain the most likely cause of your swelling. Treatment options will then be discussed.  
Everyone who lives with lymphoedema is different and treatment will be unique to each individual. Emphasis is on education and self-management once you have been given the tools to manage your condition.  
Treatment
 and enabling
 self-management 
Management may include compression hosiery, exercise, self-lymphatic drainage, skin care, kinesio tape, low level light therapy or the use of a compression pump. All management programmes are tailored to the individual, it may not be appropriate to offer you all of these interventions. 
Some patients require an initial two to three week programme, of short stretch bandaging or compression wraps and manual lymphatic drainage (specialist massage). 
Patients with cellulitis are more at risk of developing infections (cellulitis) of their affected limb, guidance on cellulitis can be found at lymphoedema.org 
Our clinical specialists have recently updated their Manual Lymphatic Drainage (MLD) Training and now practise Fluroscopy Guided MLD. This is a form of specialist massage; however, we are only able to offer this to patients with truncal oedema, not limb oedema alone. 
Once a patient's lymphoedema is managed and stable they are discharged to self-manage in the community. Advice and supporting literature are provided, together with guidance about how to manage the condition and avoid the risk of infection.  
Education sessions for healthcare professionals 
Our clinical specialists provide education sessions on lymphoedema management for GPs, nurses, care home staff, doctors, medical students and other healthcare professionals.  
They also work closely with oncology teams at Addenbrooke's Hospital so that people can be referred to our clinic.   
Virtual and face to face support 
We are able to offer a mix of face-to-face, telephone and virtual appointments within our service. 
Thanks to you, I now know how to live with my condition - which by the way I'd never heard of until my doctor diagnosed it. Thank goodness we have the Lymphoedema Clinic in Cambridge as some areas do not. You were so helpful, friendly and patient, nothing was too much trouble.

Lymphoedema Patient
FAQ's
How many people are cared for by the Lymphoedema team?
The team saw 577 people between April 2021 and March 2022.
Do I need to wear a mask to my appointment?
We are able to offer a mix of face to face, telephone and virtual appointments.  If you are visiting the Hospice you are not required to wear a mask unless you have an illness which means you are immunocompromised but of course you are welcome to do so if you wish. 
Where can I find out more about Lymphoedema?
How can I get more compression hosiery?
Whilst under the care of the lymphoedema service, your hosiery will be provided via the lymphoedema team (2 sets every 6- months).
On discharge, a company called Patient Choice is used to obtain your ongoing hosiery- don't worry about this, the team will clearly explain this to you once the time comes. 
What should I do if I cannot make my appointment?
You will receive a text reminder 5 working days before your appointment (if you have consented to text reminders).   
If you are unable to attend this appointment, please let us know by calling 01223 675765.  Where possible it would be appreciated if you could contact us in advance, as there is often a waiting list and another patient will be able to use the appointment
Where is the Lymphoedema Clinic based?
It is an outpatient clinic situated in the Bradbury Wellness Centre, which is on the first floor of our Hospice based in Shelford Bottom.  
We encourage patients to organise their own transport.  If you require hospital transport, you will need to arrange this yourself via 03456038117 (if hospital transport). Or there may be community transport in your area.  
 Currently, the team is supporting patients remotely, further to the latest government guidance on the coronavirus pandemic.   
Am I eligible to receive services and how can I be referred? 
Our Lymphoedema service provides care and treatment to patients whose GP is based in the following areas: Cambridge City, Cambridge South, East Cambs (including Burwell, Cathedral, Haddenham, Priors Field, St George's, St Mary's and Staploe) Royston under the Cambridge catchment (Barley, Roysia, Royston Health Centre  and Orchard). 
Any healthcare professional can refer you, provided you give them permission. We do not accept self-referrals, so please speak to your GP.   For further information, please visit How and when to make a referral or call the team on 01223 675765.
Referrals will come into our central referral's office. These will then be triaged by a senior lymphoedema clinician and placed on a waiting list according to urgency. You will subsequently be informed via letter as to when your appointment will take place. Once again please call 01223 675765 if this isn't convenient. 
Are your services really free of charge? 
What should I do with my old compression hosiery?
All our returned/old hosiery from our Lymphoedema patients is sent for rags via our Retail Team which also raises funds for our charity. To support our Green Strategy and initiatives we encourage our Lymphoedema patients to hand in unwanted hosiery to the Hospice or direct to any of   our shops or retail hub
What are your green/environmental practices at the Charity?