Lead On (Dog Walking Challenge!)
Join other dog lovers and get your four legged friend sponsored to walk 90km in the month of September!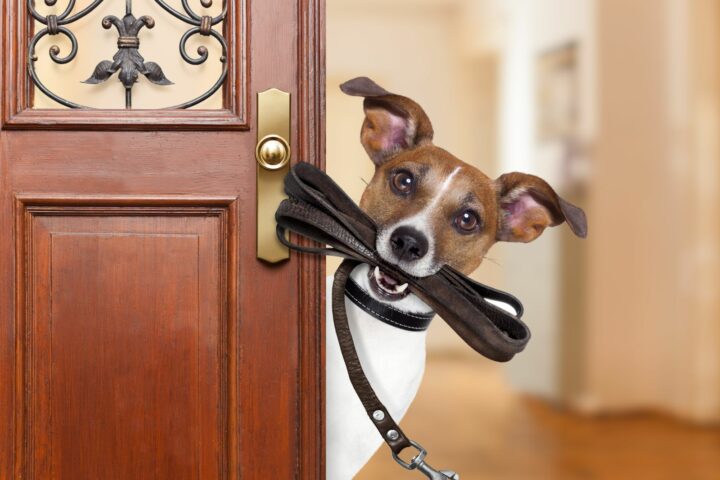 We are inviting you and your four legged friend to walk 90km (3 kilometres) during September 2023
You have from 1 – 30 September 2023, to see how far you can travel and how much you can raise to support people in Cambridgeshire living with an advanced serious illness or other life-limiting condition.
Any location 
You (and your dog) can complete your walks in any location, so whether you are local to Cambridgeshire or you take your dog on holiday with you, you can still take part. (In fact we'd love to hear about all the different locations where the dogs are taking part). 
Open to all ages 
Supporters of all ages are welcome to take part in this challenge as long as they are supervised by an adult and they have (or can borrow) a dog! 
Why sign up? 
Free dog bandana: As a token of our appreciation, every participant who signs up for the challenge will receive a dog bandana for their furry friend. This exclusive accessory will not only make your dog look adorable but also help spread awareness about the Hospice.
Promote mental and physical well-being: Walking your dog has several health benefits for both you and your four-legged companion. It also provides an opportunity to clear your mind, reduce stress, and boost your mood.
Exciting prizes: By securing over £25 in the sponsorship you'll automatically be entered into a prize draw for a chance to win an Animo Dog Tracker (worth £50) kindly donated by Sure Petcare
Connect with a community: Joining the challenge allows you to connect with fellow dog lovers and supporters of the Arthur Rank Hospice Charity. Share your progress, exchange tips, and support each other through our dedicated Facebook group. 
Support people in Cambridgeshire living with an advanced serious illness or other life-limiting condition: It will cost £12.12 million in 2023/2024 to run services, which are provided free of charge to patients and their loved ones. Services contracted by the NHS are budgeted at £7.33 million, meaning that £4.79 million needs to be raised through donations, fundraising activities and trading. The Charity is extremely grateful to the local community for the continual dedication, commitment and generosity they show in supporting towards meeting this target. 
4 easy steps 
1. Register – Once you have signed up you will receive a fundraising information pack and the link to your Enthuse sponsorship page, an invitation to join a community group on Facebook where pictures of dogs on their walks/tips/updates can be shared. Look out for your free treats, kindly donated by Grumpy's pet shop.
2. Join our Facebook Group to share photos and link with other challengers (optional)
3.  Personalise and share your dog's fundraising page 
4. Start walking! 
So, grab your lead, and be a part in Lead On for Arthur Rank Hospice Charity. Together, let's make September a month to remember, while having a tail-wagging good time!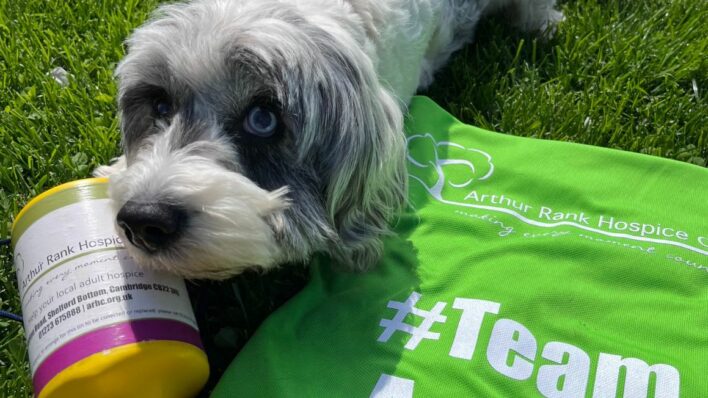 Contact details
To find out more about Lead On or other Community Fundraisers please contact Sarah or Vic on cf@arhc.org.uk or call 01223 675888
FAQ
What is the challenge?
Complete the distance of 90km (or your chosen distance) throughout September with your dog(s) whilst fundraising for Arthur Rank Hospice Charity to support people in Cambridgeshire living with an advanced serious illness or other life-limiting condition.
Do I have to do the 90km in one day?
No. The goal is to reach the 90km over the whole month of September. Complete it at your dogs own pace, achieving however much is possible on each day.
Do I have to stick to 90km?
Not at all! If this distance does not work for you and your furry friend, choose a distance that does, ensuring it is safe for you both.
How do I track my distance?
We will send you a personal tracker in the fundraising pack, where you can note your distance travelled each day. You can also download apps from the App or Google Play Store to help track distance during the walk. We recommend Strava.
How do I register for my fundraising pack?
Provided you have registered it will arrive in the post by the start of the challenge. If you haven't received it by 31 August please email cf@arhc.org.uk or telephone 01223 675888.
What sizes are the dog bandanas?
They are one size fits all!
Can I get more than one bandana?
Each pack comes with one bandana. If you have more than one dog, email us on cf@arhc.org.uk and we can arrange an extra one. We would ask a suggested donation of £5 for extra bandanas.