Care services
We support people in Cambridgeshire living with an advanced illness or other life-limiting condition and those who need end of life care.
Care is free of charge to patients and their families. For general enquiries, please call 01223 675777.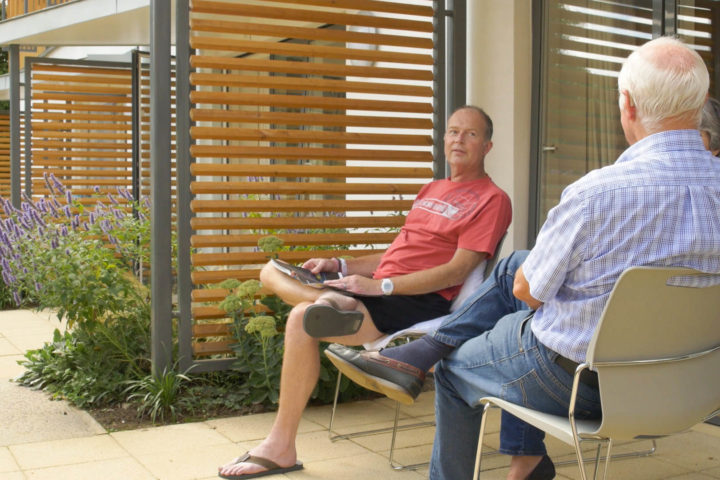 Making every moment count
"Each and every one of you, who were involved in the care of my mother you were amazing.
Words just don't cut it, but I wanted you all to know how grateful I am.
Every day when I left her I knew I was leaving her safe and in the most caring of hands."
March 2020 
FAQ's
Are your services really free of charge?
Thanks to the dedication, commitment and generosity of the local community and the hard work of our senior leadership team to secure vital contracts with the NHS, all our services are free of charge.     
It will cost £10.5 million this financial year to operate our services. We have currently secured £6.98 million from the NHS. meaning that £3.52 million needs to be raised through donations, fundraising activities and trading.  
We are extremely grateful to our local community for the continual dedication, commitment and generosity they show in supporting us to meet this target.
How do you link in with the NHS?
We have several contracts which are arranged on a case by case basis with the NHS.  This means they pay us to provide a set amount of care within our specialist services for the Inpatient Unit, within the community and through our Hospice at Home provision.    
In addition, due to the current pandemic many plans have been fast-tracked and our expertise is also being channelled into providing much-needed support to care homes and manning specialist call-line services.  
Am I eligible to receive services and how can I be referred?
Each service has a different set of eligibility criteria, depending on your conditions, symptoms, the complexity of your condition and where your Doctor's surgery is based. To find out about each specific service please click here to visit our referral page. 
I've never been to a Hospice before, what's it like?
Everyone who visits us at the Hospice comments about what a bright and friendly place it is: "a home from home". 
Patients and their families comment on the pleasant environment and how safe they feel.
You can hear the trees and the birds from our lovely sunny Bistro and enjoy the smells of the flowering gardens.  Many find that it is quite the opposite of what they had imagined.
Once the lock-down period has ended, we hope to bring back our quarterly Hospice Open Days (with appropriate social distancing measures in place of course) and then you can come and see what its like for yourself.