Care services
We support people in Cambridgeshire living with an advanced illness or other life-limiting condition and those who need end of life care.
Care is free of charge to patients and their families. For general enquiries, please call * 01223 675777.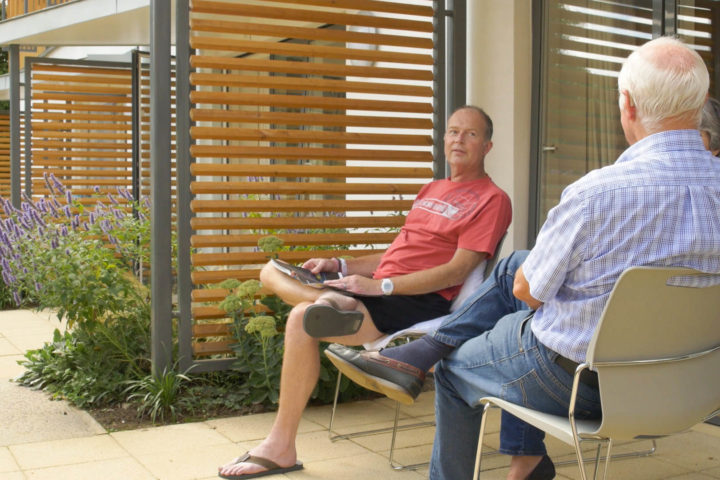 Making every moment count
"Every single member of your team from the Bistro to the nursing staff were an  absolute pleasure to deal with. Not only did you look after our Mum but you ensured that we were looked after as well.
I know her first week was very special in that she got to enjoy the bird tables and the occasional squirrel and she was very peaceful in her last week. Thank you so much to each and every one of you for making this devastating time more bearable."
September 2021
FAQ's
Am I eligible to receive services and how can I be referred?
Each service has a different set of eligibility criteria, depending on your conditions, symptoms, the complexity of your condition and where your Doctor's surgery is based. To find out about each specific service please visit How and when to seek a referral
How do you link in with the NHS?
We have several contracts which are arranged on a case by case basis with the NHS.  This means they pay us to provide a set amount of care within our specialist services for the Inpatient Unit, within the community and through our Hospice at Home provision.    
I've never been to a Hospice before, what's it like?
Everyone who visits us at the Hospice comments about what a bright and friendly place it is: "a home from home". 
Patients and their families comment on the pleasant environment and how safe they feel.
You can hear the trees and the birds from our lovely sunny Bistro and enjoy the smells of the flowering gardens.  Many find that it is quite the opposite of what they had imagined.
If you would like, you can book to visit one of our quarterly Hospice Open Days, so you can come and see what it's like for yourself.  
What is ReSPECT?
ReSPECT stands for Recommended Summary Plan for Emergency Care and Treatment and is about thinking and planning for your care in advance.
Find out more on our ReSPECT page. 
Are your services really free of charge?
Thanks to the dedication, commitment and generosity of the local community and the hard work of our senior leadership team to secure vital contracts with the NHS, all our services are free of charge.     
It will cost £11.51 million this financial year to operate our services. Contracted services from the NHS are budgeted at £7.07 million,  meaning that £4.44 million needs to be raised through donations, fundraising activities and trading. 
We are extremely grateful to our local community for the continual dedication, commitment and generosity they show in supporting us to meet this target.
What are your green/environmental practices at the Charity?