Bridge the Gap
Thank you for joining us on this specially designed three-mile route where you got a close up view of the City, meandered through the beautifully manicured gardens of seven University Colleges, all whilst raising funds for Arthur Rank Hospice Charity and Romsey Mill.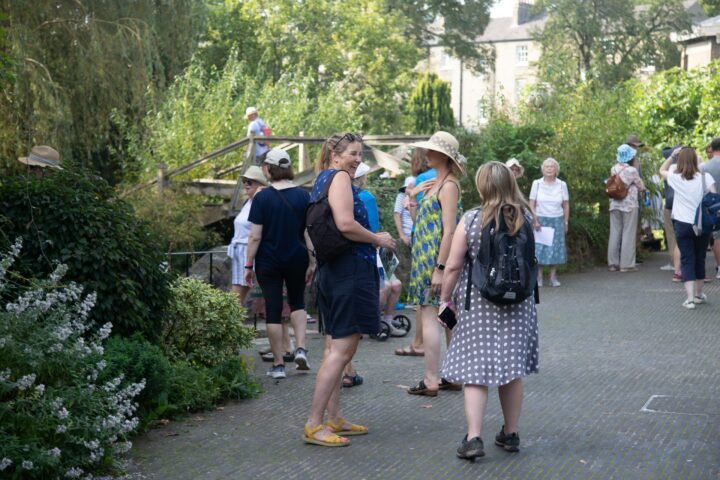 2023
Our Bridge the Gap Walk had it all this year – sunshine, beautiful locations and lots of amazing supporters!
The sun shone brightly and provided the perfect backdrop for our walkers to enjoy some of our beloved city's most famous landmarks.
This year's route took in six of the University of Cambridge's Colleges Downing, Darwin, Newnham, Selwyn, King's and Emmanuel; as well as Ridley Hall Theological College. Both Ridley Hall and Newnham College were featured on the Bridge the Gap route for the first time.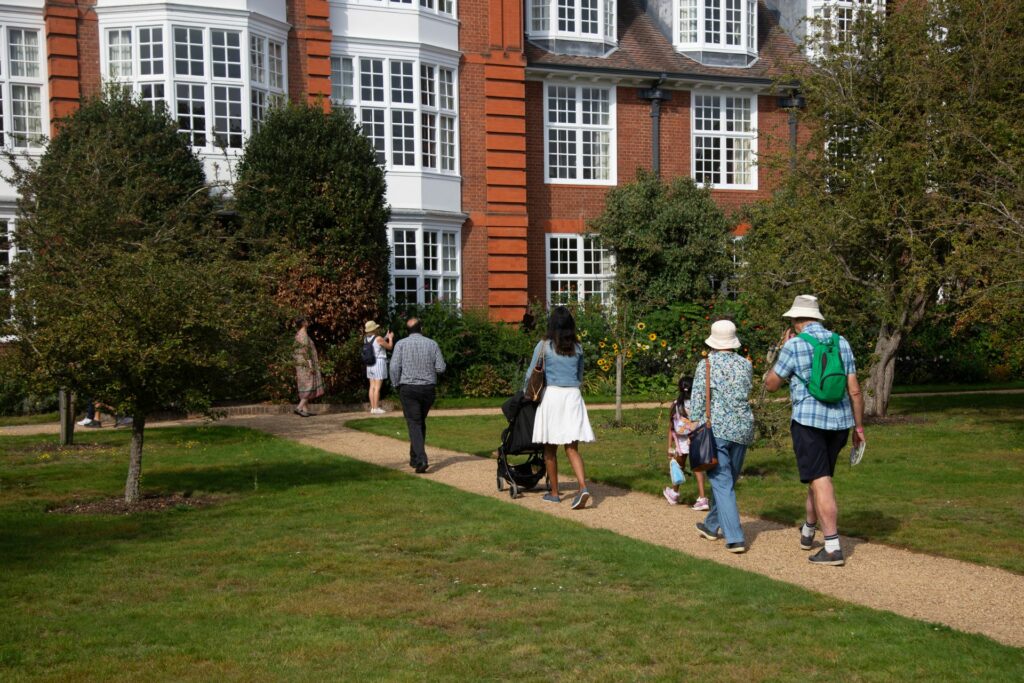 Thank you 
On behalf of Arthur Rank Hospice Charity and Romsey Mill a big THANK YOU to everyone who registered to take part in the walk and to all those who turned up today – there was a great atmosphere both on the route and on Parker's Piece largely down to our special community.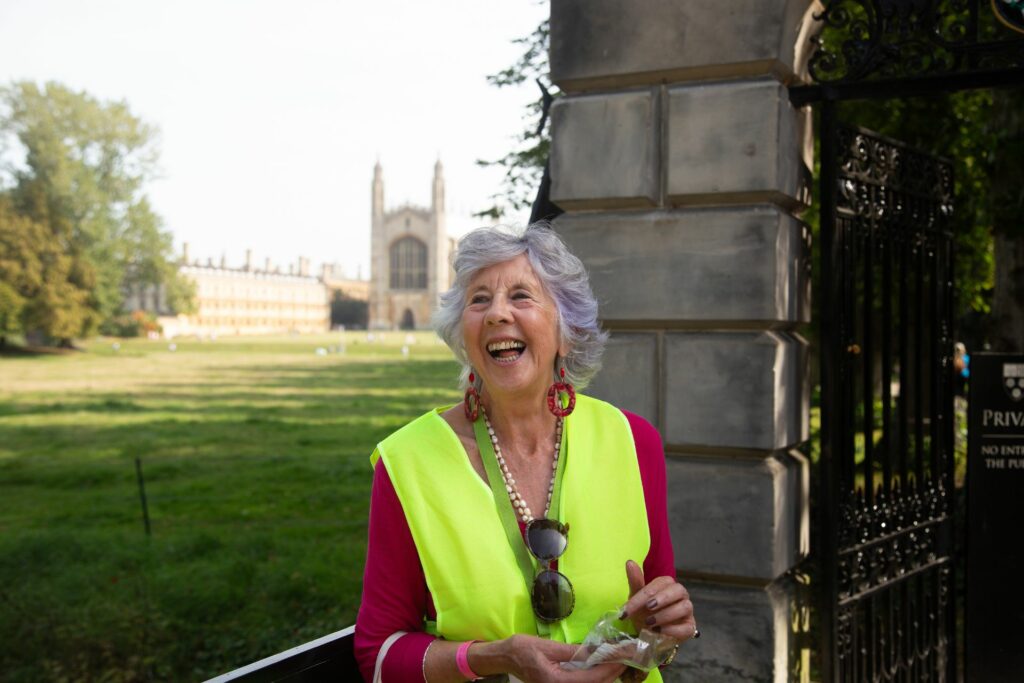 This walk would not be possible without our excellent marshals and volunteers who line the route pointing people in the right direction, including Co-op and Cambridge Building Society staff and, of course, our beautiful Cambridge Colleges who opened up their doors and welcomed our walkers.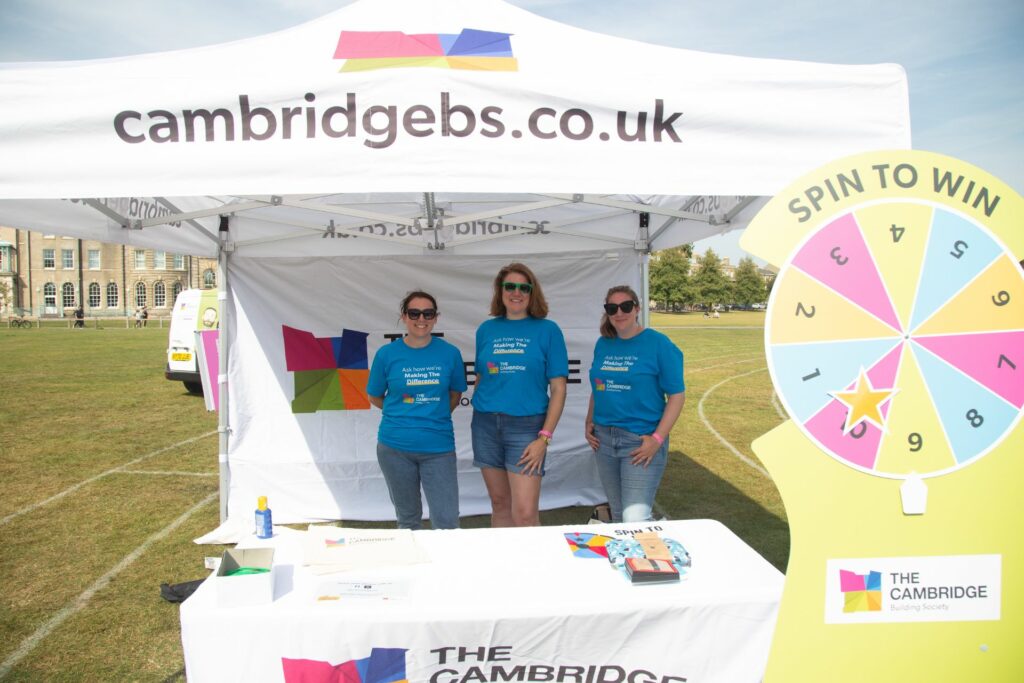 Thank you also goes to our sponsors: The Cambridge Building Society (and its army of walkers), Rotary Club of Cambridge, Cambridge University Press & Assessment, TTP PLC & The Co-op. Not forgetting our media partners, Cambridge Independent (look out for full coverage of the event in the paper) and Cambridge 105 for giving us some fantastic air time.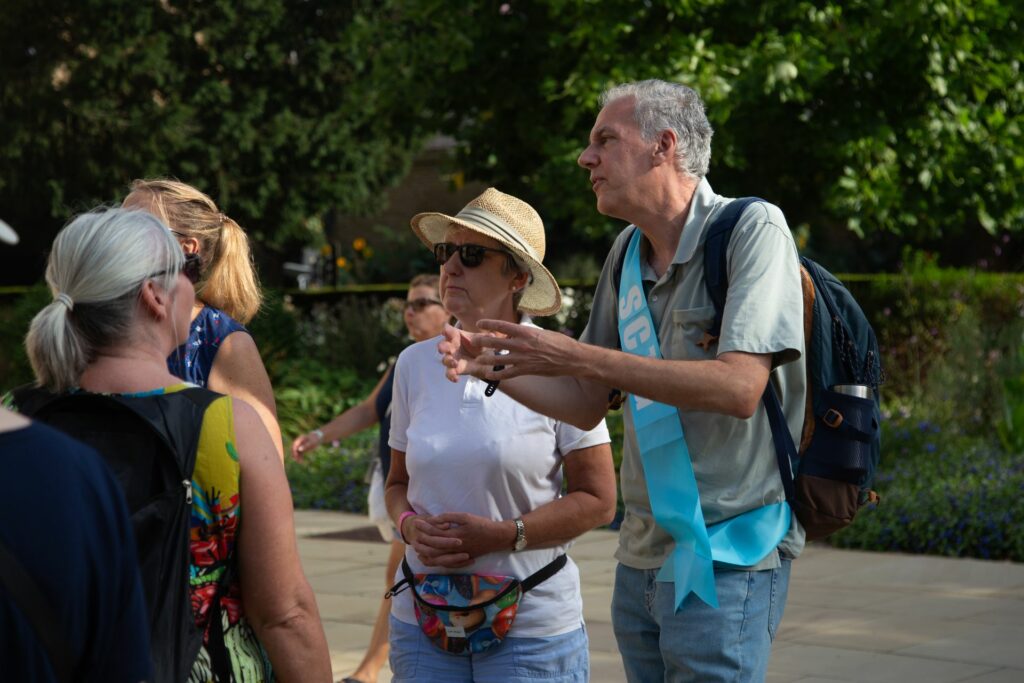 We'd also like to thank the Society of Cambridge Tour Guides for wowing our walkers with local facts and stories about Cambridge, to everyone who baked a cake for our ever so popular Cake Tent and to AristoCaters, VG Coffee (Trumpington, Cambridge), Papas Locas, and Cambridge Park and Rides for their help both before and on the day.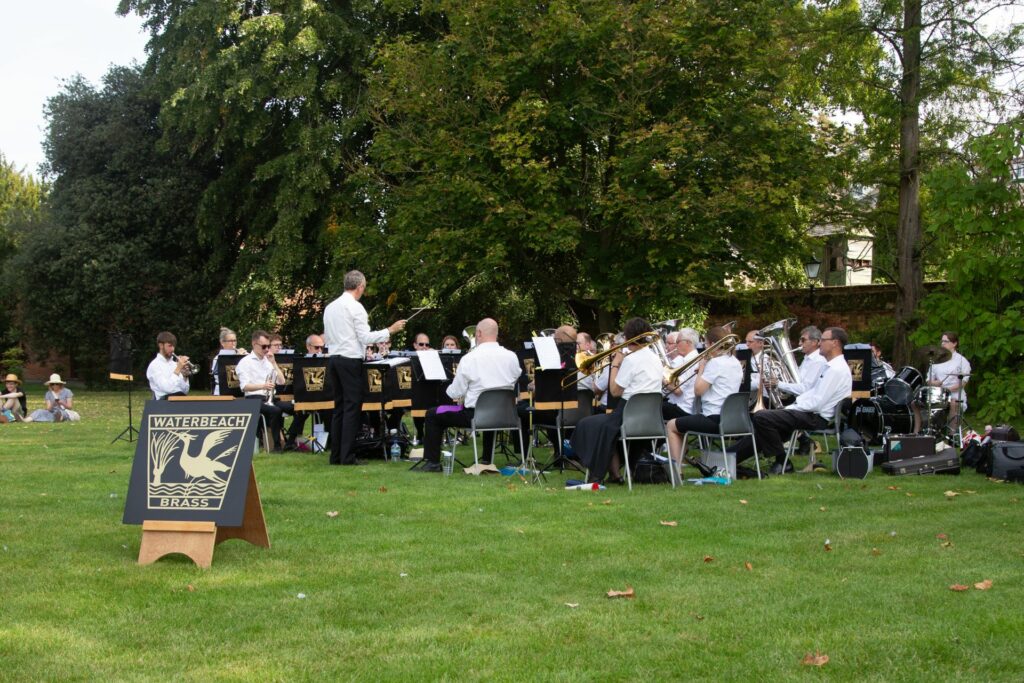 Our amazing entertainment en route included the City of Cambridge Brass Band, Waterbeach Brass Band, and The Blue Clovers.
Your Support
So far over £21,000 has been raised from registrations this year, with more than 1,350 walkers taking part. The total is expected to increase in the coming weeks once all donations and sponsorships have been included.
The two charity partners, Arthur Rank Hospice Charity and Romsey Mill, offer essential support and care to people throughout Cambridgeshire.
Sponsors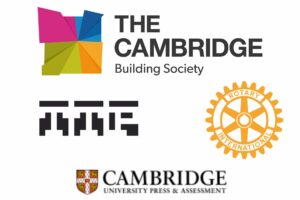 Thank you to Sponsors The Cambridge Building Society, which has been headline sponsor for the last 16 years, alongside TTP Group, Cambridge University Press and Assessment, and Cambridge City Rotary Club and to the Co-op, Cambridge Independent and Cambridge 105 Radio who were event partners.
Event Partners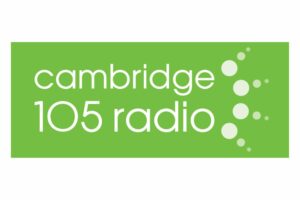 The History
Bridge the Gap event has taken place every year since 2001, welcoming more than 40,000 people who have helped to raise over £630,000 for local charities.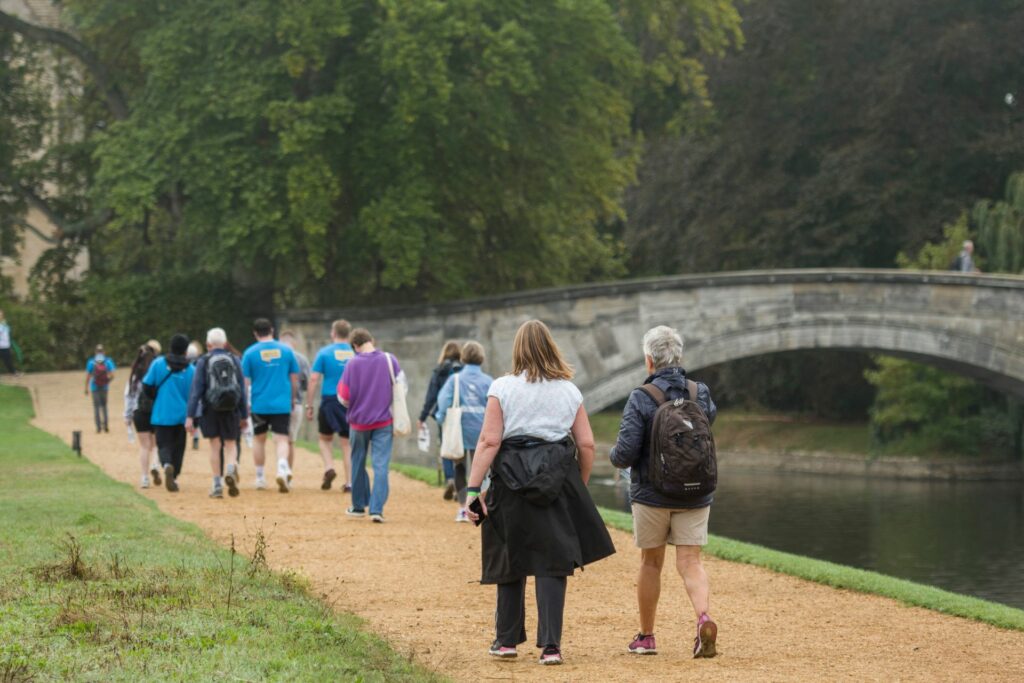 It's wonderful seeing parts of Cambridge you don't normally see - even as a resident

Bridge the Gap participant
FAQs
How long is the route and is it a race?
The route is around three miles, and is definitely not a race!
We invite you to take in the opportunity to visit different college grounds which are not always open to the public. It'll stay very central to the city, so it'll be easy to make use of local cafes along the way.
How much does it cost?
Early bird registrations are £16 per adult and are available to book until 23.59 on 5th July.
Standard registrations from 6th July are £20 per adult and are available to book until 23.59 on 6th September.
You can also register on the day for £22.50 per adult.
Up to three under 16s go free with every registered paying adult, but don't forget you can book a Treasure Hunt for them to enjoy for just £3 per child.
Can I bring my dog?
Due to the nature of the event, we can only welcome assistance dogs.
How does the event raise funds?
All the proceeds from the event are split equally between Arthur Rank Hospice Charity and Romsey Mill. 
We are so grateful for the support of everyone who takes part. Funds are raised through entry fees and generous donations made during registration. All participants have the option to get additional sponsorship to take part in the walk, using the online sponsorship platform Enthuse. If you would like further information or support on this please email the fundraising team fundraising@arhc.org.uk
Which colleges can I visit?
We're delighted to have the privilege of accessing seven beautiful and distinctive colleges: Downing, Darwin, Ridley, Newnham, Selwyn, Kings, and Emmanuel.
We are grateful to the Colleges and their teams of Porters for generously granting us access, and for their enthusiastic support of the event.
We've worked with these Colleges to create interesting and varied routes through them – please follow the directions of marshals and don't stray from the route or attempt to enter/exit at points other than those shown on the map.
What should I bring with me?
Please bring proof of your registration, either on a device or printed.
In our ongoing commitment to sustainability, we won't be offering water bottles this year. Please bring your own (filled) reusable water bottles. 
It's advisable to be prepared for hot weather (hats and suncream) and rain (raincoats and umbrellas) as we'll carry on, whatever the weather!
You might like to bring a picnic blanket to enjoy the entertainment on Parker's Piece more comfortably.
Where does my registration fee go?
The two charity partners, Arthur Rank Hospice Charity and Romsey Mill, offer essential support and care to people throughout Cambridgeshire.
Why should I Gift Aid my ticket?
Are you a UK taxpayer? Your donation can help us to raise even more vital funds for our services, at no extra cost to you. 
Please see more here: arhc.org.uk/donate/gift-aid-form/
How else can I get involved if I can't do the walk?
If you feel that you are unable to take part in the walk this year but still want to be there to show your support, you can put yourself forward as a volunteer by emailing fundraising@arhc.org.uk.
We need everything from marshals to cake bakers, registration helpers to refreshments servers. If you think you can help us, do reach out – we'd love to have you! 
How have you adapted to consider green issues at your events?
What time does it start and finish?
The first wave will set off at 9:30am, then 10:00am and the final one at 10:30am. You can take your time to look around the Colleges. Each College will close once the last participant passes through and the events on Parkers Piece will close at 2:00pm.