Bereavement Support
Offering support to the family and friends of patients who have been under the care of Arthur Rank Hospice or another Hospice in the UK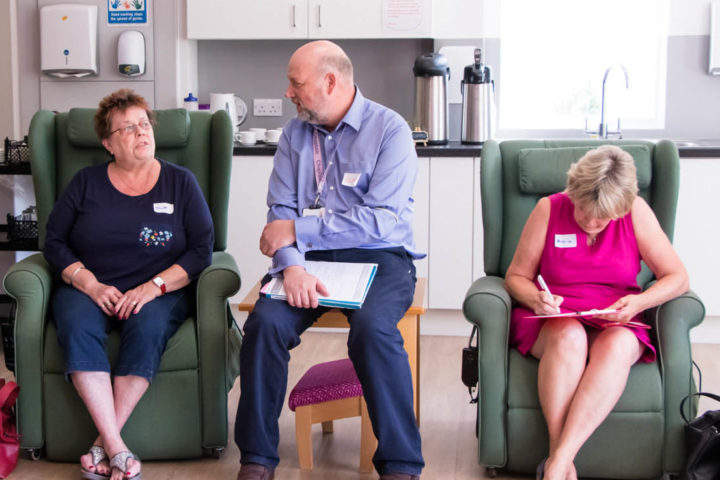 Grief and bereavement
At the time of bereavement, each of us will experience grief in our own individual way. Sometimes we manage with the support of family and friends. At other times we may find it helpful to talk with someone outside of that circle. If you would like bereavement support, you can self-refer (physical forms are also available to pick up at the Hospice in Shelford Bottom or the Alan Hudson Day Treatment Centre in Wisbech).  
For resources and support related during the pandemic please scroll to the bottom of this page.
Assessment
You first contact with the team will be for a Bereavement Assessment, with one of our clinical psychologists who will talk with you about how you are feeling and how we can help you. They will ask questions about you and your history in order to determine how we can help you best and if this is the most suitable place for you to be supported. This is also a time for you to ask us questions.  
These sessions can uncover difficult feelings, which you may not have felt able to express with family and friends.  The assessment session offers a safe space in which to explore some of these feelings and to balance them with more positive aspects of your memories and life.  We will aim to close the assessment at a balanced point.  However, the process can be tiring, and it may be helpful to plan your time after the assessment accordingly.   
W
hat
happens next 
For some, the one-off assessment session may be enough.  For others, it may be helpful to meet again, and we will discuss this with you during the assessment.   
If you would like further support following the assessment and our service can meet your needs, we will discuss how we might best support you.  We may arrange for you to meet with one of our Bereavement Support Volunteers or a Clinical Psychologist for a one-hour session once a fortnight (usually for up to six sessions).  During these sessions the aim is to support you through your grieving process.  
Alternatively – or as a next step – we may invite you to attend a bereavement support group.  It may take a few weeks after your assessment appointment for us to arrange your next appointment.   
If other services are better placed to support you, we will do everything we can to enable you to access those services and will discuss with you what we are able to do during the assessment.   
The impact of COVID-19
Usually all bereavement support including individual and group sessions are held at the Hospice.  However, due to the current situation with lock-down and the latest government guidance, this has had to be changed. 
A lot of one-to-one bereavement support has had to be moved to telephone and video-calls via a secure NHS system.  Bereavement Support group sessions have also moved to using video calls as well.   
As of November 2020, where appropriate and needed we have facilitated Bereavement Support Group sessions in the Hospice, which is COVID-secure, for a limited number of people. 
The Patient and Family Support Team in collaboration with the Education Team at the Hospice, have put together some tool-kits to help provide further guidance around the particular situation we now find ourselves in (please scroll down). 
I wanted to write and thank you so much for inviting me to attend your bereavement counselling. The six sessions have now been completed and I have also attended two of the monthly meetings. I am so grateful for all the help I am receiving [which has] helped me to understand so much more about the journey following my bereavement.

December 2019
FAQ
What kind of bereavement support do you offer?
We offer an initial assessment to explore how we can help you.  This will allow us to work out whether we are able to support you, or if another service might be better placed to do so.
Our programme of support includes one-to-one and group sessions, and we tailor a programme to suit each individual's needs. Where other services may be better placed to help you, we discuss this with you and will do everything we can to help you access these.  
When and where will sessions take place?
Before the coronavirus pandemic and lock-down, one-to-one sessions took place at the Hospice in the Bradbury Wellness Centre and group sessions were held in our Day Therapy lounge.    
However, due to the current situation, individual sessions have moved to telephone and video calls, as have group sessions. If you are referred to us, we will explain where we are up to with these plans and what would work for you, during your initial assessment.  
What do I do if I cannot attend an appointment?
If for any reason you cannot attend your appointment, please let us know as soon as possible by telephoning the Patient and Family Support team office on 01223 675770 and leave a message giving your name, telephone number, time of appointment and name of the person you were expecting to see.  
We will contact you as soon as we can to reschedule the appointment.  
Am I eligible to receive services and how can I be referred? 
Bereavement Support is available to the family, friends and loved ones of patients who receive care and support from our Inpatient Unit, Day Therapy and Community Teams. 
You can refer yourself: please download the bereavement self-referral form, fill it out and either post or send by email to nee.arthurrank@nhs.net. We will then contact you to arrange an assessment appointment where we will discuss your needs. 
For further information, please call the team on 01223 675770.
Are your services really free of charge? 
Thanks to the dedication, commitment and generosity of the local community and the hard work of our senior leadership team to secure vital contracts with the NHS, all our services are free of charge.     
It will cost £8.56 million this financial year to operate our services. We have currently secured £4.29 million from the NHS. meaning that £4.27 million needs to be raised through donations, fundraising activities and trading.  
We are extremely grateful to our local community for the continual dedication, commitment and generosity they show in supporting us to meet this target.
Resources during coronavirus