Our Time to Change pledge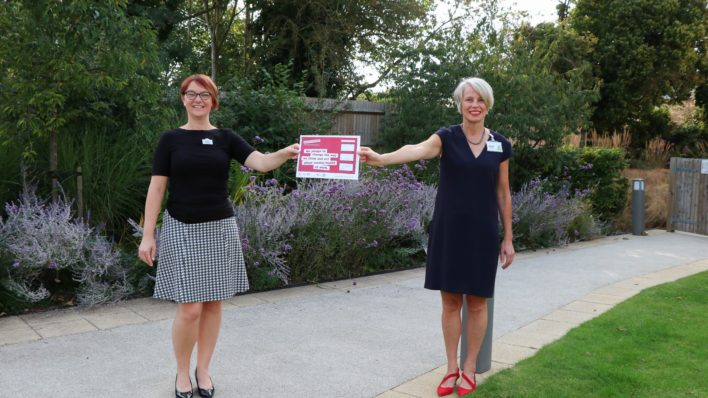 Hannah Touhey, our Voluntary Services Manager, kindly takes a moment out of her day to tell us, on behalf of the Arthur Rank Hospice Charity Wellbeing Group, about our 'Time to Change' Employer Pledge.
In our last Staff Forum we were privileged to announce that we have now officially registered with the Time to Change scheme.
In the Forum our HR Director Gemma, CEO Sharon and Trustee Mehrunisha signed up to our pledge, celebrating its launch with our colleagues. The scheme ensures that we remain committed to achieving a wide range of goals to address mental health stigma in our workplace. These goals were set out by our Wellbeing Group with input from staff and have clear objectives, this is not a tick-box exercise but a tool to facilitate real change.
As a palliative care charity, we are aware of the importance of good mental health and how interlinked it is with our physical, emotional and spiritual wellbeing. After all, palliative care is about approaching those we support holistically and addressing all of their needs, not just the physical. It can however be tempting to let out own mental wellbeing slip through the net when we are busy or stressed at home or at work.
The Time to Change scheme is not just about highlighting ways we can support our mental wellbeing at work but allowing all of us to feel comfortable sharing our experiences and asking for what we need. According to the Time to Change website nine out of ten people with a mental health problem have experienced stigma and discrimination; It is therefore vitally important that as an organisation we educate ourselves about mental health and provide a safe space for people to talk openly.
As someone with a diagnosis of Bipolar I know how important it is to feel comfortable sharing experiences at work and being able to ask for support. Whether that's flexible working or simply the space to share how I am feeling with my Manager and Team, having a supportive workplace has been essential to staying well and performing to my fullest potential. The Time to Change scheme will allow those interested in joining Arthur Rank Hospice Charity to know we are supportive and welcoming to those with mental health challenges. It will also allow us to build on the great work we already do to support wellbeing at work and reduce mental health stigma.
So what are we hoping to achieve? Below are just a few of our goals for the next 12 months and beyond. We want to:
ensure that reducing mental health stigma remains a top priority by embedding it in our policies and procedures, right from the point of recruitment.
encourage those with lived experience to be involved in the production of information, policies and procedures to ensure they reflect the needs of those with mental health challenges.
build on our Wellbeing Group to ensure we have representation from across the Charity and that all areas feel their individual needs are met.
ensure internal and external resources are made easily available to all staff and that the way we share these is inclusive and accessible to Teams and their individual working style.
use our Bulletin (weekly colleague and volunteer email news letter) to highlight key mental health awareness dates and provide staff a platform to share their own experiences where they are comfortable.
train our staff to feel comfortable having conversations around mental health and feel clear on how to support their colleagues, whether that's as mental health champions or line managers.
We hope that these clear and achievable goals will highlight to our colleagues the importance of, and our commitment to, reducing mental health stigma in the organisation. We are welcoming colleagues' thoughts, ideas and involvement on ways we can address our goals.
Together we can build on the great foundation we already have in place to ensure all our colleagues feel supported in the workplace.