Palliative Care Hub
A free out of hours phone service available to patients, relatives, friends and all healthcare professionals. Providing specialist advice and support to those with life limiting illnesses
The service is available Monday-Thursday 7.00am-2.00pm, then 5.00pm-12.30am and 24 hours on Fridays, weekends and bank holidays.
Dial 111 and select option 3.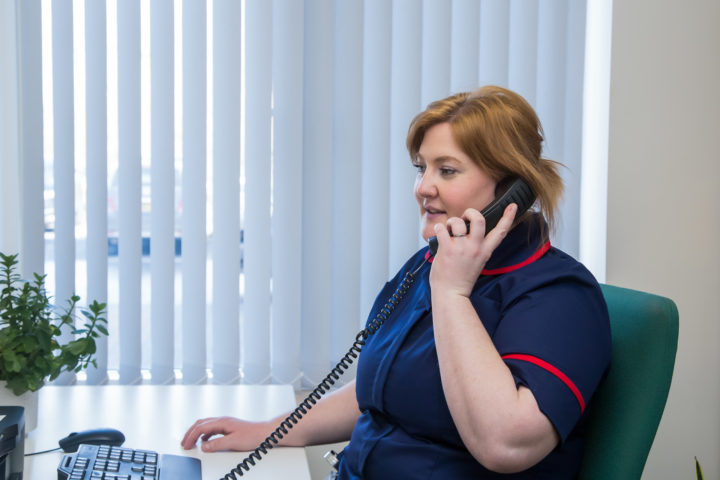 How the Palliative Care Hub can help
This service is for anyone that needs specialist palliative care advice or support. It is available to patients, family/friends, carers, GP's and other heath care professionals (including care and nursing homes when the patient has been identified as palliative). 
We will be able to give advice and support where able, signpost to appropriate services, transfer you to another healthcare professional that can better help you or complete necessary referrals to other services. 
Our vision 
Our future vision is to provide a 24/7 advice and support line seven days a week, that can be accessed by patients, family, friends, carers and all health care professionals in the event of needing specialist palliative care advice.
Calling this advice line will put you in direct contact with one of our dedicated Clinical Nurse Specialists, who will aim to support you and ensure you feel safe and confident in the care you are receiving.
Due to the current pandemic we are only able to provide out of hours cover – access to support during the day will be via your GP or your Palliative care specialist teams.
When is the service available
From Monday 30 August 2021 the service changed the hours to be available Monday-Thursday from 7.00am -2.00pm and 5.00pm-12.30am and 24 hours on Fridays, at the weekend and bank holidays. 
It is hoped that we will be able to move to a 24 hours service, 7 days a week later in the year.
You can contact us by calling 111 and selecting option 3 to speak to a clinical nurse specialist. 
Award winning!
In November 2021, we were delighted to win a prestigious HSJ Award for 'Primary Care Innovation of the Year'! Read more in our news article.
We followed the instructions on the phone for palliative care and we're put through to Hannah a very informed and qualified colleague who understood my mother's medical condition and despatched a nurse to the hotel. It meant my mother did not need to call an ambulance, did not attend A&E and we were able to continue our over night stay in Cambridge.

July 2021
Contact
Call: 111 and select option 3 
FAQ's
What do I do if I can't get through on the phone immediately?
If you can't get through to us on your first attempt, please leave us a voice message with your name, number and reason for calling and we will aim to call you back within 60 minutes. If however, you do not hear from us within this time, please call us back via 111 option 3.
Do I have to be known to a Hospice or a palliative care team?
No you don't. Anyone that has been diagnosed with a life limiting illness can access our service.
How and where will you store my personal data?
Your medical records will be stored on the database your GP uses. This information will be secure and only accessible to health care professionals that are granted access and are directly involved in your care. 
The team will keep a series of auditing data on file within the Arthur Rank Hospice – this will be stored securely and destroyed when no longer required for auditing purposes. 
Some calls may be recorded for monitoring and training purposes. 
How can I find out more about the Hospice's other services?