Hospice at Home
The Hospice at Home team provide specialist hands-on care and support in people's own homes or usual place of residence, when they are approaching the end of their life.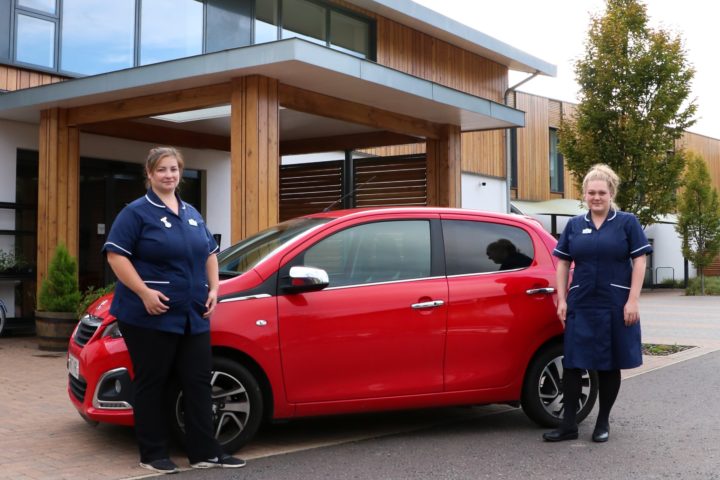 Caring for you in the place of your choice 
We know that many people would prefer to die at home, providing you feel safe, your symptoms are well managed and your family and loved ones are well supported.  Our Hospice at Home teams work closely with your GP and District Nurse to make this possible. 
Our compassionate team of healthcare assistants (HCAs) and Nurses are experts in the practicalities and complexities of end of life care and able to support you at the end of your life, to die in your own home if you wish.  
Our skilled HCAs will care for you in your home, with your loved ones and familiar things around you. 
Care when and where you need it
We have expanded our service to provide care throughout the county day and night. 
We know that family carers want to be able to care for the person you love and that this can be hard: sometimes you need a break and sometimes you need support with particular care needs. This is what our teams can offer, whether you need this during the day, or at night, to give you chance to rest and carry on caring.
Having our Hospice at Home team support you with their care, skill and knowledge can help keep you at home, avoid unwanted admission to hospital and help you return home from hospital when admission has been necessary.
Our care is practical and holistic. It might involve keeping you comfortable, ensuring you have the medication you need, providing a hand massage and words of comfort. Our care is focused on you and what you need.
Please note, in order to remain as flexible as possible – to meet the changing needs of patients who are rapidly deteriorating, our Hospice at Home service does not offer fixed visiting times. We will agree with you when you can expect support, for instance mid-morning, late afternoon or early evening and we will always aim to keep you informed when staff are delayed.
Unfortunately we cannot guarantee regular overnight care, we do not offer a regular respite or sitting service, live-in carers or 24-hour care or long-term care packages for people who are chronically ill.
Sue also explains how we supported her through bereavement in this video (opens in YouTube)
I just wanted to say from the bottom of my heart, an enormous thank you for what you did. You were my lifeline that day. I finally felt I had found someone who got it. Thank you for doing what you do. 

November 2021
FAQ
How many people are cared for by Hospice at Home?
818 people were seen by our Hospice at Home team across Cambridgeshire (including the Fens) between April 2020 – March 2021. 
What kind of care is provided?
Our team will look after your practical needs (for example washing or re-positioning you and administering prescribed medicines), as well as supporting your family, offering them a break from caring during the day or to have an uninterrupted night's sleep.  
They help with pre- and post-bereavement practicalities and support, and can also request support from specialists in our wider team. For example, they might organise for a patient, family member or loved one to receive psychological or spiritual support, or complementary therapy.   
How do you link with other healthcare services?
Part of our care is funded through our NHS contract, and we work in partnership with the wider healthcare system, particularly District Nurses and GPs, the wider hospice team and other specialists, to support patients and families to be cared for at home, if that is their wish and it is safe to do so.  
Am I eligible to receive services and how can I be referred? 
Are your services really free of charge? 
Thanks to the dedication, commitment and generosity of the local community and the hard work of our senior leadership team to secure vital contracts with the NHS, all of our services are free of charge.     
It will cost £11.51 million this financial year to operate our services. Contracted services from the NHS are budgeted at £7.07 million,  meaning that £4.44 million needs to be raised through donations, fundraising activities and trading. 
We are extremely grateful to our local community for the continual dedication, commitment and generosity they show in supporting us to meet this target.