Below you will find a variety of sponsorship opportunities which are suitable for a range of budgets. 
Sponsorship benefits can be negotiated to suit your companies aims and goals but as a standard partnership with Arthur Rank Hospice Charity (ARHC) you could expect online and offline recognition along with bespoke benefits 
 A sponsorship partnership can involve so much more than financial support. We welcome full support from companies to engage their colleagues in our initiatives and have heaps of fun at the same time. 
Current Opportunities
Events
Becoming a sponsor of one of our events can be rewarding and a great way to get your colleagues fully involved in the partnership. Become the headline sponsor at our Star Shine Night Walk or support Bridge the Gap and raise your profile in the local community by having your name associated with the event. Encourage your staff to enter a team and widen your support and involvement even further.  
Christmas Tree Recycling Scheme
Every January, we hold the most successful Christmas Tree Recycling scheme in the Cambridge area. January 2023 was our eighth year holding the scheme and we collected approximately 3,500 trees and raised in the region of £62,000.
Aligning your business with this unique initiative would show the community that you feel passionately about protecting the environment and promoting a sustainable future. 
Enabling us to support the whole family and improve the hospice environment 
Our dedicated, compassionate and specialist care stretches beyond just the patient. We support loved ones and family members through some of the toughest days, weeks and months of their lives.
For some this could simply be a subsidised meal in our bistro, for others it could be three nights in our comfortable family suites within the Hospice. This practical support is priceless in the eyes of a loved one but comes at a substantial cost to the charity. 
Engaging the local community: Arthur Bear 
Arthur Bear is the Hospice Mascot who attends all of our flagship events, events held out in the community including Arthur's Picnic as well as many of our bucket collections across Cambridgeshire. If you would like your logo on Arthur Bears t-shirt, get in touch to find out more today.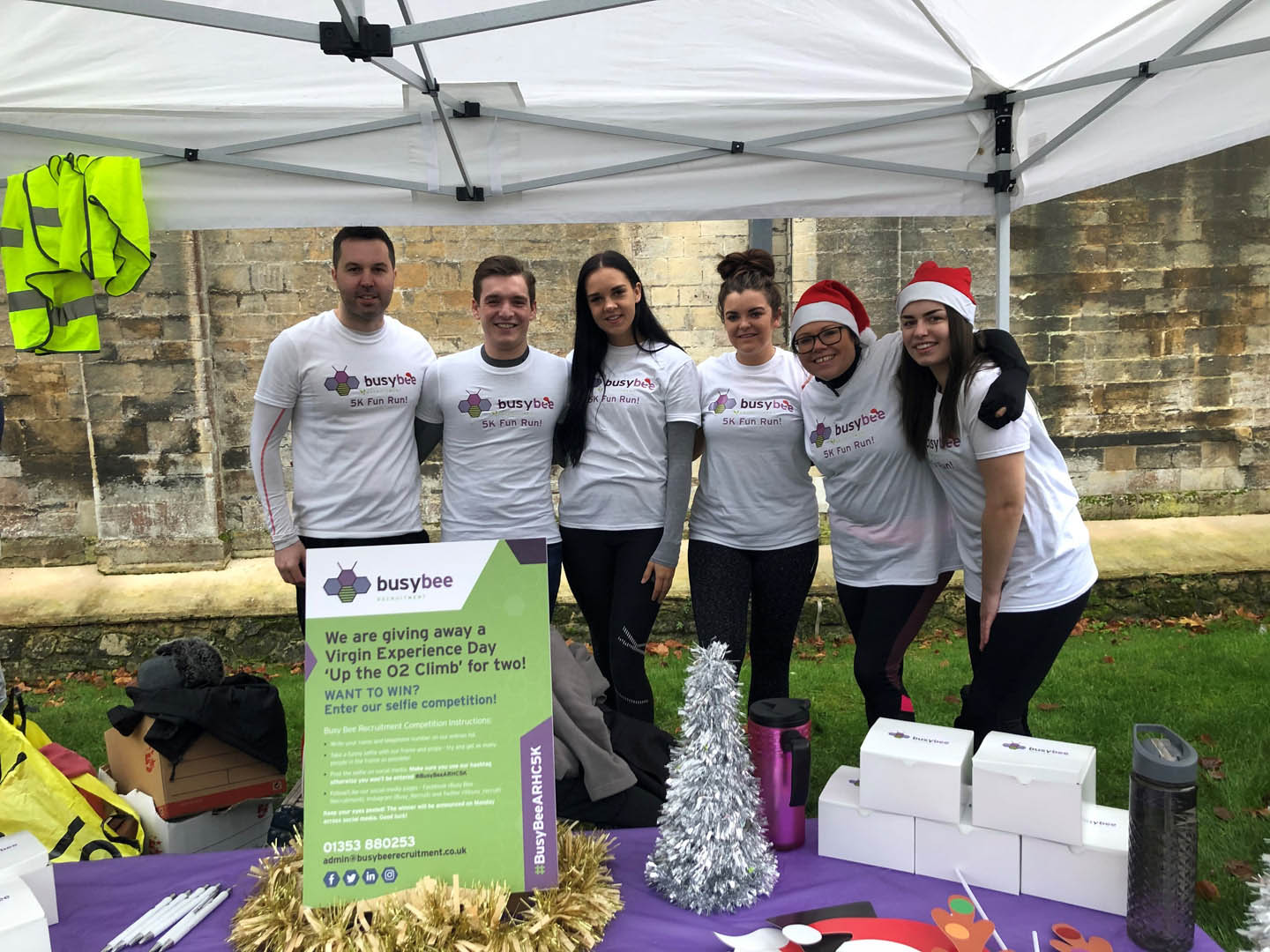 Case study
Busy Bee Recruitment took the opportunity to sponsor an event. Members of the Busy Bee Team took on Festive 5K run itself whilst others manned a photo frame stall by the Start/Finish spot beneath Ely Cathedral.  
Kayleigh, Founder of Busy Bee Recruitment explains their motivations for sponsoring the event: 
"Busy Bee Recruitment have chose to support the Ely Festive 5K by way of thanks for the loving care they provided to a colleagues family member in their last days – having such a first hand experience of what they do and the specialist care they provide has made this year even more poignant for us. Arthur Rank will remain our chosen charity to support for years to come as it remains important to not only us but all of the local community."