Our Green Ways
Environmental sustainability
We are very grateful to be housed in a purpose built, award winning building designed to look after both our patients and the environment.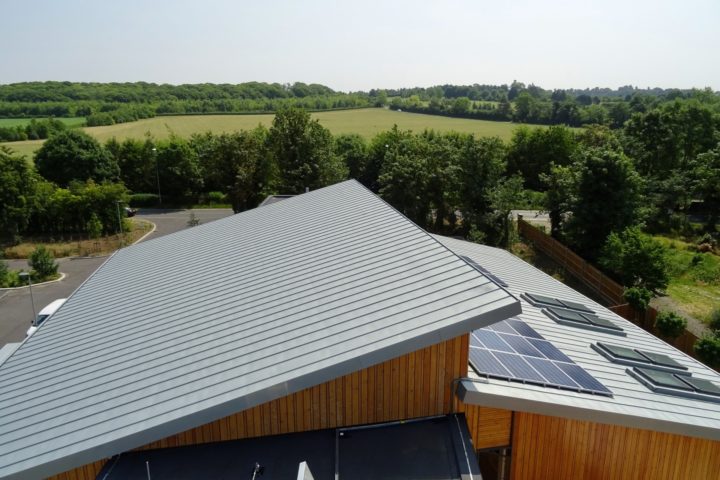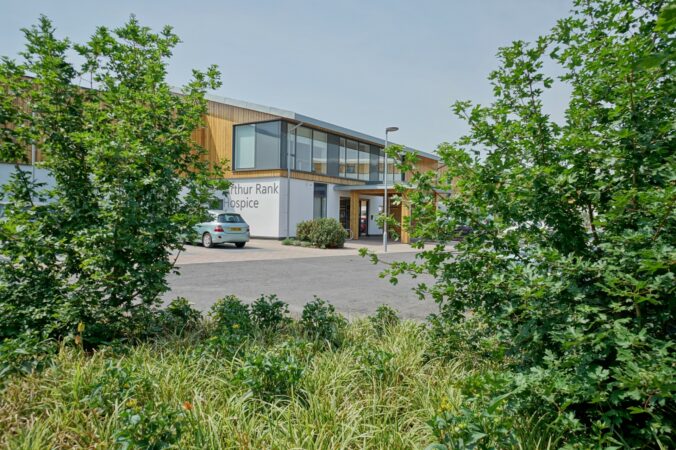 Environmentally friendly design features at our Hospice 
Ever since we moved in to our fabulous building in 2016 we have benefited from the bespoke design features such as solar panels, green roofs, motion sensored lighting and many more features which are listed in the questions and answers section further down this page. 
Our ongoing Green initiatives at our Charity 
The Charity continues to consider the environment and our 'Green Group' volunteers champion this further with environmentally friendly initiatives at the Charity. Find out more in the questions and answers section. 
How you can be Green and support us too
There are many ways you can support us to continue to support our environment such as donating and purchasing pre-loved items at one of our five retail outlets around Cambridgeshire.  
When planning our events and fundraising activities we continue to consider our environment. For example our tree recycling scheme held every January has so far collected thousands of trees, many of which were shredded and the mulch has been used in various community spaces around the county. 
Find out more
If you have a passion for the environment or you would like to get involved in the Charity's Green ways please contact us or email communications@arhc.org.uk with your ideas.  
Supporting our environment
How can I support the Charity at the same time as helping the environment?
Visit one of our Charity Shops – Recycle and reuse is the best way to reduce landfill. Donate your pre-loved items (now including furniture at our Retail Hub in Sawston) or visit one of our five retail outlets to pick up a bargain. 
We also stock a range of environmentally friendly products which have included reusable travels mugs and flasks, recyclable Christmas cards, reusable cloth bags and rucksacks, bamboo lunch boxes and our new seed cards which you can buy from our online shop too!
Sign up to our Christmas Tree Recycling Scheme – Each year, in January, at the end of the festive season we can collect your Christmas tree. These are then shredded to be used as mulch either in our community or at the Hospice. Previously, a few trees have been dropped off for the animals at Shepreth Wildlife Park and even a local goat farm! Find out more in the news story from 2021
What are the green/eco design features at the Hospice in Shelford Bottom?
Our bespoke building has many design features which support our environment including: 
Natural Ventilation – Our Hospice is designed to have natural ventilation.
Green Roofs – The green roofs at our Hospice absorbs rain, attracts habitat wildlife and decreases stress.
Solar Panels – Solar panels were installed to our new Hospice in 2016 to generate some of our electricity.
Exterior Cladding– The exterior of the Hospice is clad with Siberian larch, which will naturally grey over time and requires less maintenance than traditional buildings and blends in with the rural landscape.
Low Carbon Building Design – The building design at the Hospice follows the energy hierarchy to low-carbon building design and has surpassed local and national targets for efficiency and reductions in CO2 emissions.
Minimal Air Leakage Rate- Our Hospice is designed to have a minimal air leakage rate 4.48 = 50% improvement over building regulations.
LED Lighting – LED lights are fitted throughout the Hospice building. LED lights are free of all harsh chemicals and they do not emit UV rays. LED lights are also 100% recyclable and can significantly reduce your carbon footprint. With one LED light able to do the work of roughly 25 incandescent light bulbs over its lifetime, LED lights also help save on materials and production.
Motion Sensor Lighting – To  ensure efficiency, in many areas, excluding patient areas, the lights at the Hospice at are activated by movement and will automatically turn off if it doesn't detect movement for a given period of time, therefore reducing electricity bills.
Individual Room Thermostats – Throughout the Hospice and in each room, there are thermostats which are a bit like those you'd find on your radiators at home so that each room can be controlled individually depending on the temperature in the room.
Low Maintenance Building Design – Our whole Hospice is designed for low maintenance ensuring funds are not wasted unnecessarily and to enable voluntary community groups to use the building where possible.
Radiant Panels – At the Hospice, instead of radiators, we have radiant panels which you can see in the ceilings. Energy consumption is 15% lower than traditional radiators.
What are the Charity's ongoing Green initiatives?
Our supporters, colleagues, volunteers and the Green Group work hard to continue to consider our environment. Here are some of the Green initiatives at our Charity:  
Garden Plants – Scotsdales very generously donated many of the plants in the Hospice gardens with some of the plants from the original Hospice on Mill Road being transferred to our new home too.
The gardens are designed to provide texture, colour, structure and fragrance throughout the year. Lighting compliments this and provides an uplifting experience and provides an environment which attracts many different types of birds, insects and wildlife (including pheasants, squirrels, ducks, and even a badger!)
Our garden at The Alan Hudson Day Treatment Centre has recently been upgraded to include an accessible sensory garden for both patients, colleagues and non humans to enjoy. 
Our clinical waste produces power – Our clinical waste (including the bin for our face masks) is sent to Addenbrookes for incineration. This then produces power.
Plant stall – Our plant stall outside the Hospice encourages colleagues and visitors to grow their own plants and vegetables at home. Volunteers donate their produce and our supporters are invited to help themselves for a small donation. 
Bird Feeders – Bird feeders are placed at Shelford Bottom and at the Alan Hudson Day Treatment Centre to attract many species of birds.
Online meetings – Since March 2020 our Living Well Services and many of our departmental teams at the Charity have switched to more online virtual meetings which has reduced travel for both patients and colleagues.

Our Conference and Hospitality Team have implemented ways to improve sustainability and reduce carbon footprint such as: 

Reducing use of plastic and have changed to bottled water for venue hire customers
Sourcing local produce where possible for our buffet menus and introduced eco-friendly packaging for individually wrapped items, which is reducing food waste and allows for the recycling of packaging
Introduced recycling waste bins in the Conference Centre
Using local suppliers (including for AV and print) where possible to reduce carbon footprint

We recently made it into the national Conference News as part of an article about sustainability in Cambridge. (p22)

On our the venue hire page we share our commitment to sustainability and plan to do more. 

Buying in bulk – Our Facilities Team, responsible for many of our large purchases, try to buy in bulk as much as possible. This not only reduces extra omissions on the road but also ensures we get the best price, which means more of our funds go to into providing care.
Biodegradable Oasis – Our volunteer flower arrangers use biodegradable oasis in the flower bay.
Recycle Bins – Recycle bins are placed throughout all our sites across the Charity.
Cycle to work scheme – Our cycle to work benefit scheme helps protect the planet at the same time as giving out colleagues the opportunity to improve their mental resilience and support their longer-term wellbeing.