Our Green Ways
Environmental sustainability is very important to us all, which is why the  Charity's five-year strategy is working towards a net zero carbon approach.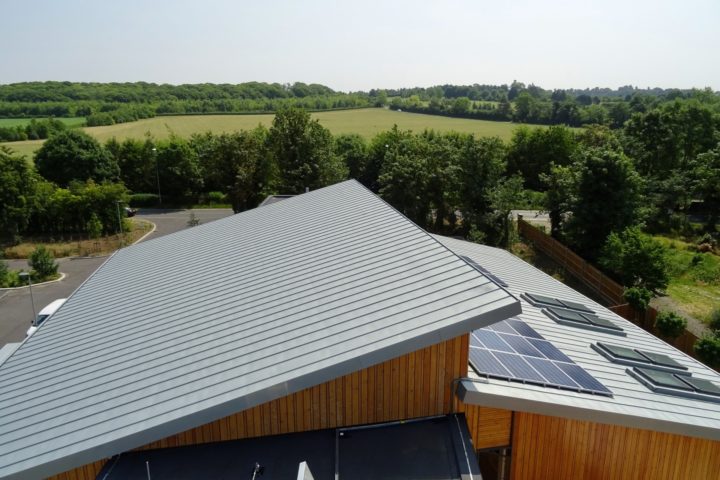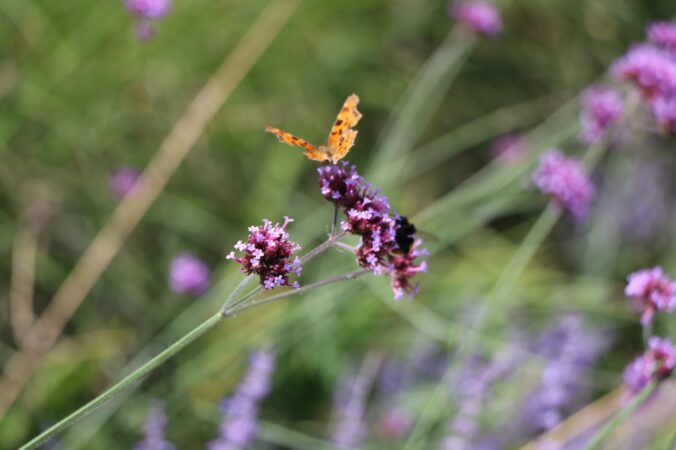 Ongoing Green initiatives at the Charity

 
The Charity continues to consider the environment and our 'Green Group' volunteers champion this further with environmentally friendly initiatives at the Charity. Find out more in the questions and answers section on the right hand side of this page. 
How you can be Green and support us too
There are many ways you can support us to continue to support our environment such as donating and purchasing pre-loved items at one of our six retail outlets around Cambridgeshire.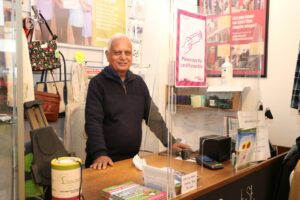 When planning our events and fundraising activities we continue to consider our environment. For example our tree recycling scheme held every January has so far collected thousands of trees, many of which were shredded and the mulch has been used in various community spaces around the county.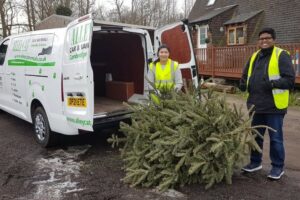 Environmentally friendly design features at the Hospice 
Ever since we moved in to our fabulous building in 2016 we have benefited from the bespoke design features such as solar panels, green roofs, motion sensored lighting and many more features which are listed in the questions and answers section on the right hand side of this page. 
Find out more
If you have a passion for the environment or you would like to get involved in the Charity's Green ways please speak to one of our staff members or email greengroup@arhc.org.uk with your ideas.  
Supporting our environment
How can I support the Charity at the same time as helping the environment?
What are the green/eco design features at the Hospice in Shelford Bottom?
Our bespoke building has many design features which support our environment including: 
Natural Ventilation – Our Hospice is designed to have natural ventilation.
Green Roofs – The green roofs at our Hospice absorbs rain, attracts habitat wildlife and decreases stress.
Solar Panels – Solar panels were installed to our new Hospice in 2016 to generate some of our electricity.
Exterior Cladding– The exterior of the Hospice is clad with Siberian larch, which will naturally grey over time and requires less maintenance than traditional buildings and blends in with the rural landscape.
Low Carbon Building Design – The building design at the Hospice follows the energy hierarchy to low-carbon building design and has surpassed local and national targets for efficiency and reductions in CO2 emissions.
Minimal Air Leakage Rate- Our Hospice is designed to have a minimal air leakage rate 4.48 = 50% improvement over building regulations.
LED Lighting – LED lights are fitted throughout the Hospice building. LED lights are free of all harsh chemicals and they do not emit UV rays. LED lights are also 100% recyclable and can significantly reduce your carbon footprint. With one LED light able to do the work of roughly 25 incandescent light bulbs over its lifetime, LED lights also help save on materials and production.
Motion Sensor Lighting – To  ensure efficiency, in many areas, excluding patient areas, the lights at the Hospice at are activated by movement and will automatically turn off if it doesn't detect movement for a given period of time, therefore reducing electricity bills.
Individual Room Thermostats – Throughout the Hospice and in each room, there are thermostats which are a bit like those you'd find on your radiators at home so that each room can be controlled individually depending on the temperature in the room.
Low Maintenance Building Design – Our whole Hospice is designed for low maintenance ensuring funds are not wasted unnecessarily and to enable voluntary community groups to use the building where possible.
Radiant Panels – At the Hospice, instead of radiators, we have radiant panels which you can see in the ceilings. Energy consumption is 15% lower than traditional radiators.
What are the Charity's ongoing Green initiatives?
Our supporters, colleagues, volunteers and the Green Group work hard to continue to consider our environment. Here are some of the Green initiatives at our Charity: 
We used Blackwell Print to print some of our annual documents. They plant 1 tree and off set 10kg of carbon for every £25 spent on print products.   
Garden Plants – Scotsdales very generously donated many of the plants in the Hospice gardens with some of the plants from the original Hospice on Mill Road being transferred to our new home too.
The gardens are designed to provide texture, colour, structure and fragrance throughout the year. Lighting compliments this and provides an uplifting experience and provides an environment which attracts many different types of birds, insects and wildlife (including pheasants, squirrels, ducks, and even a badger!)
Our gardens at both the Hospice at Shelford Bottom and The Alan Hudson Day Treatment Centre have recently been upgraded to include accessible sensory gardens for both patients, colleagues and non humans to enjoy. 
Our clinical waste produces power – Our clinical waste (including the bin for our face masks) is sent to Addenbrookes for incineration. This then produces power.
Plant stall – Our plant stall outside the Hospice encourages colleagues and visitors to grow their own plants and vegetables at home. Volunteers donate their produce and our supporters are invited to help themselves for a small donation. 
Bird Feeders – Bird feeders are placed at Shelford Bottom and at the Alan Hudson Day Treatment Centre to attract many species of birds.
Online meetings – Since March 2020 our Living Well Services and many of our departmental teams at the Charity have switched to more online virtual meetings which has reduced travel for both patients and colleagues.
Our Conference and Hospitality Team have implemented ways to improve sustainability and reduce carbon footprint (please see question no.6)
Our Bistro Team is using eco friendly packaging for our salad boxes, sandwich boxes, cake boxes etc. all labels are fully recyclable too!
Buying in bulk – Our Facilities Team, responsible for many of our large purchases, try to buy in bulk as much as possible. This not only reduces extra omissions on the road but also ensures we get the best price, which means more of our funds go to into providing care.
Biodegradable Oasis – Our volunteer flower arrangers use biodegradable oasis in the flower bay.
Recycle Bins – Recycle bins are placed throughout all our sites across the Charity.
Cycle to work scheme – Our cycle to work benefit scheme helps protect the planet at the same time as giving out colleagues the opportunity to improve their mental resilience and support their longer-term wellbeing. We have provided a drying place for wet coats etc. for our cyclists too. 
Where can I charge my electric car?
Where can I find a quiet spot to sit or walk near the Hospice?
The Hospice gardens are designed for peace and tranquility and we trust you will be able to find a quiet spot when you need it. However, you may want to combine your visit to the Hospice with a longer walk and so we have put together a list of local beauty areas you may wish to visit.
Please download Green areas and walks situated close to Arthur Rank Hospice Charity here.
How Green is the Education and Conference Centre/Venue hire?
Our Venue Hire Team are committed to protecting and reducing our impact on the environment and have adopted the following principles:
A commitment to reducing waste and using environmentally friendly and recycled products were possible.  We have introduced recycling waste bins in the Education and Conference Centre and are seeking to reduce our food waste.
Reducing single use plastic and have introduced glass bottled table water for our venue hire customers.
Reducing water usage and have re-introduced jugs of table water for our venue hire customers. We also encourage visitors to bring water bottles and refill from our water cooler.
We are committed to being energy efficient. Our award-winning building benefits from environmental features including solar panels, green roofs, and motion censored lighting. We provide venue hire hospitality and source local produce where possible for our buffet menus.
The Education and Conference Centre is a Meet Cambridge venue and was featured in an article in Conference News about food sustainability (page 22).  We are also a member of the Cambridge Sustainable Food Network.
If you are interested in supporting our Going Green campaign, please get in touch.  To find out more about hiring our Conference Room for your event contact our Venue Hire Team at venuehire@arhc.org.uk
How have you adapted to consider green issues at your events?
We take responsibility to care for the environment seriously, so we ask you to car share, use the buses or cycle wherever possible to our events.
Because of our commitment to the environment, we're moving away from selling single-use items and ordering things from overseas. We will continue to sell items we already had in stock from previous events.
We ask you to bring your own reusable water bottle to our events– we can supply water, but do not have a stock of bottles at the events – but you can buy these from any of our shops.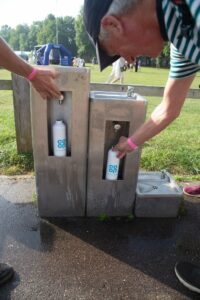 How do you try to increase the biodiversity at your sites?
In August 2022 we recorded 24 species of birds, 7 Mammals and 4 different types of insects around the Hospice gardens. 
We have a lots bird tables and feeders dotted around our Hospice gardens and at the Alan Hudson Day Treatment Centre, to attract the birds and for our patients and visitors to enjoy. If you are able to buy us some bird food we (and our feathered friends) would be very grateful.
You can order and arrange for them to be delivered directly to the Hospice via our Amazon wishlist: https://www.amazon.co.uk/hz/wishlist/ls/1ZRY675QVYK33/ref=nav_wishlist_lists_1?
For the Big Garden Birdwatch on Friday 27 January 2023 we spotted 14 different species in the Hospice gardens. 
These included 2 Blackbirds, 3 Blue Tits, 1 Dunnock, 2 Greenfinches, 1 Magpie, 2 Great Tits, 3 Goldfinches , 3 Chaffinches, 1 Collared Dove, 3 Robins, 1 Woodpigeon, 1 Crow , 2 Black Headed Gulls, 1 Pied Wagtail plus two squirrels and a cat!
Swift boxes
We have installed Swift Boxes, which were kindly donated to us from Action for Swifts, to encourage the Swifts in the area and give them somewhere safe to nest. 
Hedgehog House and Bug Hotel 
The Mens Shed have kindly made and donated a Hedgehog house and a Bug Hotel which we have installed in our garden at the Hospice. 
AHDTC Garden Makeover 
Our garden at the Alan Hudson Day Treatment Centre has had a full make over and now includes a full range of flowers and shrubs, bird boxes and water table to encourage wildlife. You can read more about this and our Royal visitor HERE. 
Big Butterfly Count 2023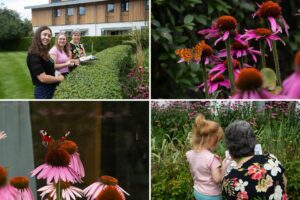 We organised a Butterfly Count at the Hospice in July 2023 and spotted 7 different species of butterflies were spotted in the garden of the Hospice this week for @bigbutterflywatch 2 x Large white, 1 x Comma, Gatekeeper, 1 x Peacock, 1 x Red Admiral and a Mint Moth! 
How Green are your cleaning products?
Our new cleaning company ACS have installed an Aquasmart machine which converts water into aqueous ozone for use as a general cleaner, which as well as being more effective at killing bacteria than bleach, is odourless and safe.
The cleaners estimate that we have cut the use of chemical cleaning products by an impressive 90%.
How do you get your younger visitors involved?
Our passionate knitters – The Knits of the Round Table – have created a wonderful knitted nature trail for younger visitors to the Hospice. If you would like to take part please ask at our Reception for more information.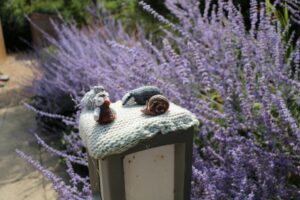 Where can I recycle old walking aids etc?
You can return any NRS issued walking aids (and other small items of equipment) to any of the Peterborough and Cambridgeshire Household Recycling Centres when you no longer need them.
There are specific NRS labelled bins for the walking aids to be placed in, NRS collect them and refurbish them for re-issue, or, if they are past refurbishment, ensure they go into the correct metal recycling streams.
Walking aids issued by Cambridge University Hospitals (Addenbrookes) are labelled with a yellow sticker with CUH or Addenbrookes on it. These can be returned to the Trumpington Park and Ride, there is a colleciton point in the visitors centre. CUH staff collect these for re-use by CUH.
By recycling walking aids, NHS England calculate that up to 98% of the CO2 emissions of making a new ones are saved. Aluminium manufacture is very high in generating green house gases, so as well as saving the equipment budget, we can do a tiny part to contribute to saving the planet.