Occupational Therapist braves the heat for hospice care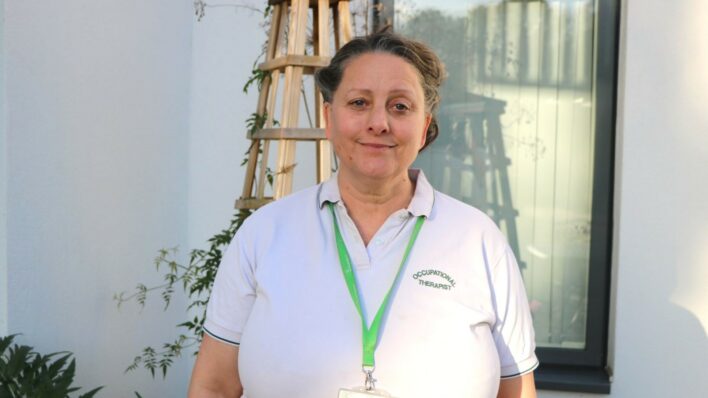 Isobel Curtis-Smith is an Occupational Therapist at Arthur Rank Hospice Charity and was inspired to raise awareness and funds by participating in the FireWalk.
On 18 November 2023, Isobel, who supports patients at the Living Well Services and the Inpatient Unit, will challenge herself mentally and physically by walking over hot embers.
Whilst working for Arthur Rank Hospice Charity, for the last five years, Isobel has cared for hundreds of patients and talks about the benefits of the services provided free of charge to patients. She commented:
"The things that I love most about it, I think is is actually giving patients really good tools and techniques that can help them support themselves – because that's what they deserve – because nobody else is walking in their shoes and it just gives them some empowerment."
Isobel's passion for her role and patients is clear as she continues to talk about the tools that can be provided by the Charity and the importance of letting people know of all the resources we have available both face to face and online. She added:
"It's the fact that they get to be able to talk about some of the difficulties  – it's not like they talk about it all the time because there are other directions that living well takes them,  like the non pharmacological pain management techniques: sleep hygiene – managing sleep, fatigue management, staying steady, which is management for falls prevention and lots of anxiety management groups and mindfulness."
Isobel believes in empowerment and is keen to learn from participating in the Firewalk and to show her 13 year old twins that anything is possible!
Isobel continues:
 "I think that mind over matter is a very, very powerful tool so, for me, that was what interested me [in the Firewalk] as well as the fact that it isn't just a case of you walking over these coals, it's actually the psychological preparation for that."
Sarah Clayton, Community Fundraiser at Arthur Rank Hospice Charity commented:
" All our clinical staff give so much to their work and those they care for, it is always an honour to support them when they choose to take on a fundraising challenge to help continue to provide for our future patients and their loved ones. Thank you, Isobel and good luck."
If you can help Isobel reach her £150 target, please donate at arhc.enthuse.com/pf/isobel-curtis-smith
Have you been inspired to support people in Cambridgeshire living with an advanced serious illness or other life-limiting condition and would like to take on walking on fire for the Charity, please email Sarah at challenges@arhc.org.uk or call 01223 675888.