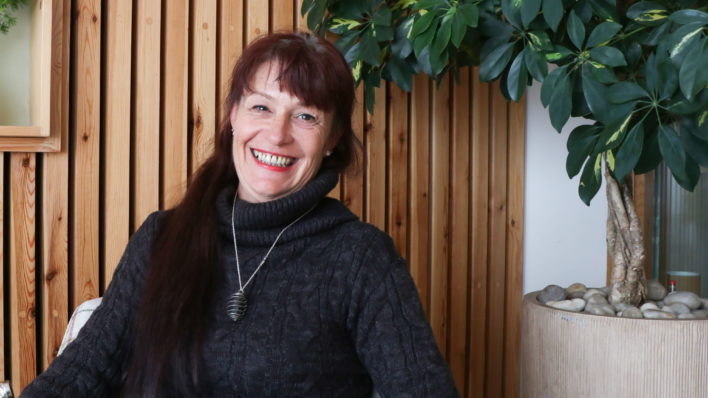 Karin was diagnosed with Motor Neurone Disease in January 2019, having initially experienced numbness and tingling in the fingers of her left hand.
Around the same time of her diagnosis, she began to have mobility issues with her left leg and by November 2019 problems developed with her right leg too.  This lead to trouble walking so she bought a ('Karin style' glamourous, sparkly) stick to support her and obtained a wheelchair, for longer distances.
She is a holistic healer and, having been through a low period, realised that the way to help herself, would be by dedicating her life to helping others once again.
Preparing for the challenge
A few days later when attending Living Well sessions at the Hospice, she noticed a poster, advertising the Hospice's Firewalk with Firewalking UK and promptly signed up to take part in the physical and mental challenge.
You can hear Karin talking about how she was preparing for the challenge here:
On the night
It was an amazing night with such a positive and uplifting atmosphere thanks to all our fearless walkers and their friends and families, including Karin's sons, who came to cheer them on! Karin completed the Firewalk completely unaided!
You can see Karin's amazing achievement and her thoughts on the night here:
You can hear BBC Radio Cambridgeshire's interview on the night with Karin and her sons here:
Karin said:
"If I inspire one person, to become hopeful again and keep on going, I have reached my goal with this."
She added that she did this to show that living with MND still means anything is possible and she sure proved that!
---
Arthur Rank Hospice Charity supports people in Cambridgeshire living with an advanced serious illness or other life-limiting condition and those who need end-of-life care. Our 'Outstanding' services are provided free of charge to patients and their families. Our aim is to provide the highest quality care, helping them to make every moment count.
We care for more than 4,100 patients each year at our Hospice in Cambridge, the Alan Hudson Day Treatment Centre in Wisbech4 and in patients' own homes via the Arthur Rank Community Team. This care supports people to improve their quality of life and fulfil their end of their life choices.
Alongside the care provided by our Inpatient Unit, Living Well services and Hospice at Home teams, patients can access: patient and family support; lymphoedema care; complementary therapy; medical and pain outpatient clinics; and advice from the clinical nurse specialists within the Specialist Palliative Care Home Team. Our programmes are practical, holistic and tailored to the individual patient, family member or carer and may also include rehabilitative support, physiotherapy, occupational therapy and psychological support.
It will cost £8.56 million in 2020/2021 to run our services, which are provided free of charge to patients and their loved ones. We have currently secured £4.29 million from the NHS, meaning that £4.27 million needs to be raised through donations, fundraising activities and trading. We are extremely grateful to our local community for the continual dedication, commitment and generosity they show in supporting us to meet this target.
For further information, please visit arhc.org.uk