Lee Taylor was diagnosed with bulbar onset Motor Neurone Disease (MND), which affects your speech first, in December 2019. Lee sadly died on 25 May 2023. Lee was 46 years old. He was married to Tracey and had a daughter, Mya-Mai, aged nine years old and a son, Hudson, aged five years old.
In 2021 Lee first shared his story with us. In 2022 he kindly agreed to support our Annual Lecture and shared his journey to support others living with MND:  
Tell us about your diagnosis 
I noticed my speech was a bit slurred which I put down to the dental treatment I was undergoing together with a newly fitted denture, which at the time I did not think anything of.
I used to be an avid gym goer, training at least 6 days a week. During one of my sessions however I noticing my left bicep started twitching intermittently, again I thought nothing of it – twinges and twitches  are not uncommon during training sessions. I wasn't concerned as I assumed it was fatigue from training hard and or work related stress.
A few weeks later I started getting muscle twitches again, but this time it was in both  biceps. I had also noticed that my speech had not improved. It was at this point I decided it was time to get my GP to take a look at me.
My GP decided to refer me to a neurologist at Addenbrooke's hospital. My appointment was about four weeks later. My parents attended the appointment with me.
The first thing the doctor noticed was my speech, he asked me to remove my trousers, socks and shirt, and for me to lay down on the couch, he then proceeded to test my reflexes, tapping my knees, feet, and ankles -there was nothing out of the ordinary.  He told me to relax my jaw as he was going to test the reflexes . I deliberately tensed up my jaw , why I do not know. He said "I know you are not relaxed but please try again", so I did, there was a positive brisk jaw jerk reflex.
He then asked me to sit up, I could feel his eyes scanning my back during the examination. After a couple of minutes he asked me to hop down off the couch and get dressed and take a seat.
He said he had noticed widespread fasciculations in my back muscles as well as the brisk jaw jerk.
Once I was seated, he said "In my professional opinion, I think you may have Motor Neurone Disease, do you know what that is?'
I'd heard of it and the only person I knew had it was Stephen Hawkins. The consultant continued "However I would like to refer you to Dr Roberts". Dr Roberts referred me for a nerve conduction test before confirming. He said "With MND there is no definitive test, they look at a broad spectrum of symptoms".
About three weeks later I meet with Dr Roberts and Victoria from the MND clinical team. It was at this meeting that it was confirmed that I had bulbar onset MND.
How have you approached preparing for end of life with MND?
With a diagnosis of MND, you very quickly come to the conclusion that there is no cure and the outcome is death. I set myself a three month window to process and accept the diagnosis, as I was initially in denial and had doubts about the diagnosis. Mentally justifying other reasons and external environmental factors for the slurred speech and the twitching. During the three month window I visited a hypnotherapist which helped my mindset, enabling me to lay the foundations from which I built a methodical approach and strategy in preparation for journey ahead.
Around January 2020 I sat myself down in front of the mirror and interviewed myself about death. I began to make notes such as whether I wanted to be buried or cremated, what I was going to wear in the coffin, did I want to be in a hearse, or where do I want my ashes to be scattered. But the biggest question of all was how do I make my death fun, as I have two very young children to consider.
I came to the realisation that I don't want a funeral; I don't want to be in the back of a hearse, I don't want a church gathering, that is simply not me. What I do want is a party, with fireworks, face painting music cakes etc. Death is always seen as a very dark event, in fact it should be a celebration of life. I want my ashes to used creatively, put into sand timers, jewellery, vases or Christmas decorations, something so the children will always be reminded of me. Every month for twelve months the children will receive a letter from me, they will be set a task such as visiting a glass blower, who I've already contacted in advance. My wife and children can choose what type of sand timer they would like to make and my ashes will be mixed in with the multi coloured sand as a keepsake.
In the first Covid lockdown, I went into isolation to my Mum and Dad's and I was away from Tracey and the kids, it was very emotional. I wrote a song for the kids and it was played on radio. You can make special teddy bears and they have special messages included – in my case  it will be the song I have written, so that when they are sad or lonely they can play it.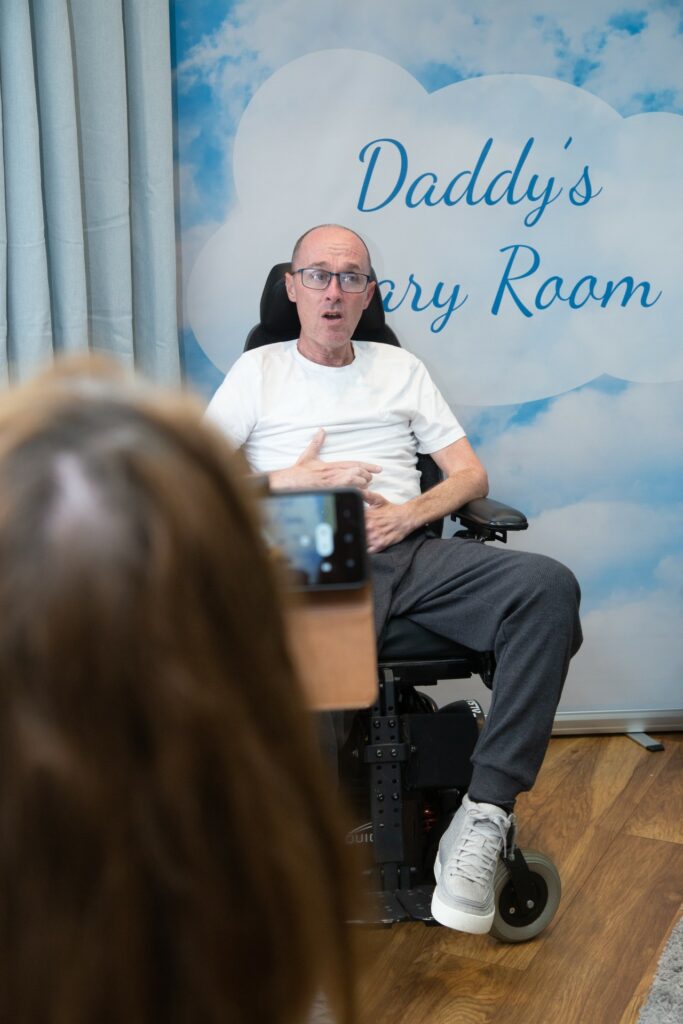 I have also recorded little movie messages in what I call 'Daddy's Diary Room'. I have recorded several motivational messages and Happy Birthday messages with party poppers and balloons in the background. Also a friend of the family, who is a photographer, has taken a photo of me so that should the children get married I will be superimposed into photos taken on the day .
When they pass their driving tests I have made a really cool movie which will see me congratulating them as well as me passing a box through the screen to Tracey. Tracey has the box and ribbon and inside the box will be a set of car keys and a small cheque for a deposit on a car of their choice.
"Death is nothing to be afraid of. You have to be honest and matter a fact about these things. In fact I have found planning and arranging for my end of life extremely energising."
Have you an end of life (Advanced Care) plan?
I had a background in medical equipment so I knew already what I'd need at each stage, I know about beds and hoists and what we would need to make life easier for everyone concerned.
I know myself, I won't give up, I know I want to be resuscitated and I know that I want to be in my family home and I know I want to die there.  I want people to be happy and I know what people I want there. People say I don't seem sad, of course I have may down days just like everyone else. I know I am going to die, so its my responsibility to ensure everything is as easy and comfortable as possible for people around me. This is my final journey and I know I have done everything possible and I am comfortable with that.
Do you have any fears or symptoms which made it difficult to plan ahead?
We have always been open and talked about my illness with the kids, which has made it easier for them to understand and ask questions.
We have just moved house and now I know Tracey and the kids will be looked after financially. This was a major factor for me  knowing that financially the family are as secure as I could possibly make it.
"I want to live, people say what is it like living with MND. I am not living with MND, MND chooses to live with me. I will take it the full 12 rounds I will keep going."
What would you say to other people who may be afraid to have the conversation about planning ahead?
You have to accept the diagnosis, but not the prognosis. Yes it is terrible; you will die.  I asked the doctor how long he thought I had? and he said two years at best. So I said "See you in 20 years!" You have to be positive, you have to deal with the dark places, you have to talk about death, you know what's coming. The more you talk about it, the easier it gets. I feel free. The freer you are, the more able you are to be more positive. If I didn't get out of bed every morning what message does that send to my children? You've got to live, have fun. When you have a down day your friends and family pick you up, when they are down you have to pick them up.
"If you lead with positivity everyone else will be positive. You've got to talk, be honest, you can't be on this journey by yourself."
What does having fun mean to you?
Fun for me it is going to Disneyland, having parties, taking the kids to school. I took my son, Hudson, to his first day of school I didn't know if I would be here for that.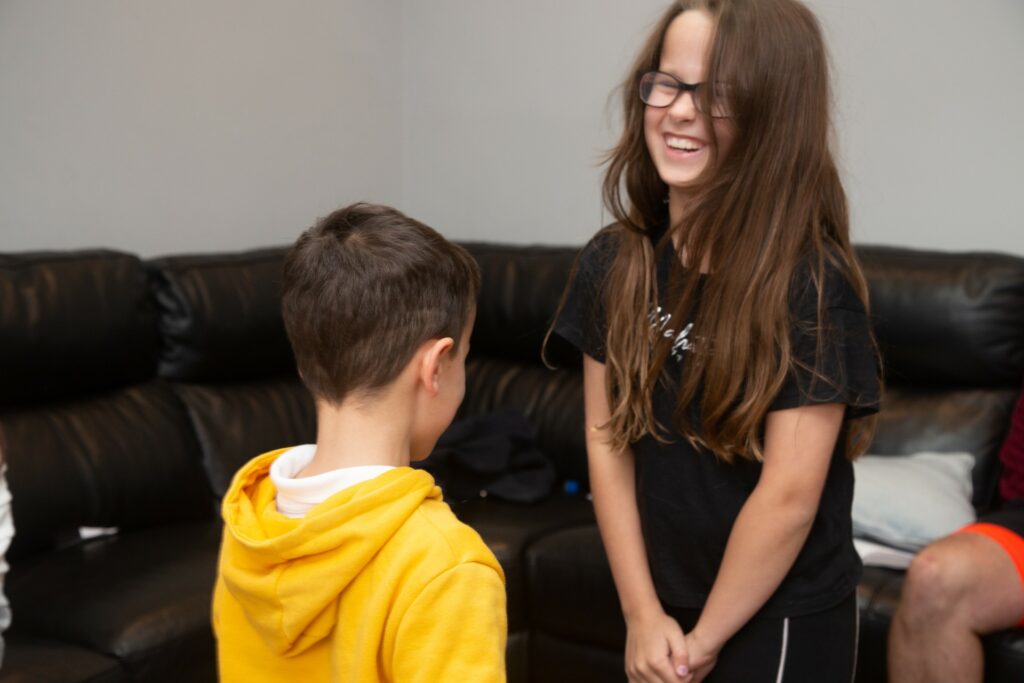 Being able to see the kids smile and enjoying life. They still enjoy going to all their clubs and continue to live a normal loving and enjoyable childhood. We are extremely proud of them.  They get up on the wheelchair and I whizz them around.
How difficult will it be for you to get to Disneyland? (they plan to go to the USA Easter 2023)
It will be easy! First in the queue for the rides, more room on the plane. I will go on the rides with the kids.
What cognitive changes have you noticed?
Before MND I was physically strong and mentally weak. Now I am physically weak and mentally strong. The key thing is when you understand your MND and how you feel. What I try and do every three months is I talk the Neuro Psychologist and tell them how I feel. You have to know your own mental health, and your own mindset, as well as those around you, this is not just about me it's about everyone involved.
I get frustrated. It gets me down a bit, but you get used to it. I talk it through with people. If I want something or need something it just doesn't happen, it is hard to think I'll need people to help me more. I spent too much time in my own head worrying and thinking about irrational things, you need to talk about it. In my head it was a war zone, I was dying tomorrow, I didn't want to be here but that is part of the process you have to talk to people and start to feel normal. I don't get angry sometimes a bit moaney! Tracey says sometimes I forget things.
Any recent physical changes?
I can't get arms up to feed myself now, they feel like a dead weight. I can't shake hands so I do fist bumps or thumbs up. I used to pick up the cup and put it to my mouth myself – now I can't. I can stand up but not without help. I think I would have been a good boxer – I've had ten fights with the floor, won nine and one knock out!
Hudson said "I don't like the MND in him as he falls over and it hits him hard, I like giving him lots of kisses."
What are your thoughts for the future?
I want to make sure financially Tracey and the kids won't want for anything. My main aim was for them to have a forever home.  I said when I've done that I would be happy. We worked out all our outgoings and have made sure we have all bases covered.
I want them to be able to afford to go out for a coffee, to have a Chinese takeaway.
I want to keep going for them. My family are amazing they are so supportive and I have good friends.  I want Tracey and the kids to have as much as a normal life as possible and go forward without me with positivity. I feel free. I will die happily, I know my outcome, in life – you don't always know the outcome but I know mine.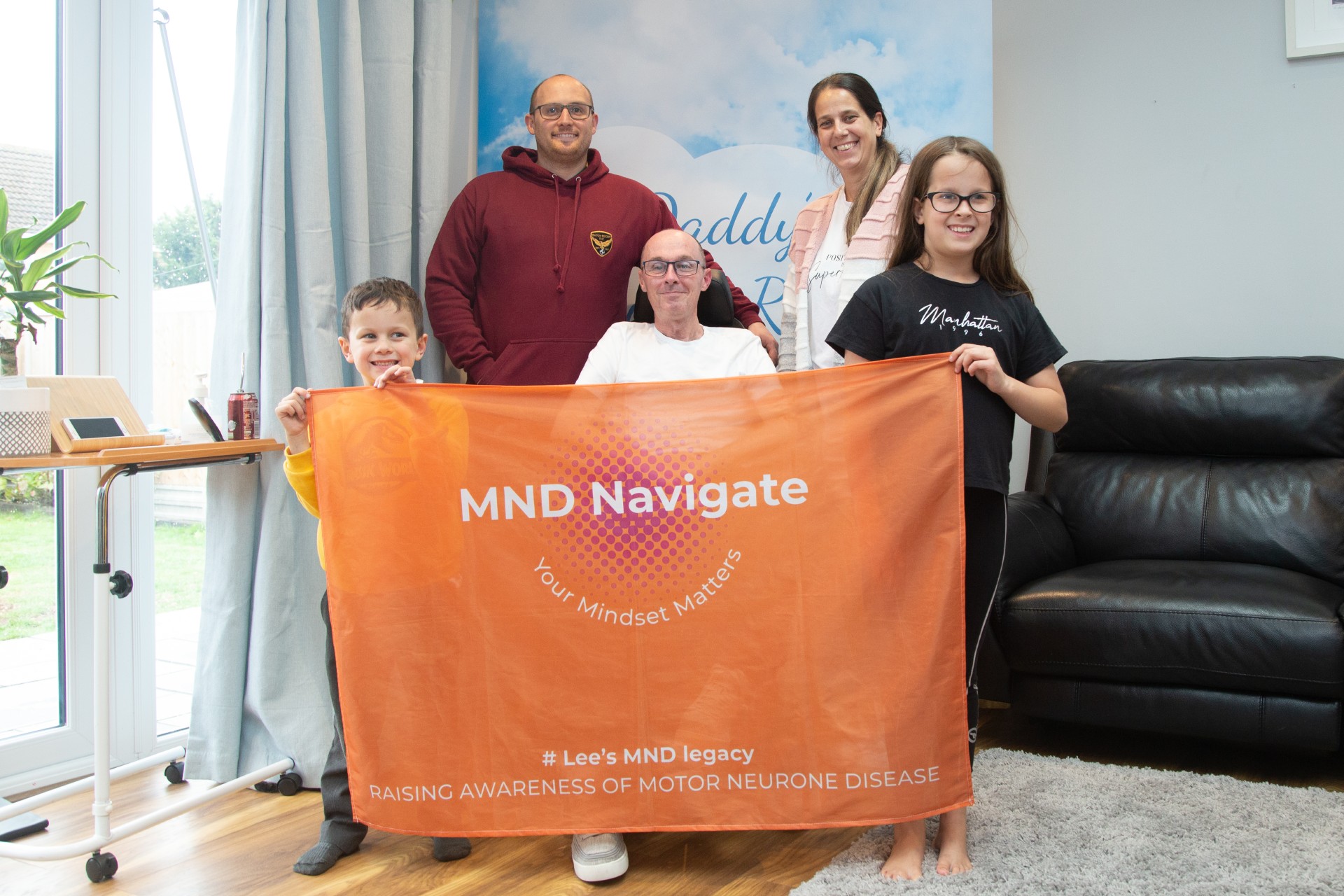 "I've got the most important job in the world, the toughest job in the world which is staying alive as long as possible. I don't need anything I've got my family and friends."

M N D stands for: Motivation no Negativity and Determination that's all I need. That's my mantra.
Lee has made his plans very clear and sets himself goals such as raising money for charity.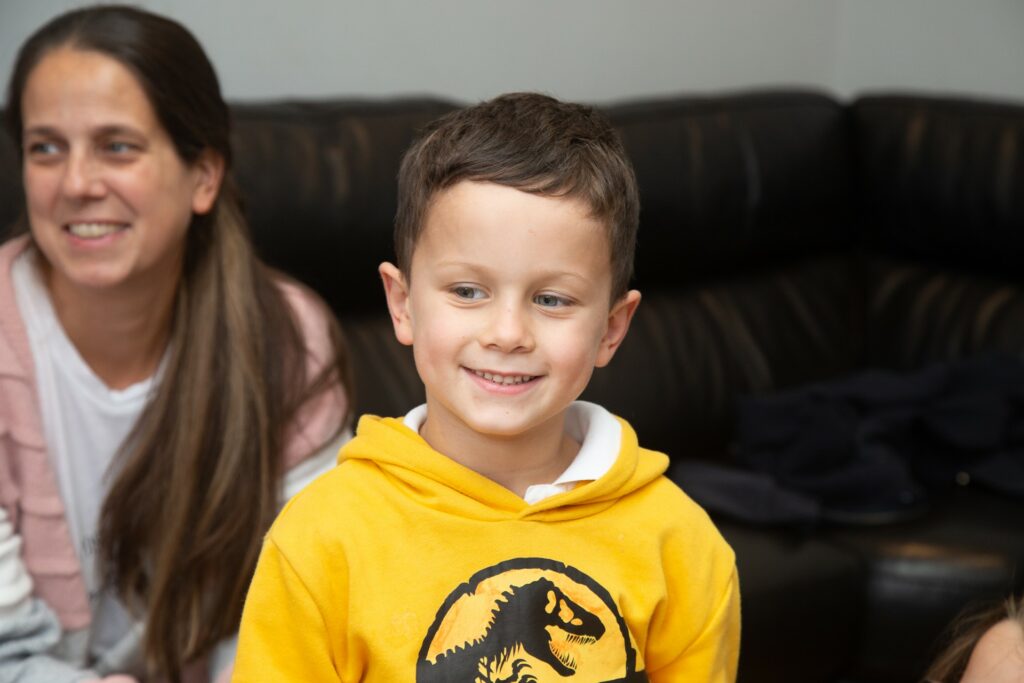 One of my goals was to take and see my little boy start infant school and I was able to do that.
I continue to raise funds and awareness for MND.
---
Arthur Rank Hospice Charity would like to say a big thank you to Lee and his family for supporting the Charity at the Annual Lecture in 2022. You can view a full video of Lee's interview HERE 
You can read about Lee's Wheelchair Challenge which he completed with the help of volunteers in October 2021.
Lee continued to raise funds for MND and a Charity Ball he arranged and attended, just three weeks before he died, on 4 May 2023 raised over £20,000 for MND and Arthur Rank Hospice Charity.