Determined Lee takes on a Wheelchair Challenge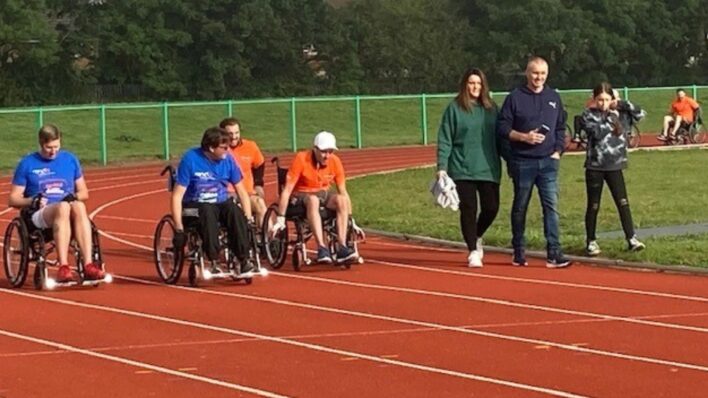 You may have read on our website or heard via our social media channels about 43 year old Lee Taylor who was diagnosed with bulbar onset MND (Motor Neurone  Disease) in December 2019.
Having recently completed a Kilimanjaro Step Challenge, Lee was determined to push himself even further.  However, as his condition continues to progress, Lee realised that he would need some help and brought in a team of volunteers to help him complete his next challenge – completing a half marathon in a wheelchair.
How did it work?
14 friends, including Lee, were divided into teams of two. Each team of two collectively completed a half marathon in a wheelchair around a 400 meter athletics circuit. Each team member completed a distance of 6.5 miles.
The event took just over two hours to complete, and once everyone had completed the 25th lap, they all joined together to support Lee in the final push.
Thank you
This event could not have gone so smoothly without the help of AJM Healthcare who donated the wheelchairs, Hydrate for Help for donating 20 hands free drinks bottles, Biggleswade Athletics Club for donating use of the athletics club, staff from MND Cambridge and our very own Ambassador, Jen, for her support.
Lee said "It was such an amazing day with friends and family and proves what I have said all along; positivity fuels motivation, motivation fuels determination and that combination equals an unbreakable spirit. I can't thank my family and support network enough for all they have and are doing for me and my family."
We can't thank Lee enough for all the support he continues to show Arthur Rank Hospice Charity. If you would like to show Lee your support, his fundraising page is still open and can be found here.
If this story has inspired you to create your own challenge fundraiser, please give our team a call on 01223 675888 or email fundraising@arhc.org.uk.