Emma, 10 and Jasper, 14 win Inspirational YoungStars Awards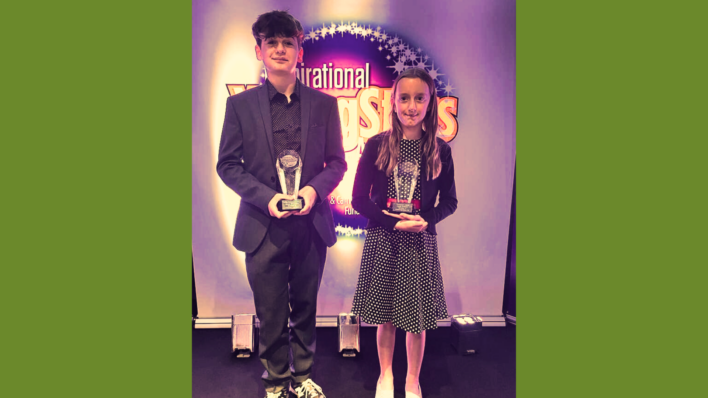 Arthur Rank Hospice Charities young supporters Jasper Ostler-Gee, aged 14 and Emma Robbins, aged 10 were both celebrated at the Inspirational YoungStars awards winning awards in the fundraising category of the evening. The Cambridge Charity Fundraisers and the Cambridge Independent teamed up for the second year to launch the Inspirational YoungStars Awards.
Jasper has been supporting Arthur Rank Hospice Charity since his grandfather, John Ostler, died over four years ago and has raised over £1,700 with his annual challenges. You can read  more about Jasper's challenges here.
Jasper commented:
"My Grandfather really enjoyed sport, and my challenges are something I can do, similar to what he liked, to raise funds for Arthur Rank Hospice Charity, who took such great care of him before he died."
Emma, 10 started fundraising when her Grandma, Christine Brooks, died last year – organising her own cake sale and taking part in Mission Mud raising sponsorship of over £500. You can read more about Emma here.
When Emma collected her award she told the attendees:
" I like running, so I decided to get muddy and run though ponds and climb mud walls – we all came together to have fun and raise funds for Arthur Rank Hospice Charity."
Jasper and Emma attended the Inspirational YoungStars Awards evening held at the Signature Suite at Cambridge United Football Ground on June 30, with their families and Community Fundraiser from Arthur Rank Hospice Charity, Sarah Clayton who nominated them both.
Sarah commented:
"It has been a delight to see Jasper and Emma receive such recognition for their hard work and determination. I had to nominate them both for using their energy in such a positive way after dealing with the loss of their grandparents."
If you or the younger members of your family have been inspired by Jasper and Emma and would like to fundraise for Arthur Rank Hospice Charity please contact Sarah or Vic from our Community Fundraising team, email  cf@arhc.org.uk  or call 01223 675888 for fundraising support.