14 year old Jasper goes above and beyond in fundraising climb in memory of his Grandad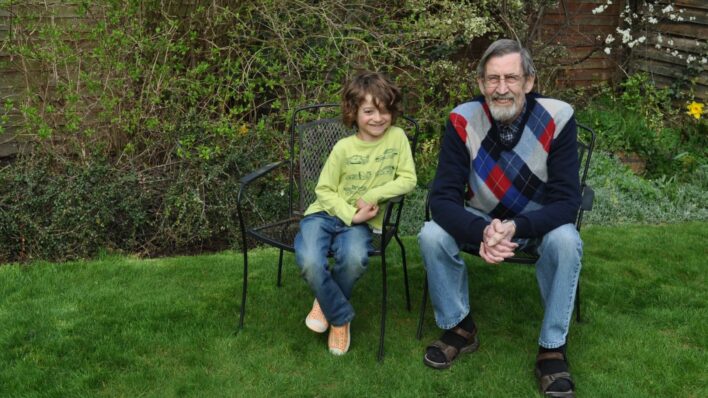 14-year-old Jasper's Grandad was cared for by Arthur Rank Hospice Charity. In memory of his Grandad, John Ostler, and the care he received, Jasper decided to undertake a range of annual challenges.
This year, alongside his Dad – Alex, Jasper chose to climb the entire height of Mount Everest – a whopping 8849 meters!
With the support of Clip 'n Climb in Cambridge, Jasper scaled a climbing wall over 1,475 times to reach the height of Mount Everest, completing sessions of 50-100 walls at a time.
Clip and Climb's Centre Manager, Tamara, commented:
"We're so glad that both Jasper and his Dad – Alex were able to complete their mission and push through their barriers – especially when they got tired."
This is not the first time Jasper has gone the extra mile for the Charity. When he was just 12 years old, Jasper ran the distance of a marathon. Then at 13 years old, he took on the incredible challenge of completing a virtual Iron Man Triathlon. This entailed running a marathon, completing a 112 mile bike ride, and finishing with a 3.9k swim – incredible!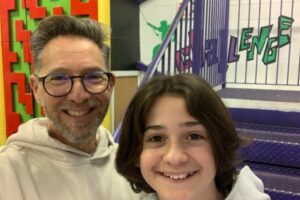 Jasper commented:
"I started raising money for Arthur Rank Hospice Charity about four years ago because they took such good care of my grandad. My challenges so far have been completing a marathon (in small chunks), an iron man and climbing the equivalent height of Mount Everest.
When fundraising I feel pleased that I can contribute to a good cause. My grandad really loved sports, especially football, so I feel like raising money in this way honours him and would make him proud.
Last year I visited Arthur Rank Hospice and I got to see where the money I raised was going to which was really exciting! Everyone there seemed really friendly and there was a great atmosphere. My favourite part was the garden which was beautiful and easily accessible for all. I hope more people fundraise for Arthur Rank Hospice Charity in the future as it's such an important cause and I'm looking forward to starting my next challenge!" 
Over the years, Jasper has raised over £1,700 in memory of his Grandad.
Sarah Clayton, Community Fundraiser commented:
"Jasper is a continual inspiration with his dedication to supporting the Charity in a variety of challenges. We look forward to seeing what comes next".
"Thank you Jasper, for all the hard work that has gone into your Fundraising for #TeamArthur. We are so grateful and proud of you!"
If you or the younger members of your family have been inspired by Jasper and would like to fundraise for Arthur Rank Hospice Charity please contact Sarah or Vic from our Community Fundraising team, email  cf@arhc.org.uk  or call 01223 675888 for fundraising support.