Golfers raise £2,467 to support vital Hospice Care services in Cambridgeshire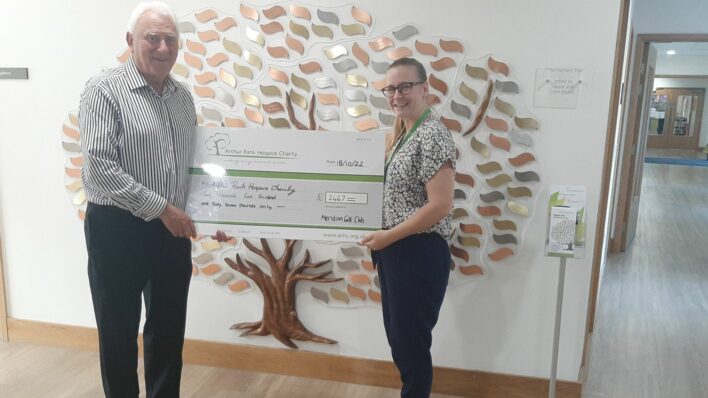 We were delighted when Peter Robbs, called into the Hospice recently to deliver a cheque for £2,467 from Cambridge Meridian Golf Club.
The club, in Toft, nominated Arthur Rank Hospice Charity as their Charity of the Year at the beginning of 2022 and they have been busy raising vital funds ever since. A range of events have taken place including a Charity Day and a Captains Day which together raised almost £2,500!
The money raised from our Charity of the Year supporters goes to our care services, which means we can continue to offer support at no charge to people in Cambridgeshire living with an advanced serious illness, or other life-limiting condition, and those who need end-of-life care.
Mr Robbs explained:
"When we were choosing our Charity of the Year we all agreed we wanted to support a local Charity and Arthur Rank Hospice Charity has helped many people connected to the golf club."
Sarah Clayton, Community Fundraiser said,
"Many organisations, such as social groups and sporting teams, are discovering the fun and benefits of giving back and Charity of the Year is a great way to do it. We are very grateful to Meridian Golf Club for their support.
When community groups choose us as their Charity of the Year we can provide assistance to help them maximise their fundraising. We also offer to visit to give a talk or presentation, to the organisation's members, to explain more about the Charity's services and the opportunity to learn more about the difference their funds can make to patients and their families."
If you are interested in choosing us as your Charity of the Year please visit arhc.org.uk/COY or contact our Fundraising Team on cf@arhc.org.uk or call 01223 675888. We look forward to hearing from you.