Hospice Charity chosen as Charity of the Year for Second Term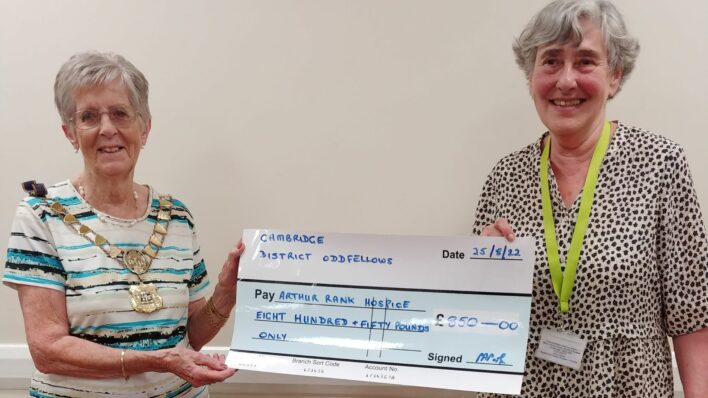 When Mrs Pat Park visited our Hospice recently she gave us not one but two pieces of wonderful news.
She was the Provincial Grand Master in charge at Oddfellows Cambridge from March 2020 to March 2022. As she presented a cheque for £850.00 to our Ambassador, Judith Chisholm, she announced that the organisation have chosen to continue to support Arthur Rank Hospice Charity as their Charity of the Year for 2022 -2023.
Sarah Clayton, Community Fundraiser commented:
"The support Oddfellows Cambridge have shown to Arthur Rank Hospice Charity is greatly appreciated. With members of Oddfellows being previous volunteers to our Charity also, we know they are superbly invested to support our services. It is a true honour to be selected as their Charity of the Year for two years in succession.
If you are interested in choosing us as your Charity of the Year please contact our Fundraising Team on cf@arhc.org.uk or call 01223 675888