Thinking of signing up for the Hadrian's Wall Path challenge?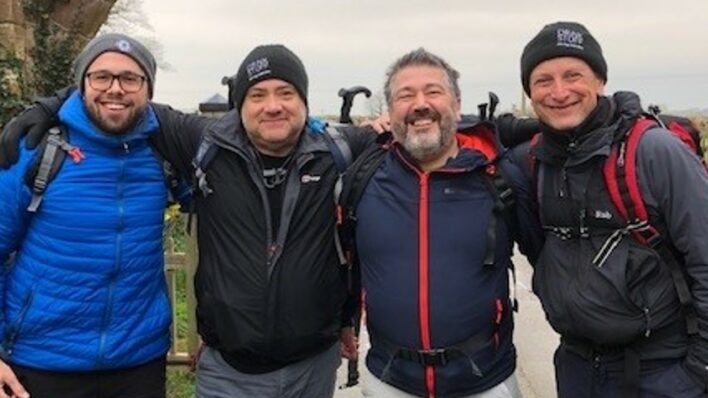 We caught up with supporter, Stuart Goode, Operations Director at DrinkStuff, who took part in the challenge in 2019, for a personal insight to the experience.
Why did you decide to take on the challenge?  
It was something I always wanted to do as a challenge and after loosing my mum it gave me a good focus and purpose to do it for Arthur Rank Hospice Charity. She was cared for both with the Community Team and in the Inpatient Unit and I wanted to give something back to them as they were wonderful during a very difficult time.
What preparations did you make?
There were four of us from Drinkstuff who signed up to the challenge; Paul Lochhead, Mark Gomes, Tony Taylor-Moran and myself. As a team we did two long training walks together, around 8 and 12 miles each, and individually I did a lot of walking and running to get fit for it.
How did you raise awareness and fundraise for your walk? 
I set up a Just Giving page and sent the link to my friends and relatives via email, social media and word of mouth. I sent updates to let them know how my training was going and then let them know once I had completed the challenge.
Where did you stay for the challenge?
The night before the walk we stayed in a youth hostel which was arranged by the Charity. It was new and clean, with a large common room where we all ate an evening meal and breakfast the morning of the challenge. There was a dorm where the four of us slept. We also decided to book a B&B nearby the night after we walked too as we knew we would be too tired for a long drive home.
On the day what time did you start and finish?
We walked for 12 hours! We started walking at 7.00am of course we had to be up much earlier than that as we had breakfast at the hostel first and then got the bus to the start point. We finished around 7.00pm (and as the clocks hadn't gone forward for Spring yet) we finished in the dark.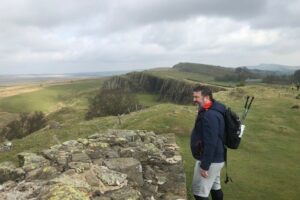 Was it as you imagined it?
Yes and no, it was tougher than I imagined it was going to be with far more hills but the views were stunning! We walked through towns and villages which I hadn't expected.  It was important to keep remembering to look at the views which made it much easier to keep going. The team spirit was amazing! Not just for our team but for everyone who was walking for Arthur Rank Hospice Charity.
What got your through?
The comradery, determination and wanting to complete it – not finishing it for me was not an option.
Have you done anything like this before?
No, I do lots of walking but had never taken part in an organised charity event before. I was impressed with the organisation for the challenge and the tour guides who walked with us were very knowledgeable and experienced.
How did you feel at the end of the walk?
Tired! Exhilarated and an enormous sense of achievement.
Would you do something similar again?
Definitely.
What advice would you give to someone thinking of doing it?
Just do it! As it is an unforgettable and amazing experience. Do train before though as it can be tough going in places.
Do you support Arthur Rank Hospice Charity in any other ways?
Yes, I have taken part in the Star Shine Walk a couple of times with my daughter and I did the Firewalk in 2019. Each year I volunteer to help with the Christmas Tree Collection.
At Drinkstuff we chose Arthur Rank Hospice Charity for our Charity of Year for the past two years so I have been involved lots of fundraising with them, such as a charity football match, many dress up and down days etc.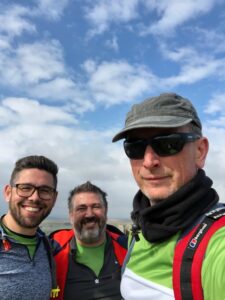 Anything else you would like to add…..
When I look back on my life this challenge will be one of the physical undertakings I will be most proud of.
For more information or any fundraising information please see arhc.org.uk/events/detail/hadrians-wall-path-challenge/ or email fundraising@arhc.org.uk or telephone 01223 675888.