Christmas Tree recycling
Christmas tree recycling is back! We welcome a donation in exchange for collecting your tree in January 2021.
If you live in postcode areas CB1, CB2, CB3, CB4, CB5, CB21, CB22, CB23 & CB24 and don't want the hassle of getting rid of your tree, we could collect it and recycle it for you between 7th – 10th January 2021.
Thank You
Thank you to everybody who registered their tree for collection with us.  Our teams are collecting final 'sweep' trees that we have been notified of today, Sunday 10th January.  After this we can no longer collect any more due to the rapid rise in infections.
Thank you to everybody for your support.
Registrations
Due to unprecedented demand, we have had to close our registrations earlier than expected. We are so sorry for the inconvenience.
Covid Secure
Our scheme will run in line with current Government guidelines and our risk assessments continually updated to reflect any changes.
Sponsored By
This year we are delighted to welcome on board two new sponsors: Cooke, Curtis & co and Cyber Business Growth.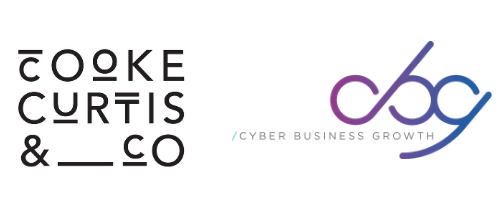 No needles in your car, no petrol costs and no queuing at the tip!
We welcome a donation and in exchange the Charity's voluntary team will collect the trees and take them to be recycled.  That means no needles in your car, no trying to get an appointment at the tip (correct as at August 2020) and petrol savings – we can do all the hard work for you.
How did we do last year?
In 2020 we collected over 2370 trees and raised over £33,000 which was a significant increase over 2019!  140 volunteers, using 60 vehicles donated their time over the three days the collection took place; their help was invaluable and we could not have achieved all this without their efforts.
Can you spare a few hours of your time to …
Promote our Christmas tree recycling collection for us by leafleting between 19 December and 4 January in the above postcode areas? We particularly need volunteers to cover CB21,  CB2, CB3, CB23  and CB5 .
Do you own a van, or are you happy to drive a rental vehicle? Can you help us collect the trees?
If you are unable to help on our collection days, can you sponsor a vehicle for one of our team to use?
Do you have a chipping machine and can help us chip the trees?
Are you a business who can utilise some volunteer hours to help?
If so, please contact the Fundraising Team on 01223 675888 or email fundraising@arhc.org.uk – we would love to hear from you!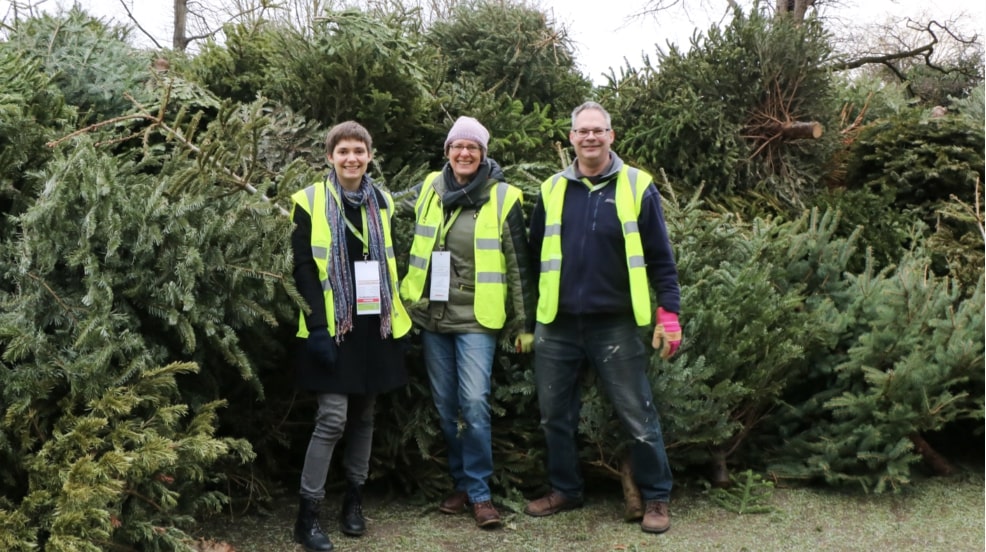 FAQs
Will your volunteers be COVID safe?
Government guidelines are changing continually and our risk assessments will be updated to reflect this.  Our volunteers will be provided with all the PPE kit needed and will work to the current guidelines.  The safety of all is of paramount importance to us.
This sounds like a great scheme, how do I register?
Registration is easy!  We use a third party company called JustHelping who look after the registrations and routings for us.  Register your details with them and we will collect.
Can I specify the day I would like my tree to be collected?
I am afraid not.  We receive the routes from JustHelping and it is impossible to say in advance what day we are able to collect.  We ask that your tree is left out by 9am from Thursday 7th January 2021.
My tree is over 6ft, will you still collect it?
Yes!  No tree is too big or too small.  If your tree is very large, please do contact us on 01223 675888 to let us know so we can be prepared and send the right sized vehicle.
I have more than one tree; is that okay?
Absolutely, just make sure you make a note when you register so that it gets picked up when we organise the routes.
Where shall I leave my tree?
The best place to leave your tree is where our volunteers can see it easily, as long as it not causing an obstruction to pedestrians. Upon registration, you will be asked where your tree is likely to be left.
What time should I leave my tree out?
Although we cannot guarantee what day your tree will be collected, we ask that all trees are left out by 9am on Thursday 7th January,
My tree has already been picked up
Each year we find this does happen.  It could be that your local Council or well meaning neighbour has taken the tree already.  If we have left a card for you to say we couldn't find it, please call us on 01223 675888 to let us know it has already been taken.
My tree has not been collected, what do I do?
It may be that our volunteers were unable to find your tree and will have left a calling card.  Please call the number that is advertised by 3pm so that we can arrange an alternative collection day.
Do I have to be at home when you collect the tree?
No, if our team are unable to find your tree they will leave a calling card with a contact number if you believe your tree has been missed.
I can't volunteer but would like to help sponsor a vehicle
As you can imagine, with over 2,000 trees, we need a lot of vehicles and manpower to help.  Some of our volunteers provide their own vehicle but we do sometimes have to hire vans. If you would like to sponsor a van, please call the fundraising team on 01223 675888.
I live on a new build estate and people don't seem to find my house. Can you still collect?
Yes, we can!  There is an opportunity for you to let us know any collection details when you register.  We just ask you to be as specific as possible so that our volunteers can find you with ease.
Can you collect from my place of work?
If your workplace has had a tree for the festive period, then yes we can.  Please just make a note of any access requirements when you make your registration.
What happens to the tree after collection?
At the time of writing this (August 2020), final details have not yet been confirmed but we are hoping to work with a team of chipping companies who will chip all the trees and left with the drop off point who has been carefully selected and can make use of the chippings in their environment.
How much of my donation goes to Arthur Rank Hospice Charity and how much to Just Helping?
As we are using a third party to administer our collections and work out the routes for our teams of volunteers, Arthur Rank Hospice Charity will receive 90% of the donation received plus gift aid.
I have got an old tree as well as my one from this year, can you pick this up at the same time?
Yes, we can. Please remember to add that there are two trees to be collected when you complete your registration.