Family and friends remember a loved-one together, with beautiful online tribute pages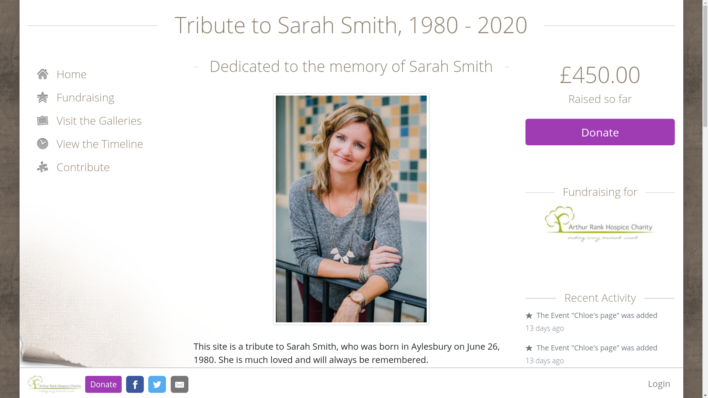 Arthur Rank Hospice Charity has offered tribute pages since 2018. However, since COVID-19 restrictions prevented family and friends physically coming together to grieve and celebrate a loved one's life in the traditional way, they have grown in importance and popularity.
A positive way to remember someone special
Tribute Pages can be compared to a dedicated website.  Each one is individual and a 'theme' can be selected to suit the person being remembered.
Some families chose to add a eulogy, which everyone with access to the page can read, and some have linked recordings to memorial services.  In turn, there are a range of ways family, friends and loved ones can share their thoughts, photos, stories, poems, even video and music.
Through creating a shared experience – at a time when people cannot join together in person – they are giving a much needed opportunity for tributes and dedications. They may also provide comfort to close family members who can read and see others' personal thoughts, pictures and stories, sometimes for the first time.
Chloe Laurance, In Memory Officer for Arthur Rank Hospice Charity, explains:
"Our tribute pages are free to set-up online and they can be easily shared with a link for all those wishing to pay their respects. Each tribute is unique and special; favourite photos and memories can be added; they are very visual.
One family chose to add a photo montage of their mum set to music, explaining the reason for their choices:
'The first track, The Nutcracker, was a reminder of her ballet days and the second she used to dance with dad to, and the last we played at dad's funeral as it is what we listened to each time we set off on holiday.'
It is very moving a personal tribute to those who knew her.
Tribute pages can be set up at any time, be adapted, running for as long as you like
Tribute pages will remain active for as long as the family wish and can be re-visited whenever they like and from anywhere in the world. You can even chose to light virtual candles on the page, to mark an anniversary or special date.
Often the families who set up Tribute Pages choose to also collect tribute donations via their page. For many, this provides an alternative equivalent to the 'collection' which might have been gathered at a funeral or memorial service.
Chloe, comments:
"We are honoured and incredibly grateful to be the recipient of such thoughtful tribute donations. However, families also have the option to create a free tribute page without the obligation to collect donations for a charity."
Kate was cared for by Arthur Rank Hospice Charity.  Her son set up a Tribute Page for her and shared:
"We chose to set up a tribute page, in part because we wanted people to donate to Arthur Rank Hospice Charity in mum's name, but also as we needed a focus to bring together comments relating to mum.  We got lots of emails and card too, but the website has been good in that it allows others to see and remember mum together.  This would be good at any time, but has been particularly important while we all have to social distance!"
You can hear about how Tribute Pages have worked for others on this video.
Chloe has also put together an easy to follow guide on setting up a Tribute Page:
If you would be interested to create a special Tribute Page for your loved one, please call Rachael on 01223 675893 (Monday-Friday 8:30am-4:30pm), email rachael.brown@arhc.org.uk, or visit arhc.org.uk/tribute