Bistro Buddies … 'Something to look forward to'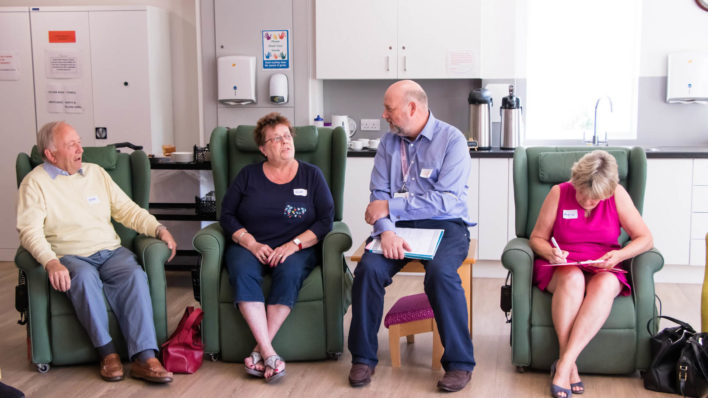 Sue giggles, "We take the mickey out of each other", Peter agrees, "but not on camera!"
This lovely video shows two friends talking about how they met at the Arthur Rank Hospice Charity Bereavement Group and the importance of the union.
Four years ago Peter explains:
"I was 'chasing my tail- running away from what I felt. I started to attend the Bereavement group at the Hospice and met others in a similar situation. I need company and was living on my own. Your life changes completely when you lose someone and you have to start to live – the Bereavement group gets your life going again."
Sue adds:
"We all know what we are going through and support each other. We are lucky to have found each other, someone to talk to and not judge. I don't want to hear 'pull yourself together' no I don't' want that"
Peter confirms:
"The best thing was having a laugh – if you can laugh it is probably better than any medicine."
Peter continues to explain how the 'Bistro Buddies' formed:
"I did not want to cook so the five of us [from the group] decided to eat afterwards in the Bistro, and we have carried on ever since. We are getting better but we still have bad days. It is something to look forward to."
"We looked around for somewhere else to meet but the Bistro is ideal. The carpark [is so close] and we can have a coffee and chat, something to eat and then another coffee; there's no rush, no hassle"
"We called ourselves 'The Bistro Buddies' and we have [formed] a lovely friendship from a very sad situation. We wouldn't have met if it hadn't been for the Bereavement Group."
Many people who experience bereavement manage with the support of family and friends.
At other times we may find it helpful to talk with someone outside of that circle. There are resources and organisations that can help.
If it has been more than eight weeks since your loved one died and you are finding that your grief is having a significant impact on your daily life, you can self-refer for bereavement support to our Patient and Family Support team. If you live outside of our postcode area, you can make contact with your local hospice; most offer bereavement support to people local in their area, regardless of where their loved one has received support.
For further information please see our website arhc.org.uk/bereavement/ or email pfs@arhc.org.uk  or telephone 01223 675770.
Our Bistro is open to patients, their friends and family and the general public every day from 9:00am-4:00pm. It is light, bright and airy and has inside and outside dinning areas for breakfast, coffee, lunches or afternoon tea. At the weekend you can find cooked breakfast and roast dinners too! For more information and to see a sample menu please see our website page  arhc.org.uk/bistro/