Clinical Hospice Colleagues work together with Cambridge Care Homes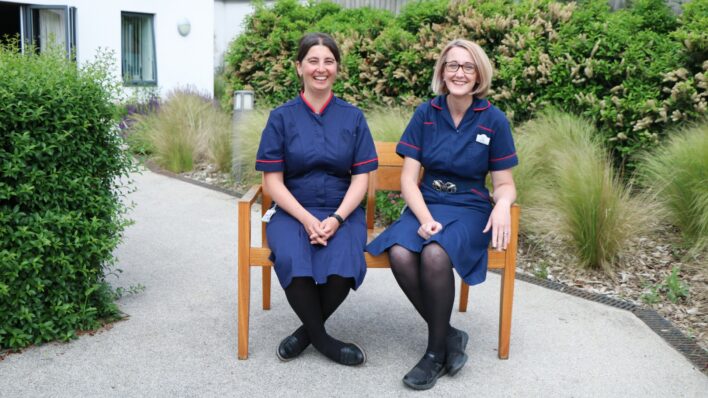 As we approach Dying Matters Awareness Week, Clinical Nurse Specialist for Palliative Care Needs Rounds and Palliative Care Hub, Katherine Goller explains more about a research study she has been involved with:  
'Palliative Care Needs Rounds' is the name of a year-long research study involving the Arthur Rank Hospice Charity, which began in July 2021.
It is being led by a team at Stirling University and involves six hospices in England and Scotland, working with between four and six participating care homes in their local area.
Improving palliative and end of life care for care home residents
The aims of the study are to improve palliative and end of life care for care home residents.
Data has been collected throughout the course of the study in the form of interviews and questionnaires. This has been challenging, particularly during the pandemic when data collection across all sites has not been the priority.
Four Cambridge Care Homes participate in the study
In Cambridge, four care homes have taken part and each month I have been going into these participating homes to meet the staff and to discuss with them the palliative care and end of life care needs of their residents. Where appropriate, I have met residents and spoken to family and friends.
It has been a real pleasure to meet and get to know colleagues who are working in care homes.
These colleagues are on the front line of caring for people who are approaching the end of their life and working with them to try and achieve the best possible care for their residents and families has been a valuable experience.
What I have observed in my participating care homes is just how well the staff know their residents and families. I have seen many examples of personalised and compassionate care.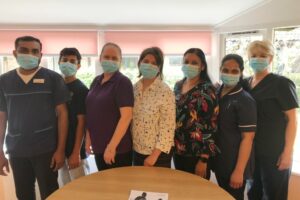 Partnership planning and working
Sometimes residents will have been in the care homes for some years but increasingly care homes are places where people are cared for over a relatively short period of time, perhaps for a few short weeks or months as they are discharged from hospital for end-of-life care.
A Clinical Lead in a participating home told me that he had observed changes within the sector. There is now a far greater focus on advance care planning conversations and consideration is given to end of life care, starting at the point of admission.
The homes that I have visited all have excellent relationships with a GP who visits regularly, and the Gold Standards Framework is an end-of-life tool that seems to work well in this setting, helping to empower care home staff.
I have had some thoughtful conversations about the end-of-life care of residents, and I think that the opportunity to just talk things through with a palliative care nurse has been a helpful aspect of the study for the care home staff who have attended the Needs Rounds meetings.
I am grateful to colleagues from our Complementary Therapy Team who have visited several residents and made a real difference.  The daughter of a lady with advanced dementia was comforted to know that her mother was being visited by a member of our team.
For most people who are approaching death and for those important to them, end of life care is about being somewhere where they can receive high quality, compassionate care.
This year the dying matters week campaign asks:  Are you #In A Good Place to talk about death, dying and grief?
I have encouraged my participating care homes to take part in this conversation and have offered some teaching and discussions with the family and friends of residents during Dying Matters Awareness Week.
The Good Death Project
During Dying Matters Awareness Week the Charity's Living Well Services both at Shelford Bottom and at the Alan Hudson Day Treatment Centre will be taking part in both virtual and face to face conversations around the Good Death Project where poems and creative writing is used to create a relaxed and open atmosphere for sharing.