Local 'legend' wins Volunteer of Year Awards just weeks after beloved Mum dies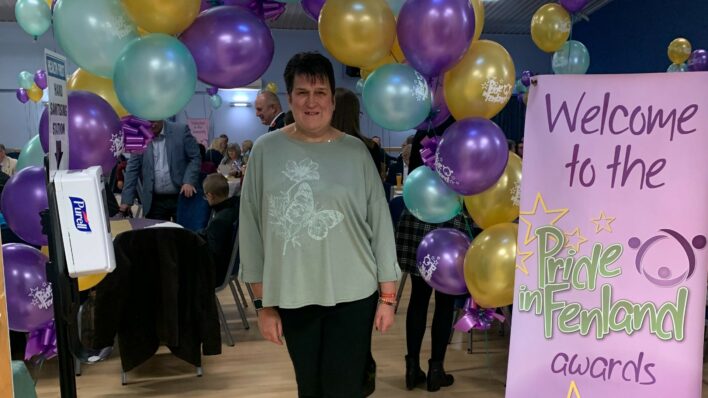 Volunteer, Anna Elliott, smashed the votes and picked up first prize for Volunteer of the Year at the 2022 Pride in Fenland Awards ceremony. Anna, from Wisbech, volunteers at the Alan Hudson Day Care Centre and has done so for over ten years. She supports fundraising events making cakes, she organises knitters and she sells homemade craft items and pre-loved jigsaws to boost vital funds for the centre, which is part of Arthur Rank Hospice Charity.
Matron at the Alan Hudson Day Treatment Centre, Michelle Knight commented:
"I nominated Anna for the Fenland Citizen Volunteer Award [and from there she was nominated for the Pride of Fenland Award] because I am extremely grateful for all that Anna and our volunteers do. This place would not function without them and the patients so value their support and company."
Anna attended the awards ceremony at St Mary Sports and Community Centre in Wisbech. Organisers of the awards, Fenland District Council and the Fenland Citizen newspaper invited the local community to nominate their unsung hero. Anna received multiple nominations, with all of them saying how wonderful she is and describing her as a 'legend'.
Toni Bird, Fundraising Coordinator at The Alan Hudson Day Treatment Centre said:
"Anna is a credit to the Charity, she is a wonderful lady and we are so proud of her. She was up against some stiff competition with all the contenders worthy of recognition. Despite Anna losing her beloved Mum suddenly in September, she came into the Centre with a smile at a little awards ceremony we organised for her here to show our personal appreciation."
Arthur Rank Hospice Charity relies on the generous support of over 600 volunteers to help support people in Cambridgeshire living with an advanced serious illness or other life-limiting condition. If you would like to find out how to volunteer please email volunteer@arhc.org.uk or telephone 01223 675872 or visit arhc.org.uk/volunteer
Anna also recently won the Fenland Citizen Volunteer Award. You can read all about it here: www.fenlandcitizen.co.uk/news/meet-fenlands-most-amazing-volunteers-9277330/