A gift for YOU! – Chocolate Biscuit Cake recipe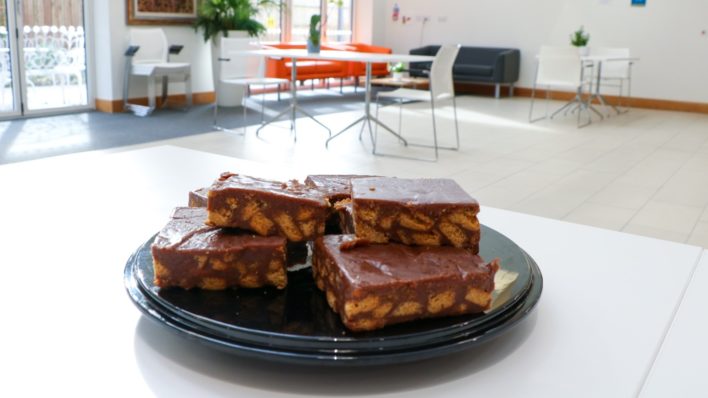 As our Bistro team prepares to invite customers back to their outside seating area (please keep an eye on our news page for more details) we thought we would gift you with another of their special sweet treat recipes.
Throughout lockdowns, Tsvety, Front of House Manager and the Bistro team have been busy at the Hospice providing fresh and daily food for our patients and their visitors – as well as refreshments for our colleagues who have been working at the Hospice providing essential care services.
In February the Bistro team kindly shared their delicious Fruits of the forest brownie recipe and now they have taken a moment out of their day to share their yummy Chocolate biscuit cake:
Chocolate biscuit cake
Ingredients:
250g chocolate chips
250g butter
250g biscuits
2 eggs
50g sugar
 Method:
Gently melt the butter and sugar together in a saucepan, until the sugar dissolves.
Take it off the heat while you whisk the eggs.
Then add the eggs into the butter and sugar.
Add the melted chocolate to the mix.
Fold in the broken biscuits.
Pour into a greased tray.
(Now the hardest part) Leave for 6 hours in a fridge to set, before cutting into portions.
Enjoy!
Do let us know how you get on and look out for our next recipe, which will be the famous millionaire shortbread. 😊