A special recipe from our Bistro team!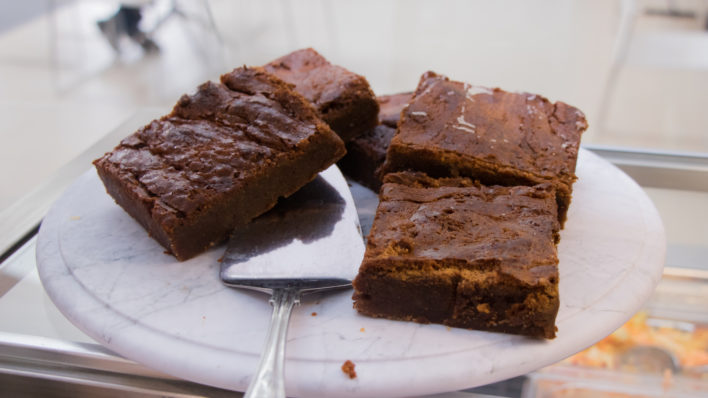 As you will probably have realised, our Bistro has unfortunately had to be closed to the public as we make our way through this third lock-down.
However, the Bistro team are still in the Hospice, working hard to provide fresh and daily food for our patients and for their visitors – as well as refreshments for our colleagues who are still working at the Hospice, providing essential care and services.
Tsvety, who manages our front of house, has kindly taken a moment out of her day to share the recipe for our sooo delicious Fruits of the Forest Brownie.
If you're home based and missing the Bistro (or other!) sweet treats, give it a try and let us know how you get on!
Fruits of the Forest Brownie
What Tsvety says about it:
"Our Fruit of the forest brownie is indeed very popular and one of my favourite cakes. Once you've tried it you will keep coming back for more."
Ingredients
135g frozen mixed berries
200g of quality milk chocolate
170gof salted butter
270g of soft dark brown sugar
4 medium size eggs
60g plain flour
35g cocoa powder
Method
Heat the oven to 160 degrees C
Grease and line the tray with baking parchment
Gently melt the chocolate, butter and dark brown sugar in a saucepan
Stir every now and then and when it's all melted leave to cool
Once the mixture is cool, add one egg at a time and stir in
Once all the eggs are added, stir in the flour and cocoa powder
Pour the mixture into the baking tray and spread around
Sprinkle the frozen mixed berries evenly
Cook for 30 min or until a crust is formed
Other instructions
Enjoy!
A closing thought from Tsvety and the team (to whom we are ever so grateful to, for this recipe!):
"I miss deeply the buzz and dynamic of the bistro from the times when we were open, and full, with customers. But I am confident that we have a lot of amazing supporters, which will come back to us again.
Stay strong and stay safe!
Tsvety Marinova and Bistro Team"
We can't wait for the next one… (hint hint!)