Rudolph Run
After the success of the 2022 campaign, we are pleased to say Rudolph Run is back.
We would like to help schools finish 2023 on a feel-good high!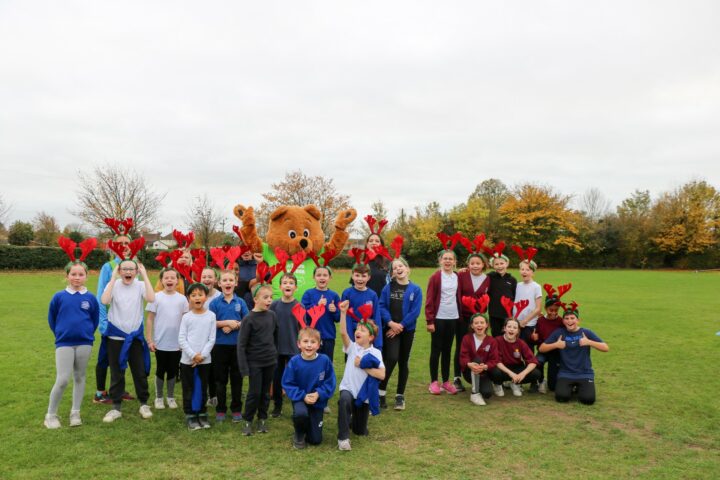 Join Arthur Rank Hospice Charity Rudolph Run to continue to make every moment count this Winter.
What is happening?
We are inviting schools and settings across Cambridgeshire and the Fenlands to join us in our Rudolph Run, held in their own playground, from Mid-November- a sponsored event that all (including teachers!) can participate in. This exclusive event allows children an insight into how a hospice is run and an opportunity to support their local charity.
How? – You can choose
Set a date that fits into your school calendar -although a busy time of year – a great way to end the term on a high. 
Set the distance best suited to your pupils; 1, 5 or 10 laps of your playground.
No minimum donation to participate (collectively or per child).
Choose to split the run by year group, or key stage group.
Invite their families to watch at the end of the day, or tie it in with your lunchtime or afternoon PE class, it's all completely up to you and can be as big or small as you like!
Book our real life Arthur Bear to attend your Rudolph Run (this is subject to availability – he's a busy bear! so please book early to avoid disappointment).  
What will you receive from us?
(These are all optional, we can tailor the experience to you and your school's needs)
Full support and advice from our Community Fundraiser, Sarah or Vic.
Helpful hints on how to raise money on event day for your own school.
An assembly to share the work of Arthur Rank Hospice Charity in a child-friendly way.
We know that schools have a continued desire to support charities in the wider community so we hope that you see this as a fun way to do that.
We can be as hands-on or off as you like and hope that the children will enjoy learning more about their local hospice and breakdown some of the misconceptions of what a hospice is like, as well as helping to raise vital funds for it's services. 
If you would like to find out more, please call Sarah or Vic on 01223 675888 or email cf@arhc.org.uk.
This is a fantastic opportunity to start a conversation with children about end of life care and removing the stereotype of Hospices being sad places

School Headteacher
FAQs
Is this on a set date?
Rudolph Runs can be booked for whatever dates suits your setting in November or December. 
What do the children receive?
We give a set of antlers to everyone taking part. Certificates and Sponsorship forms are also provided in PDF form.
Is there a minimum distance?
No, we let you decide. We are flexible to what best suits your setting. 
Can your real-life Arthur Bear attend our Rudolph Run?
Arthur Bear loves visiting children, we advise you to book your date early and we will do our very best to get our real-life bear to attend.