Oddfellows Friendly Society in Cambridge donate £1,040 for Hospice Care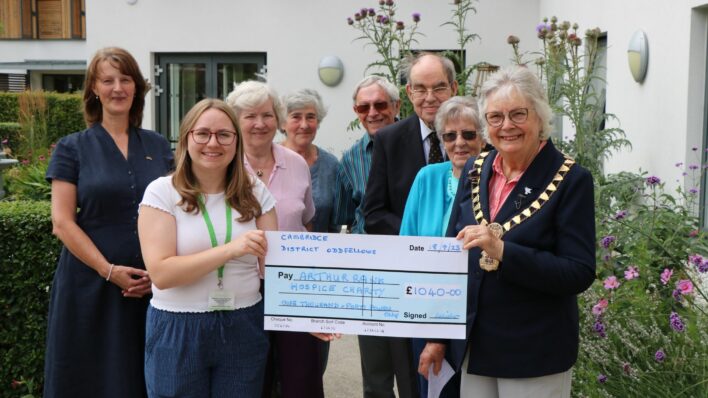 The Oddfellows friendly society which improves the quality of people's lives through friendship, care and charitable support recently donated £1,040 to Arthur Rank Hospice Charity.
Chair and Grand Master, Rosemary Monk, and members of the Cambridge District Oddfellows visited the Hospice on Tuesday 18 July to present the cheque to help support people in Cambridgeshire living with an advanced serious illness or other life-limiting condition.
Communications and Income Generation Director, Donna Talbot, Community Fundraiser, Victoria Kidd, and Ambassador from Arthur Rank Hospice Charity, Judith Chisholm, were delighted to welcome the group to the Bistro to enjoy refreshments, before meeting the new Chaplain, Faizan Mohammed and taking a tour of the Inpatient Unit and the Living Well Service.
Rosemary said they had chosen Arthur Rank Hospice Charity as their Charity of the Year as many of the group had personal experience of the care that the Charity provides and some of the members had previously supported as volunteers or through charitable activities.
Donna Talbot commented:  
"We are so grateful to Rosemary and the group for their generous gift. Our care is important to so many, whether delivered here at the Hospice, in the patient's own home or at our centre in Wisbech.
It is wonderful for the Oddfellows to help with our fundraising efforts and also crucially help us raise awareness of the care we can provide. There is an assumption that hospices are only available for people at the end of life.
We appreciate the Oddfellows' help in encouraging more people to find out about the support available at the earlier stages of living with a life-limiting condition as we know that the sooner we can get involved the better the quality of life can be for the patient and their family."
If you would like a tour of the Hospice, please visit our website or contact the team on 01223 675888 to organise a private tour.
Image: Left to right: Linda Millar (Secretary), Victoria Kidd (Community Fundraiser at Arthur Rank Hospice Charity), Anne Wyatt, Judith Chisholm (Ambassador at Arthur Rank Hospice Charity), Mike Park (Deputy Grand Master and previous Arthur Rank Hospice Charity volunteer), Robert Monk (Treasurer), Pat Park (Previous Arthur Rank Hospice Charity volunteer) and Rosemary Monk (now Past Chairman of the Oddfellows Society)