Hospice patients leave a lasting and intimate memory for their loved ones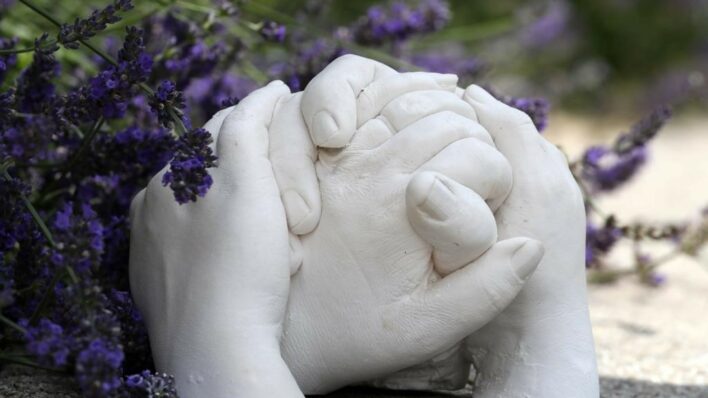 Hand casting is just one of many things that the Living Well Service team at the Hospice and at the Alan Hudson Day Treatment Centre offers to patients who would like to leave a lasting and intimate memory for their loved ones.
An individual plaster cast of the patient's hand, or the entwined hands of the patient and their loved ones, can be created by skilfully dipping the hands into a bucket of plaster cast. It is an interactive experience for both the patient and their loved ones and creates a long-lasting personal keepsake.
Faith Macrow, Life Celebration and Creative Activities Coordinator explained:
"We offer hand castings either as an individual, with a family member or in groups of up to five. The sessions are carefully prepared and themed around 'hands'. Whilst patients drink tea and/or enjoy a hand massage, with the support of the Complementary Therapy team, we share a step by step powerpoint presentation (including photos taken by Doug who was a patient at the first session) with them about the process.
Each hand cast is unique to the patient and loved one and can be bespoke to something that is important to them. At our first clinic we had two couples and a patient, one chose to hold a golf putting head in order to make his cast into a golf trophy.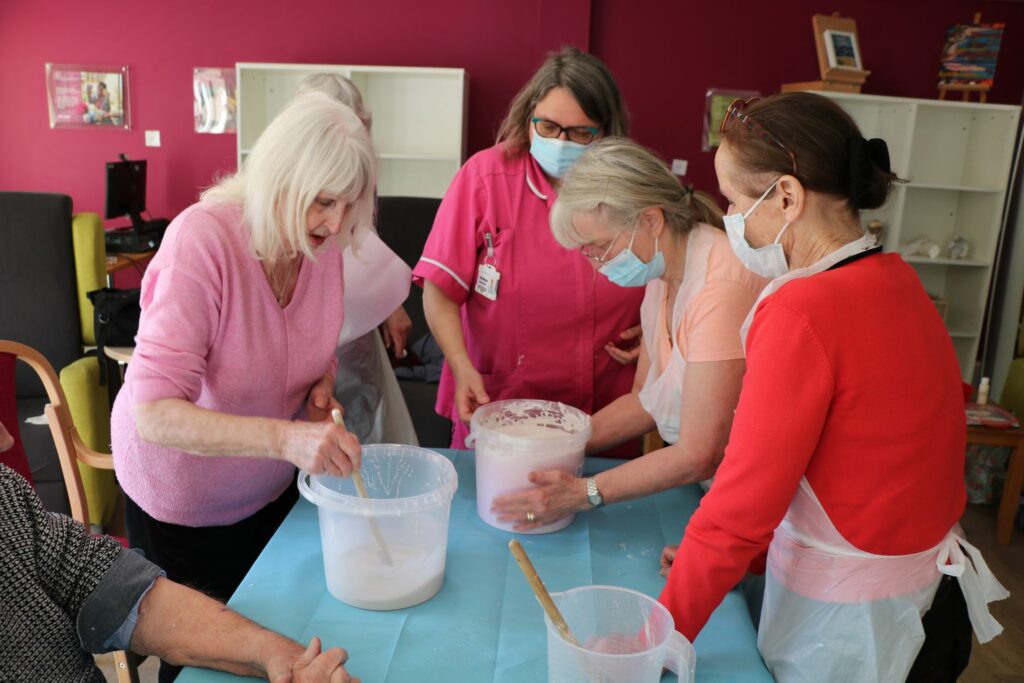 We held a training session back in February for staff and volunteers. Hand casting usually takes me at least 1.5-2 hours for each one, so by training volunteers under my supervision, it means we can create more casts in less time. It was lovely to see three patient's life celebration goals come true at a really fun, social and interactive afternoon. Rosemary, Caroline, Katie and Nadia, our four volunteers on the day, learnt a new and fun skill and our patients went home carrying their own buckets of plaster.
Sometimes families like to create hand casts themselves at home. If they are considering this, I like to make them aware it can be a messy process and the results aren't guaranteed. Casts take several weeks to dry and can be finished by the family if they wish to.
Patients and families are also signposted to the hand massage videos, which show families how to self massage and massage a loved one. You can find these along with many other helpful videos on our website.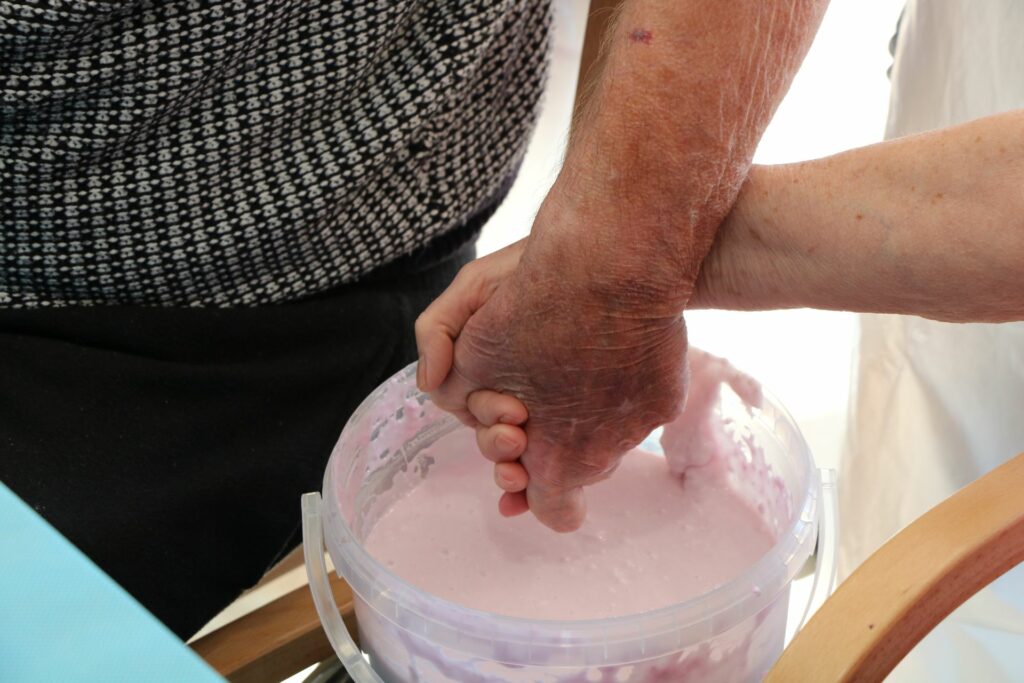 One couple who attended an Open Day at the Hospice, shared their experience of their hand casting session:
"It was a brilliant day, and we even got a lovely hand massage' so it was enjoyed by all."
Faith continued:
"We buy the baby rice, family kits from Amazon to create the hand casts. Using these kits makes the process and instruction so easy for patients and volunteers, with really good results but they are a big outlay for the Charity to fund. Each set currently costs £39.95 and is one of the most expensive options we offer to patients.
If anyone would like to buy a hand casting kit they can do this through our Amazon Wishlist or donations can be made via our website, our Facebook page or sent specifically to our Living Well Service.
I would like to thank Peter Norton, a supporter who so kindly makes the lovely wooden platforms for hand casts to sit on. They come in a variety of colours made and a have a beautiful finish. Patients and families love to display their hand casts on these platforms. Peter makes these at no cost to the Charity. We do suggest a £5 donation for these platforms."
If you are a patient with Arthur Rank hospice Charity and you would like to make a hand cast or find out more about the other Life Celebration Creative options, such as creating a stone fingerprint keepsake, recording your Life Story, leaving video messages, creating memory boxes or goodbye letters you can be referred via your current Arthur Rank Hospice Charity service. Please ask your nurse or health professional to do this. You will then be contacted by the appropriate team member.
If you would like to volunteer for the Charity please see our current vacancies.