Dance the night away and raise funds for Arthur Rank Hospice Charity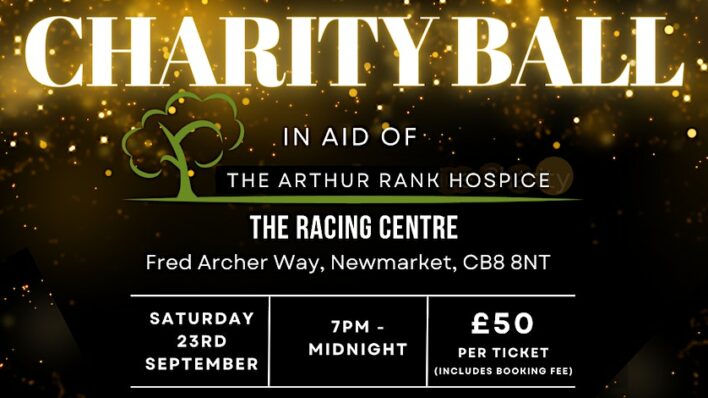 A Charity Ball, which will take place on Saturday 23 September 2023, at the prestigious Racing Centre in Newmarket, Suffolk, promises to be a night to remember. Attendees can expect an evening filled with elegant ambiance and heartfelt generosity.
This is not the first time that organisers, Bobbi Claxton and Chloe Shea have taken up the mantle of putting on a Charity Ball to raise funds for Arthur Rank Hospice Charity. In 2019, they successfully hosted their Inaugural Ball at Chilford Hall, which was a resounding success.
The overwhelming support from the community and the attendees' generosity allowed them to make a significant contribution of over £2,400 to the Charity. Now they are back and more determined than ever to surpass their previous achievement.
Guests at this year's Ball will be treated to a night of entertainment and charitable giving. Each table will seat ten people – offering the perfect opportunity for friends, family, and colleagues to come together and make a difference. With a delicious three-course meal served throughout the evening, attendees can mingle, network, and celebrate while contributing to a worthy cause.
To ensure that everyone has a fantastic time, Bobbi and Chloe have secured the services of DJ Andy Palazon. With his expert skills in creating a vibrant atmosphere and playing a wide range of music, guests can dance away the night and create unforgettable memories.
One exciting aspect of the Charity Ball is the raffle prizes that have been generously donated. Attendees will have the chance to win incredible experiences and goodies while supporting Arthur Rank Hospice. Some of the prizes include:
With such fantastic prizes on offer, the raffle is guaranteed to be a highlight of the evening.
The motivation behind Bobbi and Chloe's unwavering commitment to Arthur Rank Hospice Charity is deeply personal.
Both of them have experienced the loss of loved ones who received exceptional end-of-life care and family support from the staff and volunteers at the Hospice. Witnessing first hand the profound impact that this facility had on their families, they felt an immense gratitude and a desire to give something back. The Charity offers vital services that help patients and their families through challenging times and Bobbi and Chloe want to ensure that others can benefit from the same level of care and support.
If you would like to support Bobbi and Chloe in their mission to raise funds for Arthur Rank Hospice Charity, mark the date in your calendar for 23 September and join them at The Racing Centre in Newmarket.
Together, we can make a difference in the lives of patients and their families, providing them with the care and support they desperately need during difficult times.
For more information about fundraising please visit arhc.org.uk/community-fundraising or contact the Carolyn or Sarah who will be happy to support you. Email  cf@arhc.org.uk or call 01223 675888.