Back2Back Boys continue Charity support in Motown style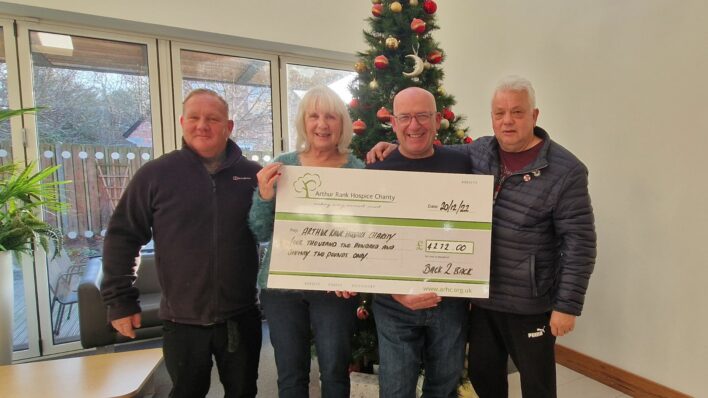 The Back2back boys have been long time supporters of Arthur Rank Hospice Charity, with most of their members growing up in Cambridge, many of the members have witnessed the outstanding care the Hospice provides first hand.
Local community Dj's playing across the board of different music genre Rich, Ian, Andy, Charlie, Nigel, Phil, Bob and Darren have worked together on the groups music events have raised an incredible £5285 for Arthur Rank Hospice Charity.
Hilary and Nigel, Rich and Darren came into the Hospice to present their cheque and talked about the Back2Back boys community – which certainly leads to friendships beyond the dancefloor!
The Facebook group's page explains:
"Community music breaks down barriers between people and cultures. It enables people to take part in social activities that builds confidence, skills and breaks down loneliness and isolation. Community music has proven health benefits." 
Sarah Clayton, Community Fundraiser commented:
"We are truly grateful for the whole groups support and look forward to hearing about their events later in the year."
If you would like to hold a fundraising event for Arthur Rank Hospice Charity please visit arhc.org.uk/community-fundraising or contact our Community Fundraising Team who will be happy to support you through the process – email  cf@arhc.org.uk or call 01223 675888.