Help at Hand app
A website and mobile app to help you access practical support within in the local community. 
Everything from exercise classes to well being support groups, telephone helplines to mental health services, and much more! 
A digital directory
The Help at Hand app is a digital directory providing a quick, safe and efficient way for you, and your friends and family, to access the community services, organisation and groups you need most, at the time you need them. 
The interface is simple to navigate with clickable links so you can reach those you need by telephone or email, as well as tapping to find out more about them on their website. There is no need to login to use the App.
All thanks to a Community Mapping Project
This innovation is the final outcome of a collaborative Community Mapping Project undertaken in partnership with the John Lewis Golden Jubilee Trust. John Lewis partner Sally Milligan was seconded to the Charity for 20 weeks to identify, explore, connect and verify the details of hundreds of recommended community-based organisations from across Cambridgeshire. 
Whilst many had established or current connections to the Hospice, there were some valuable additions which have been included, enabling you to access a wide and holistic range of community-based services more easily. 
The first Hospice to work with the Help at Hand app developers
The app's development was accelerated when the COVID-19 pandemic hit the UK in March 2020. Arthur Rank Hospice Charity is the first hospice to launch the app.
We have worked closely with its creator Andrew Kellard, who developed the app having partnered with GP surgeries across the UK to provide a 'digital solution to social prescribing'.
FAQ's
How can I access the app - computer, phone or other portable device?
Website
You can access it via the Help at Hand app website page.  Please use either Google Chrome or Microsoft Edge as your internet browser to do this (Internet Explorer does not have the functionality required).
On your first visit, please follow the instructions in the next FAQ 'What do I need to do when first using the app?'.
On a portable device
If you are using a handheld device like a tablet or mobile, you can download the app  at the Apple App Store, or Android Playstore (or search for 'help at hand community info' in the app store's search bar). 
There are a number of apps called 'Help at Hand'. The logo for ours is a purple circle, picturing a darker purple stick person reaching down to help a white stick person up (see the logo at the top of this web page).
Once you have found the app, download it by tapping 'Get' or Install'. You may also need to submit your password for your Apple or Android/Google account. Press 'Open'.
When you first open the app, please follow the instructions in the next FAQ 'What do I need to do when first using the app?'.
What do I need to do when first using the app?
On your first visit to the Help at Hand app you need to take the following steps: 
Decide whether you wish to allow the app to access your location automatically or not and reply to this question accordingly 
Read the terms and conditions and click the purple lozenge to 'Accept' these if you are happy to do so
Enter the Hospice's or Day Treatment Centre's postcode (CB22 3FB for Arthur Rank Hospice Charity – Cambridge), or PE13 3AB for Alan Hudson Day Treatment Centre – Wisbech) and press 'Search' or 'Done'
Click on 'Arthur Rank Hospice Charity' or 'Alan Hudson Day Treatment Centre' which appears in a white box above a red pin on the map
You are now in the directory and can chose to search the directory yourself (using box at the top) or by using the tick boxes to select the sorts of services you are interested in. Only you can see information about the choices you make
The next time you visit the app it will remember you, so you should not have to complete steps 1-4 again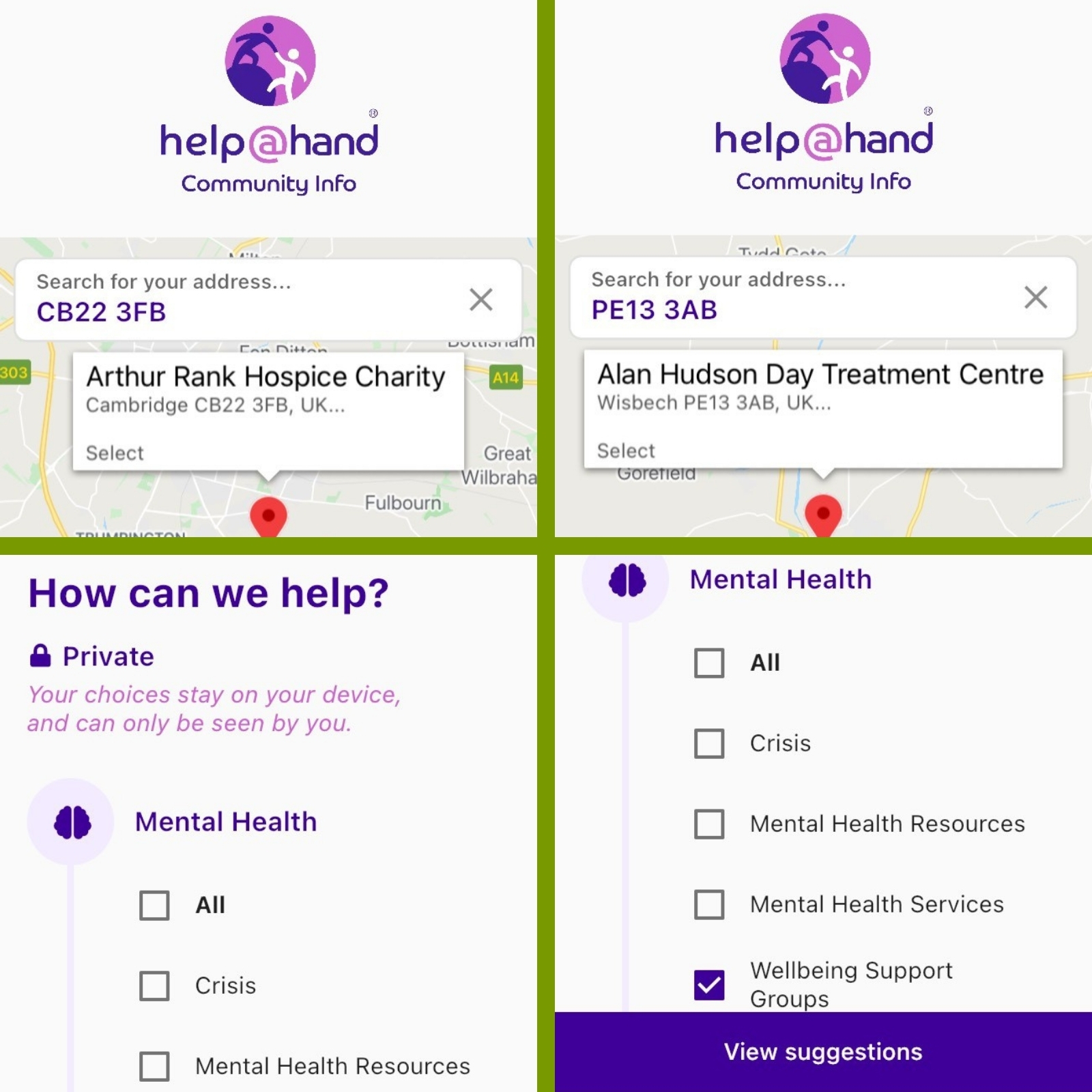 What do I do if I'm having trouble using the app?
Once you have become familiar with the app you will find it fairly simple to use. However, it might take a little while to get used to how it works.
If you are a patient of the Arthur Rank Hospice Charity please speak to the team who you receive support from. General members of the community can contact email reception@arhc.org.uk.
If you are unfamiliar with this sort of technology it might be worth speaking to a family member or friend before getting in touch with us. 
Some information within the app is incorrect
We have a team of fabulous volunteers who are working on keeping the app up to date and current.
If you notice anything is amiss, please let us know by calling 01223 675777 (9.00am-5.00pm Monday to Friday) or emailing reception@arhc.org.uk.
Who can use the app?
The app was designed primarily for patients of the Hospice and their family and friends, but can be utilised by anyone within the local community who might find it useful.
We hope to further build and strengthen our networks in order to benefit not only our patients and their loved ones, but the whole community. 
I would like to suggest adding a service, organisation or charity to the app
The app is constantly evolving, so we welcome your suggestions. All additions to the app will be checked and verified. Please send your suggestion to reception@arhc.org.uk or call 01223 675777. 
I am based in the Fens and am supported by the Alan Hudson Day Treatment Centre
Due to the difference in geography between our Hospice in Cambridge and the Alan Hudson Day Treatment Centre in Wisbech, we have designed the app so you can pick whichever Centre is more appropriate to you.
Please see step 3 of the FAQ's 'What do I need to do when first using the app?' for instructions about how to access the right Centre for you.