Specially designed mobile activity trollies for our Inpatient Unit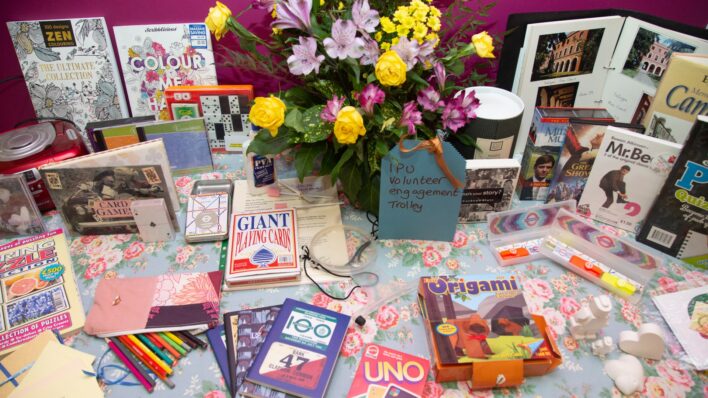 We have always worked hard to ensure our Inpatient Unit is a welcoming place for everyone. In fact, when the new Hospice was designed the staff were very keen that it included a safe space for our young visitors also.
The importance of happy memories
For children and teenagers visiting a loved one, such as a Grandparent,  in the Hospice is often their first experience of someone close to them being seriously ill or dying. It is vitally important for this experience to be as positive as possible.
These feelings may live with them for the rest of their lives and although they may be aware of a sadness they may also remember happy quality times together in a kind and welcoming atmosphere.
Safe spaces children and young people
The Lounge in the Inpatient Unit has a range of toys for children and young people and the bespoke Children's Activities Room and Teen Den were always on offer before the pandemic.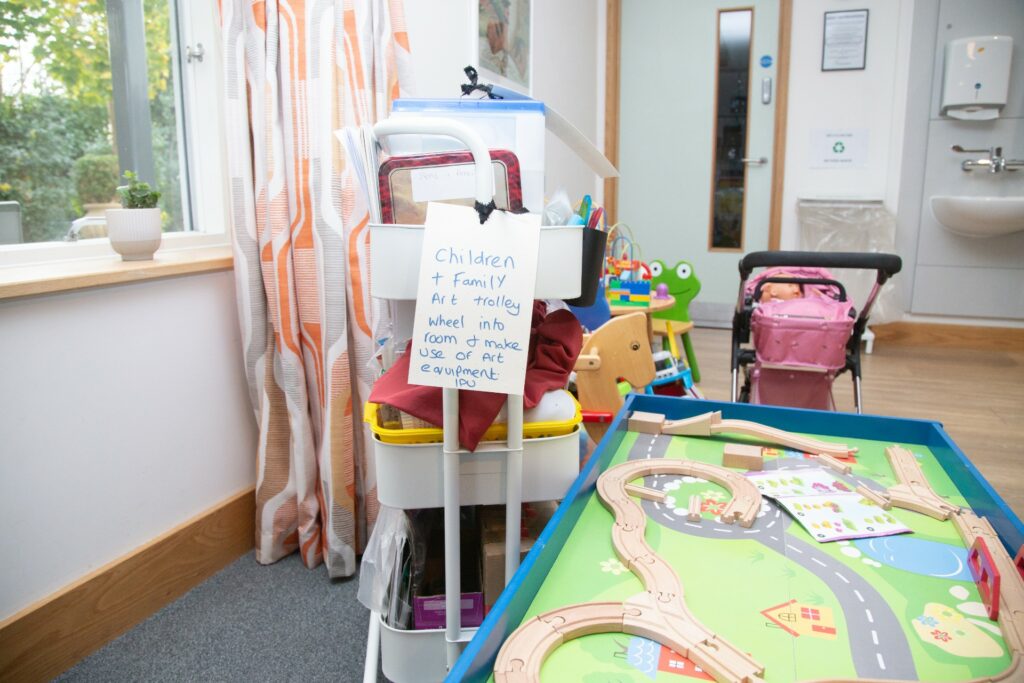 However, children and their parents do not always want to leave the Unit where they are visiting loved ones but still need some gentle stimulation and distraction. This is why Faith, our Life Celebration and Creative Activities Coordinator, has lovingly created two activity trollies to be used on our Inpatient Unit by visiting families – one for adults and one for children.
Adult activities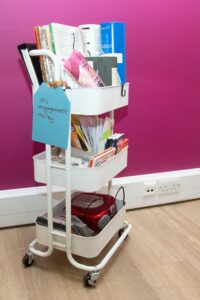 The trollies can be wheeled to the individual rooms and include lots of different activities for the patients and their families to help themselves to. These include games, puzzles, books, DVDs, CD's, colouring books, card games, Origami and lots more.
They are also perfect for Rosemary, our new Activities Volunteer, to use to invite patients and their families to do something activity based.
The types of crafts can be great conversation starters and an introduction to the range of other activities we can offer such as hand cast models and life celebration scrapbooks.
You can see our Children's Activities Room and Teen Den by taking a virtual tour of our Hospice below or book onto one of our Hospice Open Days here: arhc.org.uk/supporting-you/hospice-open-days/
If you would like to find out more about our Life Celebration Work please visit this page on our website.