Festive Run raises funds, and smiles too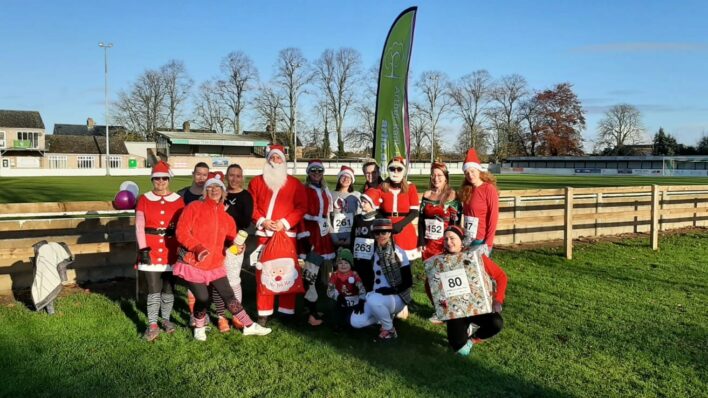 On Sunday 28 November 2021, nearly 300 supporters took part in Arthur Rank Hospice Charity's Festive Run, and have so far raised over £12,000 for the Charity. Taking on their own 5km or 10km routes in villages and towns across Cambridgeshire, participants brought much-needed Christmas cheer to their neighbourhoods as many went all-out in festive fancy dress. Snow-women, reindeer and presents (with legs!) could be seen walking, running, rollerblading and scooting local routes on the bright but chilly morning.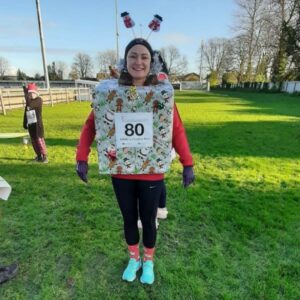 From experienced runners to first-timers, the Festive Run was open to all ages and abilities. One participant shared:
"This was my first fun run for Arthur Rank Hospice Charity and it won't be the last. I'll be forever indebted to everyone there for the care given to my beautiful mum and our family in summer 2021."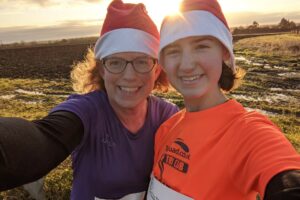 Keen runners from Let's Run Soham (pictured in the feature image), Burwell Running Club and Let's Run Littleport to name a few got together and completed their routes in groups, adding a bit ofcompetition to the festive proceedings. Whether taking part in groups or solo, supporters turned some heads:
"I had a brilliant time this morning running my 5km in fancy dress. Got loads of pips from drivers, and a wave from police and even an ambulance!"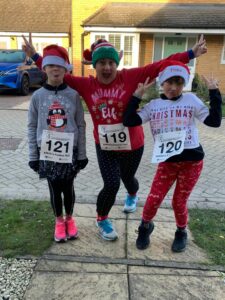 Being held remotely for a second year, the event was able to go ahead as planned, with the kind support of co-sponsors Busy Bee Recruitment and Price Bailey making it possible and of course our participants, a big thank you to you all.
Looking ahead to 2022, the Charity's Events Team are putting together exciting plans for further fundraising events. All of our fundraising events aim to be as accessible and inclusive as possible, as well as fun! So whether you're near or far, you're able to take part and raise funds to ensure the Charity's services can continue.
You can find out more about our upcoming events on our webpage arhc.org.uk/fundraising/events-challenges/calendar/
or contact us at fundraising@arhc.org.uk or telephone 01223 675888.