Education and Conference Centre at Arthur Rank Hospice Charity reopens for venue hire, as well as virtual and 'hybrid' events from May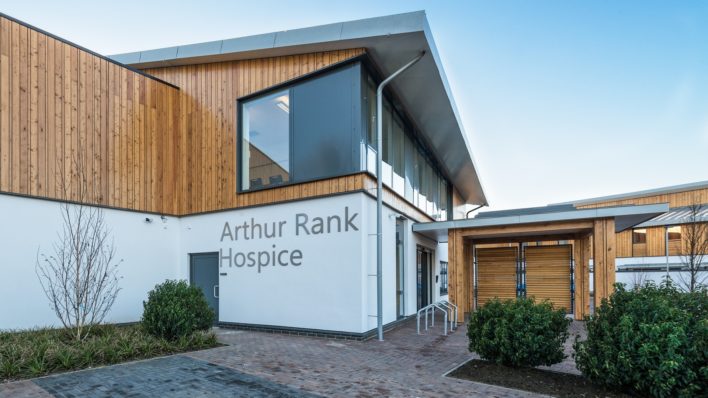 Arthur Rank Hospice Charity is delighted to announce that, further to the Government's recent announcements, its Education and Conference Centre has reopened. Thanks to the installation of specialist equipment during third lock-down, the venue can additionally now facilitate video conferences and streaming, to provide virtual and hybrid events.
The option to hire the Charity's ninety-capacity Education and Conference Centre as a venue, has been available since the Charity moved to its new home in November 2016. Between its initial opening and March 2020, the Education and Conference Centre hosted over 350 different training sessions, conferences, meetings and events.
When the pandemic hit, all confirmed bookings for the facility had to be cancelled or postponed, and the Centre was repurposed to allow colleagues to continue working in a socially distanced manner. For a brief period in March 2021, the space even hosted outpatients from the Hospice's Living Well Services whilst their lounge accommodated additional Inpatient Unit beds to support the wider healthcare system.
During the third lock-down and in preparation for the expected reopening of the facility, the Charity were delighted to benefit from a COVID-support fund set up by Citrix, a global technology company whose research and development arm is based in Cambridge Science Park.  Jessica Bain, Executive Assistant from Citrix, comments:
"We are pleased to provide funding to support the Video Conferencing Project at Arthur Rank Hospice Charity. We hope that the new facility enables the Hospice to gain much needed revenue that they need, at what continues to be a very difficult time."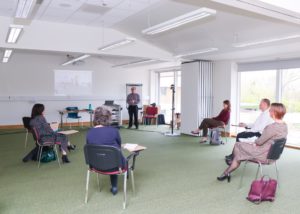 Their support enabled the Charity to install high tech video conferencing equipment, meeting the needs of future hybrid events, which may need to cater for delegates attending both in-person and virtually. New hybrid and video streaming packages can now be offered, including seamless technical support for clients, in association with Venue AV. Malcolm Watson, Director at Venue AV, adds:
"We are delighted to be working in partnership with Arthur Rank Hospice Charity to deliver technical support for hybrid events. This is a growing trend for the events industry and we look forward to producing events for clients who are looking to engage with audiences both in person and virtually."
The venue provides in-house hospitality and catering if required, with options for a takeaway lunch box (perfect for meetings) or buffet style catering (ideal for events).  The venue is COVID-19 safe, having made all the necessary changes for Keeping You Safe, and has been awarded Visit Britain Good to Go accreditation.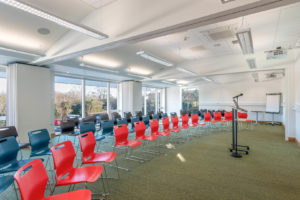 Louise Higgins, Business Development Officer at Arthur Rank Hospice Charity's Education and Conference Centre, adds:
"We are really looking forward to welcoming the business community back to our venue and are excited to work alongside clients to deliver traditional in-person events, conferences, training and meetings, as well as supporting hybrid-style events. Flexible terms and conditions have been developed to allow for changes in restrictions that may occur in the future and we are pleased to be holding last year's prices on room hire and day delegate packages."
The facility hopes to raise £50K in revenue through venue bookings this financial year, making a vital contribution to the £10.5 million it will cost to deliver the Hospice's outstanding care across its frontline services.
To enquire about booking the facility, contact the Conference Team at venuehire@arhc.org.uk or find out more at arhc.org.uk/venue-hire, or arhc.org.uk/venue-hire/venue-information where there is also an enquiry form available.