Dedicated Hospice nurses put best feet forward for Chariots of Fire relay race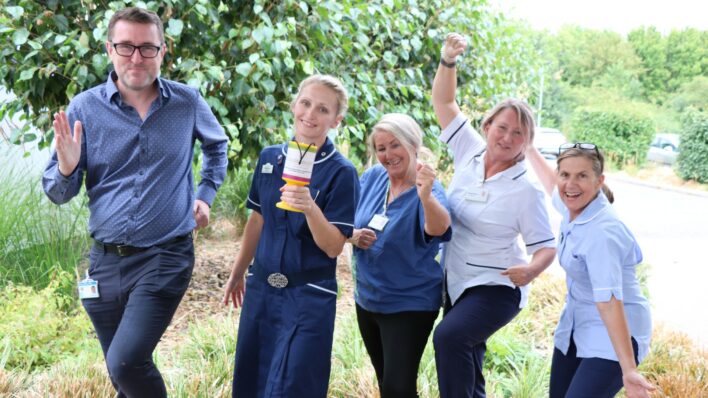 Kind-hearted nurses from Arthur Rank Hospice Charity are fundraising for their much-loved Cambridgeshire charity.
They have signed up to take part in the Chariots of Fire Race on Sunday 18 September and are urging others to join them.
Clinical Nurse Specialists Gemma Irvine and Barry Morgan have started training for the event.
Gemma provides specialist support to patients of our Living Well Service and their families or carers.
She said
"We have over 70 nurses working for Arthur Rank Hospice Charity. Every day we are there to support patients and those important to them. It is a very challenging role but so rewarding. We know how much our patients value what we do. This motivated me to take part in Chariots of Fire to raise money so we can continue to provide services free of charge for many more people."
More than 170 teams have already signed up for the race, with entrants coming from a range of local organisations and businesses but we still need you! BBC Radio Cambridgeshire presenter David Webster will compere the event.
The event's organisers, HCR Hewitsons Charitable Trust, selected Arthur Rank Hospice Charity as the Chariots of Fire 2022 beneficiary. The funds raised will be used to open a new charity shop and cover the operating costs for the first year. The ambitious fundraising target of £71,000 will enable the charity to add to its collection of five shops and one retail hub.
Chariots of Fire is the region's longest running charitable relay race and is organised by the HCR Hewitsons Charitable Trust, the charity established by Hewitsons 30 years ago.
Wendy Von Niebel, Trustee of HCR Hewitsons Charitable Trust, said
"We are so pleased that so many teams have already signed up for Chariots of Fire 2022. With just a few weeks to go, we are encouraging more entrants to register as soon as possible and help support the Arthur Rank Hospice Charity which touches so many local people.
"With this year being our 30th anniversary and Arthur Rank Hospice Charity's 40th anniversary we are aiming to bring Chariots of Fire to the forefront of the events calendar, with thousands of runners coming together on Queens Green to raise as much money as we can for the Charity."
Each of the teams six runners will follow a picturesque and unique 1.5-mile route through Cambridge's historic city centre and the grounds of King's College, over the Cam and along the Backs, before passing on the baton to the next runner at Queens' Green.
If you are inspired to enter a team please visit chariots-of-fire.co.uk/enter-a-team, each team is encouraged to raise £250. If you don't wish to enter, but would like to contribute, please visit the Arthur Rank Hospice Charity Trustee and Senior Leadership team's Just Giving Page . Alternatively please send a donation to Arthur Rank Hospice Charity, Cherry Hinton Road, Shelford Bottom, Cambridge CB22 3FB made payable to Arthur Rank Hospice Charity or visit arhc.org.uk/donate/ and please reference Chariots of Fire, so that these can be attributed to the grand total raised.