CEO's commitment to life-long education recognised by Honorary Fellowship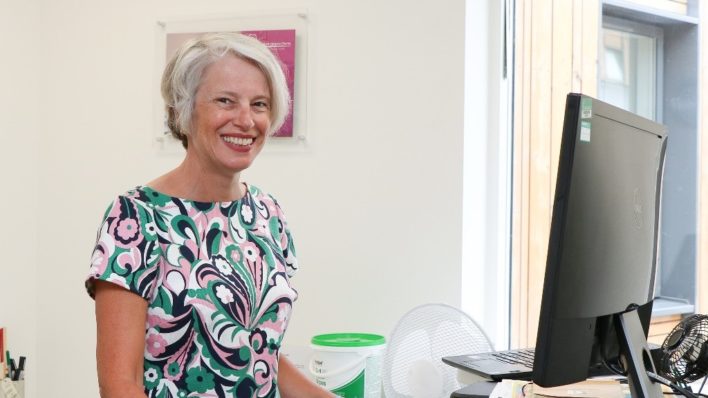 Sharon Allen, CEO of Arthur Rank Hospice Charity was surprised, delighted and honoured to learn of her new Fellowship status with City & Guilds of London Institute. This prestigious position is awarded to nominated candidates who demonstrate and exemplify excellence by embodying core values of leadership, imagination and integrity.
Previous role at Skills for Care
Sharon joined Arthur Rank Hospice Charity in April 2019 having spent the previous nine years as the CEO at Skills for Care. From 2010 to 2019 she promoted the importance of developing skills, knowledge and learning in the Social Care sector.
During this time she oversaw the continuous successful delivery of an ambitious work programme for the Department of Health and Social Care (DHSC) whilst building and sustaining strong partnerships with the Local Government Association (LGA), Association of Directors of Adults Social Services (ADASS), NHS England and Improvement and completed a successful merger and acquisition.
She was integral to diversifying the business model into social enterprise based on values which were recognised with a silver award to the 'Investors in People' in 2015 and was in the Sunday Times Top 100.
A life-long commitment to professional development and learning 
Sharon takes every opportunity for continual professional development and learning and demonstrates a personal commitment to life-long learning too. She gained all of her qualifications as a mature student. Namely a Social Work qualification, a Housing degree, MBA and a Coaching Diploma.
She has always had a passion for sharing her knowledge, skills and expertise with others and has been a mentor for a number of programmes including the Housing Diversity Network and was previously a Practice Educator for Social Work students and an external examiner for the Social Work degree programme at Leeds Metropolitan University.
Promoting learning at Arthur Rank Hospice Charity 
In her role as CEO at Arthur Rank Hospice Charity, Sharon continues to promote life-long learning and is a strong advocate of continual development for all colleagues. She invests in this as much as a small charity allows. She supports the internal 'Teach the Teacher' models across departmental teams and continues to promote opportunity for learning for colleagues by supporting the teaching programmes which have included subjects such as 'Communication skills' and 'Chairing effective meetings'.
She supports the monthly Journal Club sessions at the Hospice which invite colleagues from across the organisation to attend sessions presented by both colleagues and guests speakers. Previously these sessions were held face to face at the Hospice's Education and Conference Centre but during COVID-19 the sessions are now hosted virtually, opening them up to more colleagues. Kate Kirk, Chair of Trustees recently shared a fascinating history of her Aunt, Dame Cicely Saunders, founder of the modern Hospice movement.
New Fellows of City & Guilds of London Institute are traditionally invited to a ceremony to welcome their inauguration. Due to COVID-19 restrictions, it is hoped that this can instead take place at a later date.
What being a Fellow will entail
As a Fellow on the Council of The City & Guilds of London Institute, Sharon is looking forward to holding an advisory position which may include, her acting as a senior stakeholder in advisory committees, speaking at the yearly meeting, speaking at the annual Fellowship lecture and at seminars and conferences, joining round table discussions and liaising with public and private sector organisations.
Sharon concludes:
"I'm delighted and honoured to receive this award and to be in such impressive company. I will do all I can to support the work of the Institute and to encourage everyone I engage with to continue with their vocational learning and development".