Arthur Rank Hospice Charity celebrates its new Retail Hub, with Grand Reopening on Saturday 10 July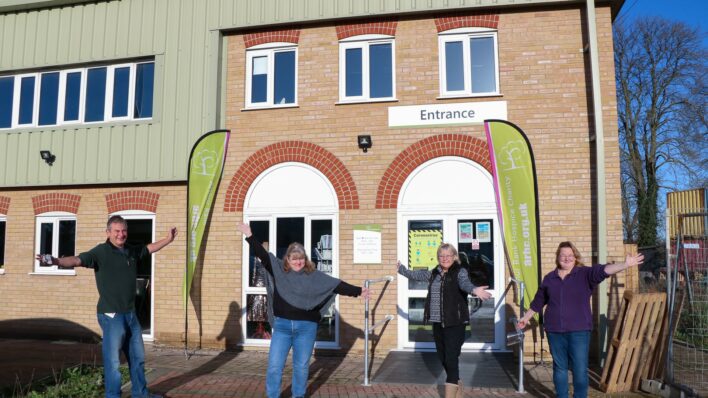 Arthur Rank Hospice Charity is delighted to invite you to the long-awaited official reopening of its Retail Hub (Sawston) between 12.00pm and 4.00pm on Saturday 10 July. The afternoon will provide an opportunity to meet the team, enjoy some socially distanced activities and peruse the Hub's discounted bargains, including pre-loved furniture, clothing, bric-a-brac, books and DVDs.
The event will take place in a COVID-secure manner in the Retail Hub's large car park; it falls within the Step 2 rule where events such as car boot sales and community fairs are allowed to take place outdoors as long as fewer than 4000 visitors attend, and they arrive and leave in a staggered manner throughout the day.
There will be a visit from Arthur Bear and traditional village-fete type games including COVID-secure children's lucky dip, hook-a-duck and a tombola.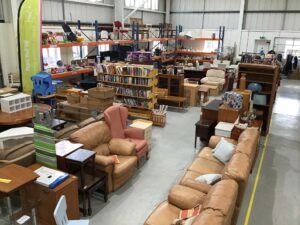 Of course, there will also be an opportunity to purchase some of the brilliant bargain items which the Retail Hub has already become well-loved for, since reopening to customers in April. To celebrate the day there will be an additional 10% discount on all marked prices for the duration of the event!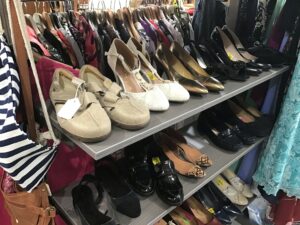 In addition, a selection of items are being cherry picked from each of the Hospice's high street shops – including Mill Road, Burleigh Street and Regent Street in Cambridge, High Street in Cottenham and Woollards Lane in Great Shelford – and will be available to buy at the Retail Hub on the day.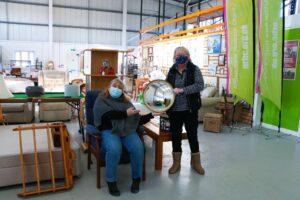 All the usual COVID restrictions will apply with social distancing rules being adhered to, hand sanitiser being used, facemasks being worn when inside and a maximum of 30 people allowed into the warehouse at any one time, which will be monitored. There will be no shelter available outside, so visitors are advised to wear weather appropriate clothing and umbrellas in case of rain!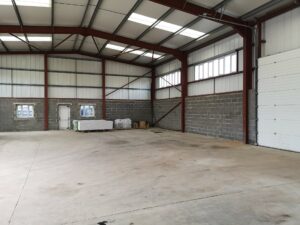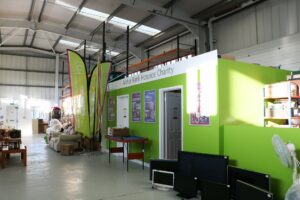 It has been over a year since the Hospice took over and transformed Unit 35 on the Eastern Counties Leather Industrial Estate, between Sawston and Pampisford, into a busy shopping hub.  Due to the pandemic and various lockdowns, plans for the Retail Hub's original opening have had to be postponed several times. Eventually doors were finally opened to the public again from Tuesday 13 April, with customers now able to visit and shop for good quality furniture and discounted bargains between 10.00am and 4.00pm, Tuesday to Saturday.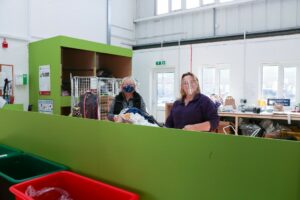 Due to limitations on space and rules related to COVID, there have been limits on the volume of donations which can be safely accepted, meaning that the Hub has periodically been unable to accept donations.  At this current moment (2.00pm, 29 June 2021) the Retail Hub is open for donations, with the proviso that this may change on an hourly basis. If you have donations to drop off especially furniture, please call ahead on 01223 242684 to check there is still capacity to accept your items.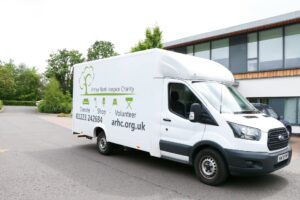 To help facilitate a faster turnover of items in the future, work has been going on behind the scenes during the various lockdowns: two vans are now available to both pick up donations and deliver purchases to customers; the Charity's eBay store has become an outlet for more unique, unusual and designer items; the Arthur Rank Hospice Charity Amazon store has become a treasure-trove for pre-loved books and DVDs; and a Facebook Page 'The Retail Hub – Arthur Rank Hospice Charity' has been set up to showcase star pieces of furniture and recent quality donations.  A click and collect service has additionally been implemented during the pandemic, although this will be on hold for the duration of the Grand Reopening event, recommencing on Monday 12 July.
To find out more about the Grand Reopening of the Retail Hub, you can join the event by liking or following 'The Retail Hub – Arthur Rank Hospice Charity' Facebook page.
Find more information about shopping with Arthur Rank Hospice Charity at arhc.org.uk/shops. If you would like to donate pre-loved goods to any of the Charity's shops please check the list of items which can be accepted at arhc.org.uk/shopdonations and call ahead, to check that there is space for the team to receive your items.