A new palliative care module, accredited with Anglia Ruskin University will be taught by Arthur Rank Hospice from 2020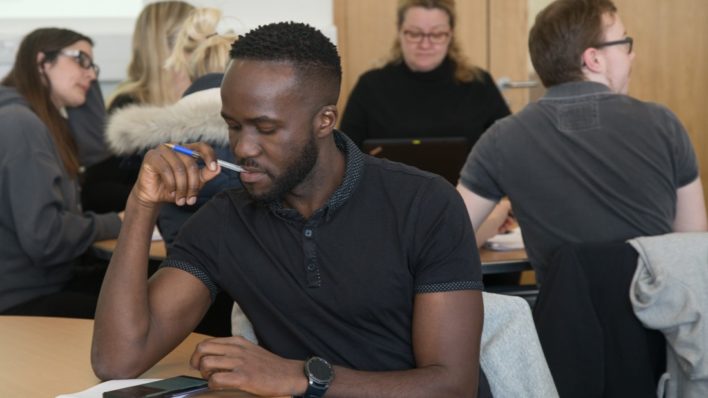 Palliative and End of Life Care Module
A new module specialising in palliative and end of life care, will be taught by Kay Hardwick, Head of Education and Practice Development, with our specialists at Arthur Rank Hospice, starting in January 2020.
The Anglia Ruskin University (ARU) module entitled 'Palliative and End of Life Care: Management of Symptoms in Advanced Disease' is open to both registered professionals who want to do an accredited standalone degree module, or as part of a Masters' degree in Advanced Practice (Clinical).
Kay explains more about the module:
"We're thrilled to have been able to collaborate with ARU in order to share our specialist knowledge and skills in this way. The course is relevant to a variety of settings, including care homes, hospitals, hospices and in people's homes out in the community.
Students will study the causes and management of end of life symptoms and learn about how to communicate sensitively about end of life concerns. 
It's an accredited course, so on completing the assignment and passing, they gain 30 credits, which can be used towards a Degree or Masters' qualification.  
We only have limited places available on the course each year so I would advise anyone interested to apply now".
The 8-week course – which is open to both clinical staff at Arthur Rank Hospice Charity and external applicants – will be taught one day per week in the Hospice's Education and Conference Centre at Shelford Bottom (adjacent to Babraham Road Park and Ride).
The first course is starting on 27 January 2020. Students who are interested in applying will need to apply for leave and funding from their employer (course costs between £1,417, level 7 and £2,312, level 6).
To find out more you can speak to Kay Hardwick, who will be teaching the course, on 01223 576781 /  kay.hardwick@arhc.org.uk or contact Amanda Young 01245 683529 /amanda.young@anglia.ac.uk or apply contact the  CPD Admissions Team on 01245 687141  admissioncpd@anglia.ac.uk.
Further details can also be found on ARU's website at aru.ac.uk/study/professional-and-short-courses/palliative-and-end-of-life-care. Arthur Rank Hospice offers bespoke end of life care training, the Gold Standards Framework programme, and a full programme of courses, study days and workshops, sharing their specialist skills and knowledge.
Find out more at https://www.arhc.org.uk/professionals/education-training/