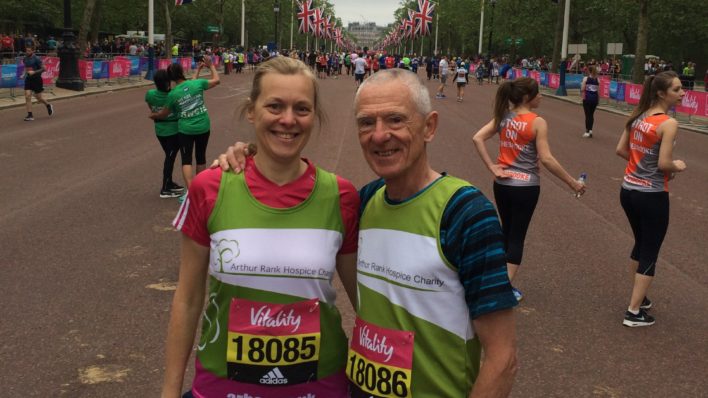 Wendy's husband, John, was diagnosed with prostate cancer in April 2017. Two years later, he passed away at the hospice. Wendy has chosen to share her story to help ease some anxiety other families may have who are facing a similar journey. Her longstanding passion for running and continued dedication to fundraising drive her to carry on with both these activities in John's memory.
Wendy met John in 1988 and they have a son, Matthew, 29. Living locally, John had a long and successful career working for the University of Cambridge from the age of 16, through to his retirement when he turned 59.
John loved golf, football and people
John was always active and fit. He was a keen golfer and football referee for Cambridgeshire Football Association. John had trained as a referee in his 50s and for several years had joined friends on an annual Boxing Day trip to Florida where they spent a few days volunteering as referees in Tampa. After a tiring week on the pitch, the second week was dedicated to experiencing all that Florida has to offer!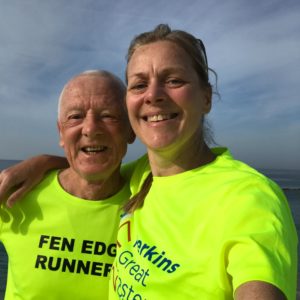 Matthew shared John's passion for golf and football, qualifying as a referee at a very young age.  He eventually joined John on his annual trip to America.  They even convinced Wendy to go and watch seven games of football in three days. She swore never to do it again!
John impacted positively on every person he met. Wendy describes him as a hugger! She continues to comment that he would find the current COVID situation, where hugging is no longer something we can do every day, very difficult. He was incredibly personable and even if they had only just met him, people would feel as if they had already known him for a long time: he always left an imprint on them.
Discovering a surprise passion for running
Wendy, also physically active, discovered running in her late 40s. Every Saturday she would take part in the Milton parkrun with John coming along to support her. As the seasons changed the weather got colder and colder and so did John.  In the end instead of freezing yet again, he decided to take part and at around 2km he left Wendy behind! He had found his new passion.
In May 2015 John and Wendy completed their first 10k run. By this point John was in his 60s. The run was in London and they chose to fundraise for Arthur Rank Hospice Charity. At this stage they had only heard about the work of the Hospice through friends. They knew little else about it, aside from it being a local charity. Amazingly they raised £1000!
John enjoyed 10Ks and he did complete one in under 60 minutes, which he was always proud to tell anyone!
As well as being established and committed parkrunners at Milton Country Park, Wendy and John would occasionally run at other parks, including Huntingdon on Christmas Day in 2017 when John had already received his diagnosis. They both made life-long friends through their running.
To mark her 50th birthday year, Wendy chose to challenge herself by running her first (and possibly only) half marathon in the Autumn of 2017. On this occasion, she fundraised for Prostate Cancer. However, following the half marathon, Wendy didn't stop there, she went on to take part in four! The Great Eastern, Great North twice and Edinburgh.  John had always promised to take Wendy to Edinburgh, and it seemed the only way that was going to happen was for her to enter the half marathon!
Since running, Wendy has taken part every year in the Ely Festive 5K. Before they came into contact with Arthur Rank Hospice for John's care, the couple took part in a couple of Ely Festive 5Ks. Wendy even managed to take part in 2019, with the support of friends, just eight weeks after John passed away.
A devastating diagnosis
When John was diagnosed with prostate cancer in April 2017, he had a Gleason score of 9, the highest being 10. The cancer had already begun to spread. Other than going to the toilet more often, there were no other symptoms.
The couple were working on the basis that John could possibly live for up to five years with this treatment. However, the second round of chemotherapy was shown to not be working and in January 2019 the palliative care team at Addenbrooke's suggested that Wendy and John might want to come and look at the facilities at Arthur Rank Hospice.
A visit to the Hospice – nothing like anticipated
In Spring 2019 Wendy and John were able to visit and look around the Hospice, including the Inpatient Unit ward and one of its rooms. Wendy had a preconceived idea of what the Hospice might be like. She was expecting noise from medical machines with an intensive care feel to the place. However, when she visited the ward, she instead found it to be incredibly peaceful and nothing like she had anticipated.
Around this time, the Chaplain, Keith, visited John at home. John was not religious, however, having met Keith, he learned that he did not need to be of a particular faith. The discussions with Keith related more to beliefs and this encouraged both John and Wendy to think about what they wanted going forward.
Staying involved in running and parkrun throughout treatment
John's initial diagnosis did not prevent him from continuing to live his active life and he was determined to run for as long as he physically could. He ran through his first six courses of Chemotherapy, getting his 5km personal best the day after his first treatment, although this was likely to be steroid enhanced.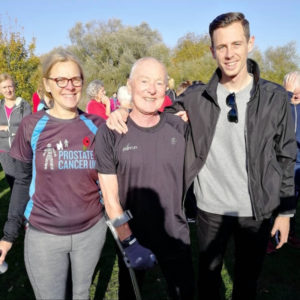 He missed just one parkrun during his first round of Chemotherapy. Although his pain was increasing over the summer months in 2018, John completed his 100th and final parkrun on November 11 that year, eighteen months after diagnosis. Thereafter he was not physically able to take part again.  To mark the occasion, he was accompanied by running and non-running friends as well as his son, Matthew and they all walked the 5km course determined to cross the finishing line with pride. It was an incredibly memorable and emotional day.
Wendy completed her 100 parkruns at Wimpole some three months later in February 2019 when it was snowing. John, as usual, was there in support!
Not only did John run, play golf and referee at football matches, but he also volunteered at Milton parkrun thirty times over the course of his running career. He referred to himself as a Professional Barcode Scanner! He would stand on a particular corner so he could see the first few runners complete three loops before starting to scan runners as they completed the course. Parkrun was a massive part of John's life and it kept him going throughout his illness. In tribute to John, the core team at Milton are planning to donate a bench which will be aptly placed at "John's Corner".
The Saturday after John lost his fight to prostate cancer, the Race Director of Milton, Chris Darling, organised a tribute to John at Milton parkrun and another at Coldhams Common parkrun.
Final wishes
Until June 2019, apart from the peaks and troughs of treatment, John coped well with the continuing progression of the cancer. However, in August, following an admission to hospital as a result of a fall, John's health started deteriorating. Now unable to walk, everything was changing.
With advice from Arthur Rank Hospice, Wendy was able to have the house adapted to meet John's changing needs. Amongst other necessities, John now had a wheelchair and new handles on the front door.  A ramp, built by a good friend, offered access to the front door and John now slept downstairs.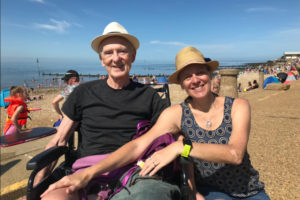 John and Wendy were then given the worst news: the cancer was taking over rapidly and John was given weeks, not months. He questioned whether he might see Christmas and was told it was unlikely. On leaving hospital he had one wish – to go to Hunstanton one last time, so the Friday after being discharged, that's where John and Wendy went.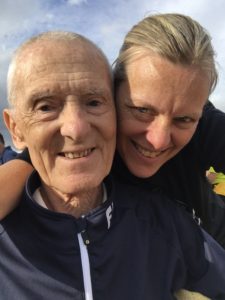 His last day out was to be 31 August 2019 when he managed to support Wendy and their running friends by attending a running festival in Bedford. He borrowed a motorised scooter so he could remain independent. Wendy completed 5km in the morning and then 10km in the afternoon.
John came home only for a week or so after that before being admitted once again to Addenbrookes. Wendy was due to take part in the Great North Run and while reluctant to go both John and Wendy agreed she should take part. After organising support while she was away, Wendy hopped on a train the day before the race. The plan was that she would do a FaceTime video call with John and Matthew so they could see her cross the finish line.  On race day with the finish line in sight, Wendy contacted her son. John was sleeping and had clearly become unwell. With 200 miles between them, Wendy finished the race and got straight on the phone to check on John.
As she travelled back home, it was decided that he should be taken to A&E. Wendy joined John in hospital late that night still wearing her running gear and having been awake 17 hours after conquering a 13.1 mile run. The first thing she did was to place her half marathon medal on John's chest as she had promised she would do. He knew then that she had completed the race.
Moving from the hospital to Arthur Rank Hospice
After a few days in Addenbrookes, John was offered a room in Arthur Rank Hospice's Inpatient Unit, so was transferred there on 12 September 2019.
The day after being admitted, whilst he was alert and comfortable, his bed was taken out onto the patio so John could enjoy the late summer sun*. The following day too, he managed to go into the garden in a wheelchair. This was to be the last time he went outside. John had many visitors during his time at Arthur Rank Hospice, something Wendy was very grateful for.
Wendy comments:
"I went home the night John was admitted, and to work the next day. After that I stayed with John, sleeping in a bed next to him. The staff were amazing, nothing was too much trouble. They showed such gentleness and care when administering medication or washing John. I never felt that I was in the way, the nurses included me and nothing was too much trouble".
Wendy & John's son, Matthew, recalled his apprehension at the time John was transferred to Arthur Rank Hospice:
"As someone that has never felt comfortable in a traditional hospital environment, it was apparent from the first room I entered, that Arthur Rank Hospice felt instead more like a person's home. I immediately felt more at ease.
Every way in which the place was laid out made a horrible situation much more bearable. Even just seeing plants and having paintings on the wall, helped it feel less clinical. It was very easy to visit the Hospice, at a time that suited me, rather than having to come during a small window of hours: I work unusual hours, so I didn't have to overly plan my day accordingly.
The staff at the hospice were very pleasant and really had a vested interest, not only in my dad's wellbeing, but also mine and mum's. That she could stay on site during the final stages is something we are both grateful for and the way they looked after her made things much easier for me. As strange as it sounds, I don't think there could have been a better and more calming location for the inevitable to happen. My thanks to Arthur Rank Hospice Charity and all of its staff."
One of Wendy's close friends, Karen Symonds recalls the time spent visiting at the Hospice:
"The phone call to tell us that John had been admitted to Arthur Rank was devastating. After Googling the address and realising that the Hospice was no longer in Mill Road, we went to visit at Shelford Bottom. The team at the reception greeted us and showed us to his room. We were so surprised how non-hospital like the atmosphere was, which was so very different from visiting John in Addenbrooke's. The days after this first visit just impressed us more every time, with the friendly staff always asking if you were ok, on arrival and departure. The lovely Bistro where we spent many hours drinking tea and coffee supporting Wendy when John was really poorly and even visiting the little shop selling cards and gifts which all support the Charity and as a visitor seem a small step to say thank you".
Time to come to terms with things
Spending two weeks in Arthur Rank Hospice gave Wendy and John time to come to terms with what was happening. It also allowed Wendy and her son, Matthew, to consider what they may have to face in the coming weeks, including John changing his funeral plans. From originally choosing a non-religious ceremony, conducted by friends, John opted for a religious ceremony led by Keith, the Chaplain at Arthur Rank.  John's request was that people would wear bright colours, even choosing the dress that Wendy was to wear.
John remained conscious until two days before he passed away. Wendy explained this was the hardest time:
"Knowing that the time was approaching when John wouldn't wake up again was heart-breaking.  However, when I was tucking him up the night before he became unconscious, he turned to me and said:
"I've something to say, I love you so much".
These were the last words I heard him speak.
A peaceful end
Wendy woke on the Thursday morning and noticed a change in John's appearance and called for a nurse. On checking John over, she told Wendy that it wouldn't be long, and she would leave them in peace. Not knowing whether she would be there for thirty seconds or two hours, Wendy laid by John's side. It was only what seemed like seconds when John took his final breath. Wendy recalls:
"It was as we'd planned: I would be lying next to him and he'd just go peacefully, and that was what he did".
Wendy decided to continue with her plans to take part in a local 10km charity fundraiser in Granchester, which took place just two days after John passed away. It was terrible weather and very muddy. She has no idea how she managed to complete it. With a cut off time of ninety minutes, she came across the finish line with ninety seconds to spare! Friends and volunteers were waiting at the finish line. She says:
"It was an incredibly emotional, overwhelming and exhausting experience but I did it!"
John's funeral took place on Wednesday 16th October 2019 in the West Chapel at The Cambridge Crematorium, with standing room only. It was estimated that there were close to three hundred people in attendance, a testament to the person John was. Matthew decided he wanted to be a pall bearer at his Dad's funeral. Something John would never have known but would have liked and been very proud of.
After the funeral, family and friends were invited back to The King William public house in Histon where John and Wendy met. John's wish was that donations should be made in lieu of flowers to Arthur Rank Hospice and £951 was gratefully received.
Keeping promises
John wanted Wendy to promise to carry on running. He asked close friends to continue to support her. Although Wendy has found it mentally challenging to put on her running shoes, she has managed to complete one parkrun at Milton, on the anniversary of John's 100th parkrun.  Wendy shares how difficult it is to cope with the memories when running, particularly at Milton Country Park.
With the declaration of a pandemic earlier this year and only a few months after John died, the loss of support through not being able to see anyone, has meant that running has been more challenging for her than ever before.
Wendy promised John she would do a 10km medal run every month of 2020. She had them all planned, two of which would have been abroad and one in the Lake District. Although almost all runs are now "virtual", Wendy will still have claimed 12 x 10km medals by the end of the year! Despite the challenge of running alone, she does what she can and although not running as much as she would like, she is still running and still challenging herself! The support she has received from her running friends has been amazing. Once parkruns start again Wendy says she feels she will be ready to take part once again. The break during the pandemic has given her the time she needed to heal, and she now feels she can face running past John's corner again. Milton is very much her 'go to' place.
At the start of 2021, with both physical and mental health at the forefront of everybody's minds, Wendy is very aware of her own wellbeing. She has previously suffered with anxiety and depression. When John was alive, he would be the one person to give her strength and he would always help her through darker times. That strength is instilled in Wendy and she continues to draw from it. It drives her on.
Starting the annual 5km Coat Hanger Run (Histon) in John's memory
Before the pandemic hit, there had been plans for a Memorial Day on 21 April 2020, which was Wendy and John's 30th wedding anniversary. She had planned to fundraise for Arthur Rank Hospice Charity at Girton Golf Club with John's golfing friends. Due to COVID-19 restrictions that could not go ahead, so Wendy decided instead to organise a fundraiser including both John's golfing and running friends.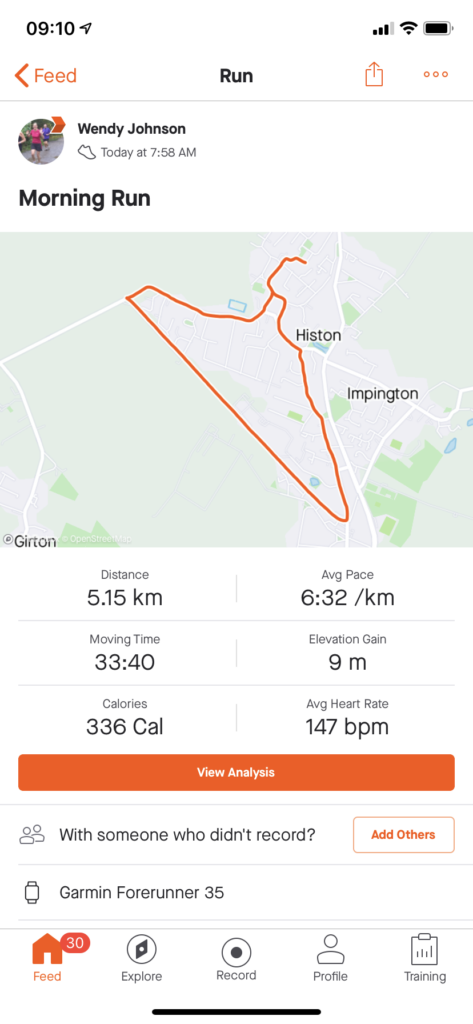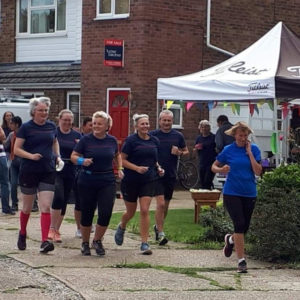 His last day out had been at the Bedford Festival on 5 September the previous year and because the event was cancelled this year Wendy settled on that as the perfect date to hold a fundraising event in memory of John. All proceeds would be donated to Arthur Rank Hospice.  The 5km Coat Hanger Run was born and #doitforjohn was launched!
The name comes from one of John's favourite 5km running routes which looks like a coat hanger!  Wendy carefully planned a socially distanced event taking place in Histon. Along with plenty of cake, Wendy also sold t-shirts printed with #doingitforjohn. Both proved very popular and it was a wonderful, sunny day, perfect for the occasion. The staggered start in small groups either running or walking, worked well. On the day Wendy also went out with Matthew – who was on his bike -achieving her fastest ever time for this route.
With several friends also running their own 5km route and even one individual even taking part in Canada, Wendy thinks roughly sixty people joined in. The day raised £2,237 for Arthur Rank Hospice Charity and Wendy plans to repeat this event again in September 2021.
Fond memories
One year on, Wendy still remembers the time spent at Arthur Rank Hospice with fondness: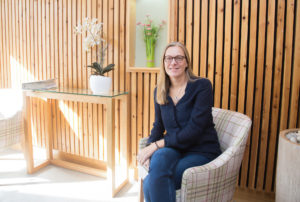 "If I had to sum up the Hospice in one sentence it would be this: it's like a 5-star hotel, but for very ill people.  We had time to ourselves, I had nothing to worry about and I know I would not have managed this first year without John as well as I have, if it wasn't for the care I received from the staff at Arthur Rank Hospice, as well as the care they gave John. Fondness may be a word people wouldn't associate with spending time in a hospice, but the last two weeks of my life with John were just perfect."
*Every bedroom on the Arthur Rank Hospice Inpatient Unit has bi-folding doors, meaning beds and wheelchairs can be wheeled onto their screened patios.