Tony raises over £5,500 for Hospice care in memory of his Dad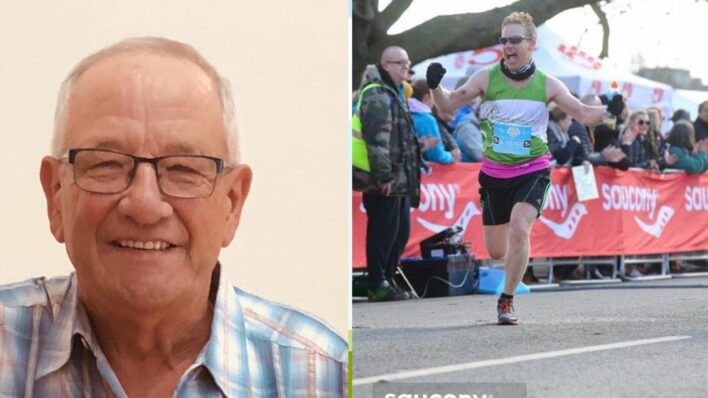 Tony Tarrant's Dad, Tony, died at Arthur Rank Hospice Charity in November 2018. The care his Dad and the family received at the Inpatient Unit, inspired Tony to raise funds for the Charity through running challenges.
St Neots Half Marathon, November 2018
Remarkably his first Half Marathon, in St Neots, took place only four days after his Dad died.
Tony explained:
"I was due to run the St Neot's Half Marathon but four days before it my Dad died. It was the last thing on my mind and hence I was going to pull out but I thought I must fight on, like my Dad had done and I needed to get out and start living again, taking each day as it comes until I got used to the new norm.
Dad didn't give up and he knew how much I enjoyed exercise, sport and the great outdoors. He was never sporty himself but enjoyed keeping tabs on what I was doing and took great pleasure from my exploits. I often received comments from others about how Dad had been boasting about my achievements – like any proud father would. I know Dad would want me to be happy and for things to carry on as before as best they can."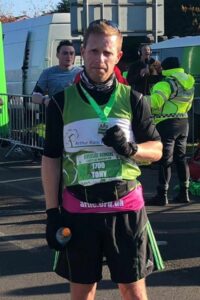 After the race Tony shared:
"I had to really dig deep but the memories of how hard Dad fought kept me going. He taught me never to quit! I made it round and most importantly, so far we've raised over £2.5k for Arthur Rank Hospice Charity in my Dad's name, which is, if I'm honest, a little overwhelming and unexpected."
The staff at Arthur Rank Hospice obviously made a profound impact on Tony during his Dad's short stay. He continued:
"My Dad had less than 24 hours in the Hospice however it really was a nice place for him to take his last breath and for this my family and I will be eternally grateful."
"The staff were amazing and the environment so tranquil especially in comparison to the hospital. We were able to play his own music through the TV on his memory stick whilst we sat huddled over his bed in the dimly lit room – finally in privacy telling him how much we loved him, how we would never forget him and thanked him for all that he had done for us, until the early hours of 14th November 2018."
Cambridge Half Marathon, March 2020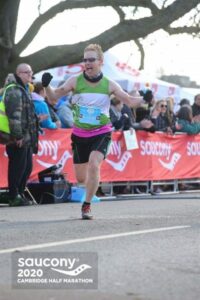 Not one to be slowed down, in 2020, Tony signed up to take part in the Cambridge Half Marathon. Before the race he commented:
"Almost 18 months since we lost Dad and at times it still feels like yesterday. Grief is an odd thing; you can be fine for weeks and then BOOM it comes from nowhere and smacks you in the face. I don't think you ever get over losing someone close, you just learn to cope and accept the new norm."
Tony ran the Half Marathon with a time of 1:27:39, despite recovering from an operation which had left him unable to exercise for three months.
Manchester Marathon, April 2023
Almost five years later, in April 2023, to celebrate his 50th birthday and what would have been his Dad's 75th birthday, Tony raised the bar by taking on the Manchester Marathon. To date, he has raised over £5,500 for Arthur Rank Hospice Charity in memory of his Dad.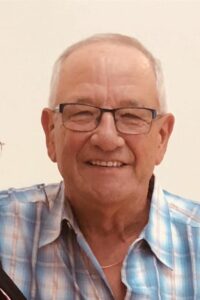 Sarah Clayton, Community Fundraiser, commented:
"Tony has a wonderful relationship with the Hospice. The awareness he has raised within the community, as well as the financial support, has helped make a difference to the lives of so many people and their families, in our community living with an advanced serious illness or other life-limiting condition. We are so proud to have you in Team Arthur"
If you would like to show your support to Tony, please visit www.justgiving.com/fundraising/dad-the-legend-tarrant
If you would like to take on a challenge for Arthur Rank Hospice Charity, please email Carolyn or Sarah via challenges@arhc.org.uk or call 01223 675888.