Soham Vicar 'Leads On' for Palliative Care in Cambridgeshire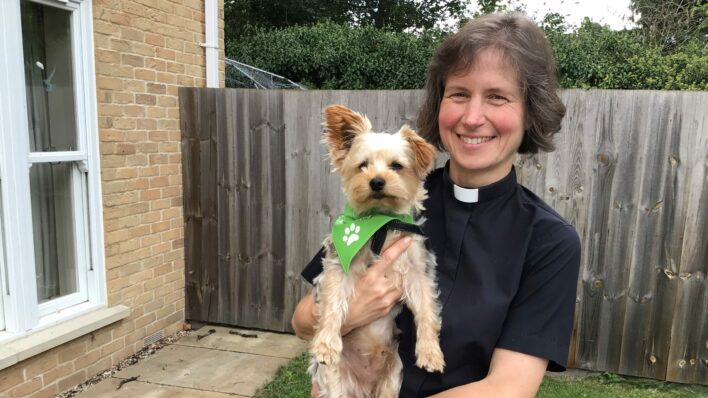 The Reverend Eleanor Whalley, Vicar of Soham, is well known around the town for her unwavering faith and profound love for all creatures. She has a kind heart that extends beyond the walls of her parish.
When she learned about Lead On, the dog walking challenge to support Arthur Rank Hospice Charity, she immediately saw an opportunity for her, and her dog Cyril, to do something meaningful for the community she holds dear.
Reverend Eleanor Whalley took in the 10-year-old Yorkshire Terrier, who was left on the A47 near King's Lynn in Norfolk, in November 2022. He was first rescued by a passerby and was then rehomed by the RSPCA West Norfolk branch which runs the Eau Brink Rehoming Centre. Since arriving in Soham, Cyril has become a local celebrity.
Reverend Eleanor explained:
"His first official engagement was attending our Christmas Tree Festival and he took it all in his stride and was as good as gold."
Reverend Eleanor continued:
"I'd never have believed then, that in just a few months he'd be ready to go on public display and join in something like this. He had a bad back leg when he arrived, and he was awful with other dogs. Patience, training, new found doggy friendships and other people's kindness have worked wonders though."
Cyril is signed up with his pup pals in a team named 'Rosie's Rebels'. Their owners are all local families and are aiming to walk 90km throughout September with their dogs.
You can keep up to date with Cyril and Eleanor's journey on their Enthuse page.
Reverend Eleanor concluded:
"We're joining in with Lead On because through my job and my personal life I've seen first-hand the amazing work that Arthur Rank Hospice Charity do. I'm so impressed by the care they give to people nearing the end of their lives and to their friends and families. I know donations will be put to the best possible use. We can't wait to be walking – and wagging – for such a good cause. Lead on!"
Sarah Clayton, Community Fundraiser commented:
"Lead on was a success before the challenge even started on 1 September. The amount of dog loving participants is a fantastic testament to how motivated our supporters are. Thank you for all your gorgeous doggy photos – keep them coming."
Have you been inspired by Cyril and Reverend Eleanor and would like to take part in Lead On for the Charity? There is still time to take up your lead!
Sign up here: arhc.org.uk/leadon to download your fundraising pack (including dog bandana!) or email Sarah or Vic at cf@arhc.org.uk or call 01223 675888 for more information.
Reverend Eleanor is keen to spread the word about how fulfilling adopting a rescue dog can be. You can read all about Cyril's rescue here.