Palliative Care, Clinical Nurse Specialist receives prestigious Queens Nurse Institute Award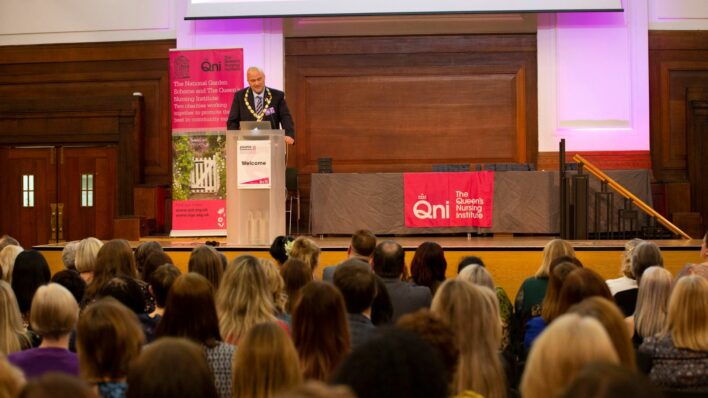 Clinical Nurse Specialist, Sarah Pake, who works in the Specialist Palliative Care Home Team at Arthur Rank Hospice Charity, was honoured to receive a prestigious Queens Nurse Institute award.
Sarah was presented a certificate and pin from Professor Deborah Sturdy OBE, at an awards ceremony held at Friends House in London in November 2022.
The Queens Nursing Institute states:
"The Queen Elizabeth the Queen Mother Award for Outstanding Service is given to community nurses who provide exceptional care to their patients and demonstrate a continuing passion and enthusiasm for nursing. This award is an acknowledgment that a nurse makes a very exceptional individual contribution to patient care and the nursing profession."
We caught up with Sarah, when her feet had touched the floor again, as she shared more.
Where it began
"I believe that numerous experiences in my life have led me towards nursing. Around the age of five, my Grandad became acutely unwell and was admitted to Hospital. Although I can vividly recall visiting him on the Hospital ward, what I remember the most is when he was discharged home and over the course of many years received care from the community nursing team. Being around these professionals who worked so hard to look after people at home whilst demonstrating such care and commitment, and always with a smile, provided me with a foundation to build my career upon."
"My career in nursing began in 1995, when aged just 18, I started my BSc (Hons) degree in adult nursing. Four years later in 1999, I graduated with a first-class honours degree and started my first job as a qualified nurse on a medical ward at Addenbrookes Hospital in Cambridge."
The move to a Palliative Care Nursing
"In my final year at University my Granny was diagnosed with metastatic cancer. She received palliative care over a number of months before she died at home. I attribute this experience as being the most significant in steering me towards community palliative care nursing. I became very aware that these patients required a different sort of nursing care to general nursing care. They needed time, compassion and empathy. They needed someone to get alongside them and their loved ones and walk their last journey with them. In palliative care we are incredibly privileged to be able to give that time and individualised care to our patients and their loved ones when they need it the most. Being calm, providing a listening ear and holding a safe space for others is something that I value and feel is an integral part of being a nurse."
"The holistic patient centred care that is provided by a clinical nurse specialist within a palliative care setting is what caught my attention the most. It refers to the provision of care to patients that is based on a mutual understanding of their physical, psychological, emotional and spiritual dimensions. Focusing on the whole person, not just their condition, resonates with me and underpins the values I have as a nurse."
Community Nursing
"Making a move into a community setting has allowed me to support my patients and their loved ones through their most difficult time in a place where they feel most secure – at home. Every day is very different in palliative care and that's because every patient and their families are different. In my 23 years of nursing I have had the opportunity to learn about lots of other cultures and beliefs and I have developed a better and deeper understanding of the similarities and differences that exist between us. In the team where I work we visit patients in a variety of settings; houses, house boats, care homes and traveller sites to name just a few. We also provide outreach to those who do not have a secure home. More recently I have also worked closely with the children's Hospice helping with transitioning young adults."
Variety in the role of palliative care nursing
"In my role I am constantly helping the patients in my care to live well, to live in the moment, to live alongside their illness instead of living in fear of it and to live with the uncertainty it brings.
Part of my work is to do with future care planning. I will help a patient to talk about their wishes and preferences especially when it comes to end of life care. I make sure that these wishes are clearly documented so that other services are aware and so that other teams can work together to fulfil them. As a Clinical Nurse Specialist I support the whole family and the patient's loved ones so bereavement support is also a big part of my role.
As a teaching Hospice, another large aspect of my role is education as we deliver bespoke palliative care training to meet the specific needs of other generalist services, this often includes future care planning, symptom management and communication skills.
I write and deliver training, both in the Education and Conference Centre here at the Hospice as well as in settings such as GP surgeries, Nursing Homes and Schools."
Going over and above
"I am a firm believer that everyone has a purpose in life and a unique talent that should be shared. There is incredible value in being of service to others both inside and outside of the workplace.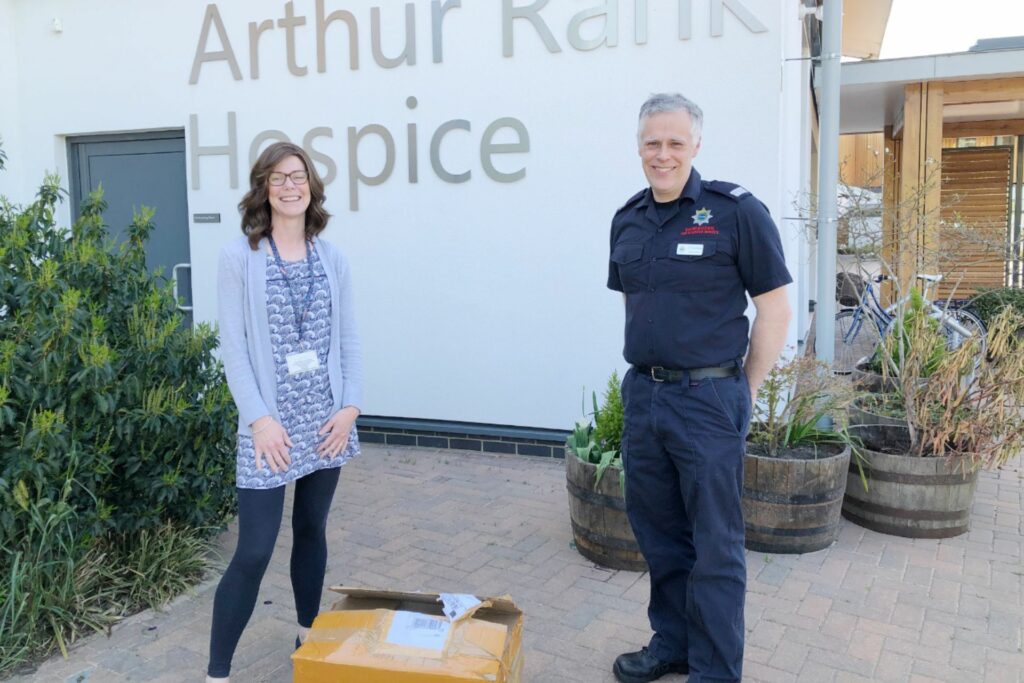 During the first lockdown in 2020 the Charity were struggling to secure sufficient supplies of safe (Personal Protection Equipment) PPE for our staff. I, alongside my Husband, organised some fundraising within our local community and we raised over £3,000 to provide safe PPE for the Clinical Teams.
I am a keen runner, I often volunteer at the parkrun, or volunteer as a pacer at other running events helping others to achieve their goals. In 2018 I was proud to run the London Marathon and raised nearly £5,000 for Arthur Rank Hospice Charity."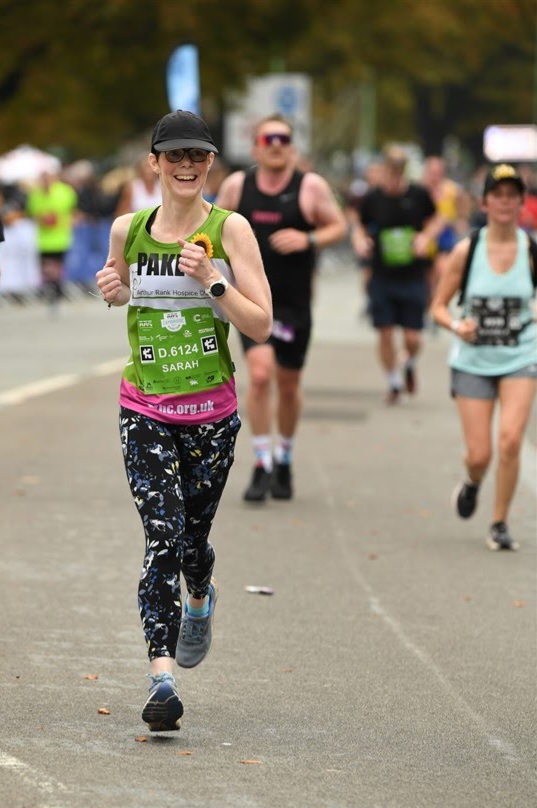 What the Queens Nurse Institute Award means to you
"It is often said that as a nurse you inspire your patients. More often than not it is the patients and their families who inspire me. To be recognised as a Queen's Nurse and to become part of such a historic institute is an incredible honour and something I've aspired to for many years. My love and passion for nursing is as resolute today as it was 23 years ago, and I remain dedicated to my profession. The title of Queen's Nurse is for my family who have instilled values in me imperative to community palliative care nursing, my colleagues who have supported me and my patients who have welcomed me into their worlds to work alongside them and their families through the toughest of times. It is because of all of these people that I am the nurse I am today."