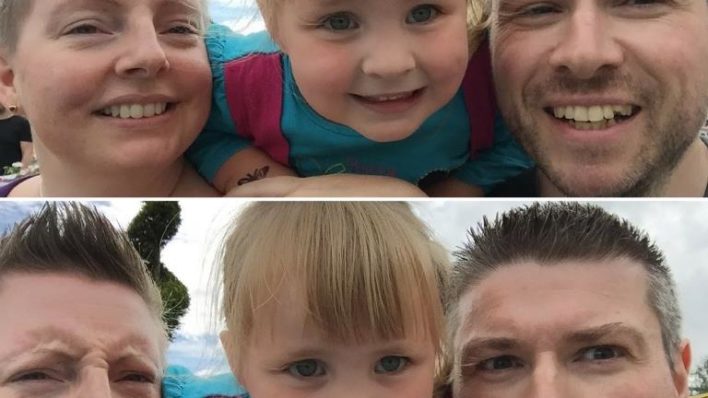 My name is Kirsty Bradbrook and I live in Melbourn in Cambridgeshire. My husband Michael Bradbrook was at Arthur Rank Hospice for three months.
Mike was a massive introvert. I would say he absolutely hated socialising, but put him in a crowd and he was the centre of attention.  He would be holding court, in the middle of the room, having everyone in hysterics.  He had an amazing sense of humour: he was really dryly witty.  By trade he was an accountant and he worked from home. He was an awesome Dad: he'd spend hours playing dollies with our daughter Lisee – who was four at the time – and huge amounts of time bouncing on the trampoline with her, or playing restaurants.  He had a fantastic imagination. He was also a huge gym bunny: my living room used to look like a gym, with three benches, twelve pairs of hand weights, four or five easy-curl bars with the weights to go on the end of them, medicine balls, kettle bells. He had every BeachBody exercise video under the sun.  He loved his exercise and workouts.
Everything happened so quickly. It just came out of nowhere; there had been no indication that there was anything wrong at all. He'd just got a bit of a bad back in November and went to the Doctor in December. On the 11th of January he went to see the rheumatologist just because we thought he had a slipped disc. The rheumatologist sent him straight down to A&E at Addenbrookes and they admitted him straight away. Two days later we got a terminal diagnosis of renal cancer with metastatic bone cancer. It was completely out of the blue.
He was in Addenbrookes for three weeks and then he came for about four days at home but he couldn't manage the pain and was rushed back into Addenbrookes. It was suggested whilst we were there – because what he needed was pain management – that the place to go might be the hospice.  That happened I think on the Wednesday and then on the Thursday we got a bed and we came in.
The idea was to get his pain under control, and then for Mike to come home. Unfortunately that didn't happen.  He got worse and worse, very quickly: the pain for Mike was excruciating. So from the 13th February he lived at the Arthur Rank Hospice. He was there for the rest of his life, which was about three months.
Mike felt safe at the Hospice. He had the comfort of knowing that – despite what was happening to him – there were people there taking care of him who were the right people: the experts and yet on-demand. He didn't have to worry about whether a nurse was coming to give him drugs, whether he was getting the right medication on time, or whether there'd be the right medication for him.  He knew that no matter what time of day or night, there was always a Doctor and a Nurse available.  He could just press a button and somebody would help him. He also had problems with anxiety, and the pain was significantly exacerbated by the anxiety. The nurses and Health Care assistants at the hospice would do things that you just can't get anywhere else: they talked him through relaxation exercises and breathing exercises; he had physiotherapy and there was a machine that he could use, with them showing him what was the right limit for him.
It's very easy to have positive things to say about the hospice.  This whole scenario was the worst thing that has ever happened to me, that I have ever experienced or I could imagine ever experiencing in my life – the shock and the quickness of the situation – and I feel confident saying the same about Mike.  I find it astounding that despite the torture of that situation, there was still something positive in it and that – without a shadow of a doubt – is what we got from the hospice.
Even though he couldn't come home, we could go visit him. Lisee, who is now five, couldn't really visit him in the hospital, but at the hospice there was play rooms and there was toys she could play with. If Daddy was tired we could just take her out to the room next door. He could go out into the garden with her and we got a little crazy golf set; he could swing of plastic golf club, so she felt like he was playing with her and he had time with her.  It made an immeasurable difference to her.
She actually said to me the other night: "Daddy liked living at the hospice, didn't he Mummy?" because she's very young and she doesn't remember a lot.  She was only four when he died and she gets some of her stories muddled up.  But she remembers playing games with Daddy in bed at the hospice and playing dollies with Daddy at the hospice.  She remembers lots of experiences from that time which – if he had been in a hospital or if I'd been caring for him – we wouldn't have had. Mike's care was taken care of and we could just be a family together.  We could have that last bit of time and enjoy it.
And for me – I could stay.  For the last three weeks that he was alive, I went home for two nights in that time.  I had a bed in his room and the guys would bring me breakfast when they brought him breakfast.  Before we arrived, I was terrified and horrified that he had to go into 'a hospice'. You just don't visualise it as somewhere nice to be. I'd never even thought about any of this, it never occurred to me to even think about the hospice. But I guess in the back of your mind you imagine it to be just a hospital where people go to die, or I kind of envisaged an old people's home.
I remember when we arrived and the ambulance guys brought him in, we walked round to the room. They were settling him in his room and I walked out of the bedroom and into the room where the tables are for breakfast and lunch. I just broke down.  I was overwhelmed with relief I think. It was this feeling of 'This isn't what I expected. It feels homely.  This is a place where it's OK to be'.  It felt warm and friendly and so much not like a hospital.  Everyone was just very relaxed and welcoming. I'm not sure exactly what I expected, but it certainly wasn't that.
In the whole time that Mike was ill, I never felt that I didn't have to be strong (whether that's me or the fact that he desperately needed me to be strong).  Certainly for him, I felt like I had to be together all the time.  But obviously that's not something you can maintain over a period of three months in such extreme circumstances. What I found, over time as we were there, was that I could break and there was always someone to look after me if I did.  I had to come home to Lisee at times, to be there for her too, but I'd go home on an evening feeling safe in the knowledge that when I left, he was going to be OK.  I'd come back in the morning, I'd say to the nurses "How was he last night?" And they'd say "He had a little cry after you left". So I knew that he was being strong for me as well but that when I left he didn't have to be strong: he could break.
I had a wonderful support from Teresa. I think she was a Nurse but I'm not exactly sure what her role is. It actually got to the point where I came in one day… and I was really struggling. The next thing I know, Teresa appeared.  She said "Just thought I'd pop down and see how you are". I went out of the room with her and we went through to one of the family rooms and I just broke.  I just had a complete, hysterical sobbing fit and got it all out – and I really needed it.  I said to her: "Oh, your timing was amazing.  I'm so pleased that you came. Thank you." And she said "Well, actually, Emma just saw you coming in, and she thought that you might be having a bit of a hard day, so she gave me a call."
Emma – the lady on reception – she was just a joy to see every day.  She always made arriving feel better. She was always there for a bit of a chat. Whenever he was busy or was asleep, I could just go and annoy Emma and she'd always got kind word and a friendly ear. There was always someone around, even if it was just me sticking my head around the door of the Nurse's Office. The staff in the Bistro too, I got to know them.  There was a wonderful risotto one day and I passed comment to the Chef about how much I love this risotto.  He saw me coming in a few weeks later and said "Oh, I've got risotto on for you today".  Just little things like that, they'd remember.  They'd chat with me. I was made to feel part of the place.  I didn't feel like a visitor. Instead I felt like somebody who belonged there and was part of the family.  Everybody that was there – whether they were there for a week, a month, or three months (like we were) – are made to feel part of a family. Like this is your family looking after you. Very much a personal touch – the whole place is like that.
It's not just the staff either. I met some other people, because we were there for such a long time.  It was always in the kitchen making a cup of tea or sitting on the chairs in the lounge, someone would come in.  Everyone just struck up conversation and there was just a real feeling of family there.  A feeling of a safe place, where everyone who's there is there to support each other. I think you only get that because that's the environment that the staff create.  If they'd made it feel clinical or cold, no one would talk to each other. We had the space to form those bonds and get that support.
While we were there, we wanted to do something to commemorate us as a family. I said it would be nice to have something permanent.  One of the ladies suggested doing hand prints.  I thought this was a fabulous idea. The next thing I know, Teresa came down with a bag full of acrylic paints and sheets of canvas and said to us "Here you are, here is all the stuff you need, I'm going to tell you exactly how to do it."  They set us up at one of the tables at the far end, so we could have some time.  We wouldn't have done it if they hadn't suggested it and given us everything we needed: we wouldn't even have thought of doing it.  It was a really nice thing that, as a family, we could do.  I've got the picture now of the hand prints.
Teresa and nurses would take Lisee and entertain her for an hour, if Mike was tired or so that we could have some time together. That made a huge difference too. When Mother's Day came round, he was too ill and too dopey to think to do anything.  I was a bit gutted, because I thought 'This is the last Mother's Day where you do something for me' but he just didn't think about it.  I'd got a bit upset.  Lisee had gone off with the nurses and he'd had a sleep and I had had a bit of time on my own, pulling myself together, you know – suck it up – its fine.  They came back and they brought this bunch of flowers and they had helped Lisee make card for me. I just wept.  It was just the most thoughtful thing because he hadn't been able to do it and I had got irrationally upset about it.  They did that and it made it – it made it special.
Mike was a massive, massive movie buff, horror films and action movies, loved his Star Wars and his Star Trek. So he always wanted a big cinema experience and because he didn't want to go out, he wanted it at home.  So when we bought the house, we had the garage converted into a media room.  We had a split floor, seats at the front, seats at the back and he put all his fancy surround sound up with a big sub-woofer and all the sound proofing, so the child doesn't get disturbed. He was a mad technology buff.  He loved his technology, any gadget he could get his hands. Honestly after he died, I thought 'How the hell am I going to work this house?'  Everything is wired together: the lights are wired together; I can control the heating and the lights and the television from my phone!
When he came into the Hospice that was the thing: he was desperate for his movies and his TV. He said "There's only regular TV." And they said well, we could sort out the television if you wanted to bring in your devices in.  So, the IT guy came down and the maintenance guy, Dave – because of where the TV's were so close to the wall – had to come and take the TV off the wall, so we could get all our cables into the back, and then put it back onto the wall.  So Mike got his Apple TV plugged in.  It was great for me as well, because if he fell asleep I could just flick over to my stuff. He had all his TV shows, he could watch his Netflix and everything – and we could watch Eurovision.
When Mike got ill, we didn't know how long he had.  I don't know if it was in denial optimistic, but he expected that he would have a lot longer he did, and jokingly he used to say "Well, I better make it to Eurovision." We used watch Eurovision every year: we had spreadsheets, we'd score everything and we'd can mark them at the end and work out who would win.  We watched all the semi-finals and listened to all the songs in advance and things like that.  It was a big thing for us; it was always a fun thing; it was his thing.  He said "I better live til Eurovision, I better live til Eurovision." It was actually on just over a week before he died. We arranged for my brother in law and sister to come down for it and – because they live in Surrey – they stayed the night at the hospice.  We were hoping to watch it in the lounge, but he wasn't well enough to move into there. But with his Apple TV, we got all set up and we were able to watch it in his room. We had a little Eurovision party.  It was amazing!  It was his one thing that he was determined to see. And he did.
My sister and brother-in-law were so grateful to have that family time.  My brother-in-law also happens to be his best friend and so he brought a load of photos of their holidays away together.  We look through old photos and we had some reminiscing.  It was a really lovely special evening.
Any gadgets Mike could get into his room at the hospice, he did. He loved his music; all kinds of music, but I used to tease him that all his music was miserable.  He loved the Smiths and Joy Division and all that sort of thing.  He had his little music player and his special headphones that he could wear at night.  Although he didn't use them so much, because he insisted on buying an Apple watch: he'd always wanted one. So he had that and really entertained the nurses: every time they came in, he would tap it and Mickey Mouse would tell them the time! I'm sure some of them just came in sometimes and said "Oh, what's the time Michael?" on purpose.
Had he been a little bit more well and lived a little bit longer, the hospice were in the process of arranging to set up the Bistro with a big screen so we could have a Star Wars movie night. He didn't get to do that, because he wasn't well enough, but they were planning to wheel the bed through to the Bistro so he could lie there and have the big screen. You wouldn't think you could possibly do all these things: they went way above and beyond.  One of the nurses had a 'Star Wars Cluedo' and brought it into play with him when she'd finished her shift.  It's things like that. I would have said that we got special treatment: maybe they gave Mike special treatment and attention for some reason, he charmed everyone or whatever.  But talking to the other people that were there, everybody got that.  It wasn't just us.
No one wants to be in a situation where they need to be there: it seems like it is going to be the worse place you could possibly end up, because of all the connotations around the hospice: thinking it's where you go to die.  It's not.  It's where you go to be looked after. It feels like the place where you go to live out the last bits, to live at the end.
The best word that I can use to describe the hospice is safe: that is just what it made us feel.  Safe that we were being looked after physically (Mike was being looked after and getting all the care he needed and there was always someone to look after him) and safe in that it was an emotionally supportive environment. If you needed to just sit and have a cry, there was always someone to sit and have a cry with.  Whatever you're going through is easier with the support and the care and the facilities at the hospice.  I'd say to someone who is going in at the end of their life: "It will give you a chance – and it will give the people who are looking after you a chance – to spend time with you and for you to spend time with them, and take the pressure off."
I think the bedroom space was possibly the most important thing to us.  It was nice that Lisee could go and use the play rooms; it was nice that I could go and see in the lounge when he was having a sleep; it was nice we had the Bistro and the good food; the garden was lovely and it was nice for him to be able to see that, especially when he couldn't get outside.  But the most important thing was a private space – having a room that was big enough for me to stay and for Lisee to play in. Mike could be in bed chatting; we could have half a dozen guests and we had his cousins over from Ireland: there was his cousin with their two kids, plus his mum and dad, plus me and my mum and dad and my daughter. We could all fit in there and we could close the door and not worry about being disruptive.  We had the space to be together.
Having his own ensuite bathroom as well: that meant that he got to do his own personal care for a lot longer than he otherwise would have.  If he'd had to walk down the corridor to a bathroom, or if he'd had to try and use shared facilities, he wouldn't have had the confidence to keep going and keep pushing himself to do his own personal care for as long as he did.  And that gave him a sense of trying.  It made him feel like he hadn't given up and let him, be him for that bit longer. Even with the illness, he could still be himself for just those extra few weeks.
The thing that made the biggest difference was just having the time. I feel like we got the absolute most out of those last three months that we could possibly have got.  I don't feel like I could have squeezed anything else in there, given his health.  There's a huge amount of comfort in knowing that everything we could do, we did.  And we had the time and space to do it, in the hospice.
Maybe £20,410.96 for a day, £850 pounds for an hour or £14.17 for a minute for the Hospice's care might seem a lot to some people. But I would say… I think there are lots of minutes where it's just time: it just goes and you don't notice them.  But then, there are certain minutes and certain hours….  Mike's last hour: having Debbie, one of the Healthcare assistants sat with us in the room for that hour, as he left us: she sat quietly in the corner, and she didn't intrude.  She didn't say anything, she was just there.  Just to have her sat there with us, knowing that I could hold his hand and I could talk to him.  All I had to do was focus on him: on his last hour and last minutes.  And she was there ready to step in, when the time came.
There were a lot of those minutes. Just those little tiny things: a nurse who stood with him, for 15 minutes and did breathing exercises at night, to help ease his pain, to help calm him.  The ones who had helped him with his personal care, as he cried because he couldn't bear the fact that he couldn't do it himself anymore, and everything hurt so much.  They stood with him while he went to the bathroom.  They sat with him, and they helped him clean himself. They cleaned him, when he couldn't physically move.  And they just made him feel better, when I couldn't do that.  There's not a financial value you can put on that, there just isn't.
I saw a photo on the Facebook page recently of a group of the nurses there: nurses and Health Care assistants, and Julie – the housekeeping manager – and I thought 'Its five months later and I can name every one of those women… and I can name 10 different things, that every one of them did, something that stood out for all of them'.
It's not an experience I would ever choose to have, but having to have the experience, I couldn't have chosen a better place to have it.  Thank you to everybody: the Doctors, the Nurses, the Healthcare assistants, the house keepers, the cleaners (who would chat to us) the maintenance guys, the Bistro staff, the Chaplaincy service.  I feel like I know every person in there.  The lady on Reception, Sarah: even when I ring up now and say, it's me, she's like "Oh hello Kirsty, how are you?  How are you getting on?  Are you going to come in and see us soon?"
I just want to say a huge thank you to everybody. I have no regrets about how that time went.  There's nothing I look back over those few months and think 'I wish we'd done this', 'I wish I'd got different treatment' or' I wish we'd had a better situation to be in'; 'I wish I'd spent more time with him' or 'I wish we'd done more family things'.  There's nothing more anyone could have done – given his health and the severity and rapid onset of what happened – to make the situation any better than it was.  I am and I will be, eternally grateful for that. We got three months as a family. It made all the difference, it really did.