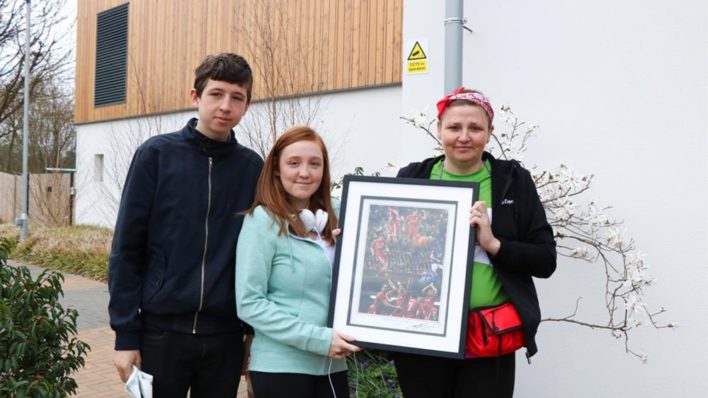 My world shattered on June 10 at 4.07am, when I lost my beautiful son Daniel to cancer. He was 21.
He, his sister and brother were my everything. Daniel was such an inspirational person and still is: his strength and courage was mind-blowing. He never let anything get him down at all.
He was diagnosed at age seven with ADHD and even that never stopped him trying everything. He was always happy and making the best of things.  He loved his brother Kane and sister Lorna very much, and if you saw one of them, you'd be sure one or both of them would be close by: my three little musketeers.
We went through a lot with Dan and always come out stronger for it. Whenever I felt like giving up, he would never let me be down for long.  It was always "Come on mum we can do this, just have a laugh!".
We moved to Cambridge when Dan was 10 years old and one of the first things he did, was tell everyone Steven Gerrard was his Dad!  But no one could stay mad at him for long. His cheeky smile would could appear and everything was good.
He really thrived in Cambridge, joining the boys' brigade and even Histon hornets' football club for a while. His teenage years kicked in and Dan moved out but never lost touch with us: we are and always will be a close family.
Dan met Rebecca and eventually they got married in August 2017. He was so excited when his little girl Millie came along. He doted on his little princess and was so excited and proud to become a Dad. She looks so like him when he was a baby. It was just a joy to see them together.
We first knew something was wrong when he stopped eating properly which was so unlike him. Usually he was the human bin, born with hollow legs and he loved his food. He eventually went to the doctors after a lot of nagging from us. At first, the Doctor said it was his reflux and sent him away with medicine but, when it didn't get better, they took him and investigated with a camera down to his stomach.
On 28 March we were told what was wrong with him. I never dreamed for a moment about how bad it would eventually be. It turned out he had an ulcer and behind it was the cancer. When I was told it was like someone ripped out my heart, I screamed and couldn't stop crying. I stayed with Dan that night and held him as he sobbed. I prayed to God to take me instead. My beautiful boy was dying and there was not a thing I could do about it.
He was in and out of hospital until May and then he never left. He was eventually moved to Arthur Rank Hospice, which I had been dreading but the staff and volunteers there were fantastic. Even in his last week's Dan never stopped laughing and joking and he was made up to find out one of the nurses was from Liverpool.
In his last days his family came from all over to see him. We were with him when he passed. He knew he was going on that day and told me he wasn't scared as his Nan (my Mum) had come to collect him and take him to heaven.
One of the last things he asked me to do was raise funds for the Hospice: it was his suggestion that we could walk from Cambridge to Liverpool.  Angela and Lorna's journey too place in March and April 2019.
Daniel's younger brother Kane now volunteers at the Arthur Rank Hospice Shop on Burleigh Street in Cambridge.
As Daniel's sister, Lorna explains, the whole family is passionate about helping the Hospice make every moment count for others like them:
"Arthur Rank Hospice were amazing, making Daniel's last days as comfortable and happy as possible. We want to raise as much money as possible for this amazing hospice to carry on looking after people in their last days."