100 year old Maisie displays her card from the King and Queen Consort at the Hospice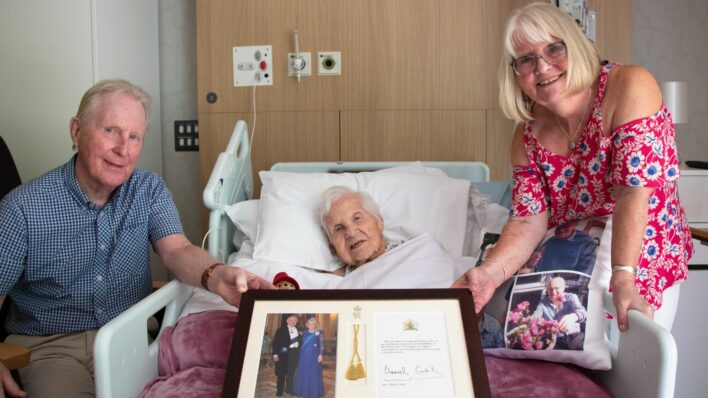 There was a buzz of excitement at the Inpatient Unit this week when the clinical staff realised they had a very special patient with contacts in high places!
Maisie Clark from Isleham, Cambridgeshire turned 100 years old on 8 March this year and was one of the first few to receive a card from King Charles III and the Queen Consort.
Her daughter Tricia Brown, explained:
 "The card arrived the day before her birthday but you have to apply for it – it's not automatically sent. Back in January I rang Buckingham Palace and was so amazed when someone answered the phone with the words 'Buckingham Palace'! They were brilliant and it went through so smoothly. It came with the card, message and tassels and we asked for the frame too."
 Tricia continued:
"I think Mum was disappointed it was from the King and not the Queen. When Mum was born King George V reigned. She was 30 years old when Queen Elizabeth II took over the throne and had been the Queen for the majority of her life."
Following the Queens death, cards were paused during the official mourning period between 9 -19 September 2022, as well as for some weeks after while new cards were being designed and printed1. King Charles III and Camilla's Coronation was held two months after Maisie's 100th birthday, on 6 May 2023.
Maisie was born in Isleham, Cambridgeshire in 1923 and was one of ten children. After the unexpected death of her Father – the result of a motor bike accident in Fordham, when Maisie was only five years old, her Mother ran The White Swan Public House in Isleham, as one of the only female Licensees at the time.
Maisie's first job was as a maid at a house in Cambridge aged only 14 years old. She met her husband, John Clark, when she was 17 years old. They married in Isleham and went on to have Michael in 1944 followed by Tricia in 1949.
Maisie's son, Michael Clark, who lives in The Gold Coast, Australia has made several trips to visit his Mum in recent years. He explained:
"We've had some precious time together, I lived with Mum for three months last year from July to September and again this March and April when I came for her 100th birthday. We had a coffee morning to celebrate with her and 50 members of her family and friends at Isleham Bowls Club. I also came for her 90th birthday" and teased "You wouldn't choose to visit England in March but it was worth putting up with."
When we asked Maisie how it felt to turn 100 she modestly replied: "It didn't feel any different really."
Tricia went on to share her experience of the Hospice for her Mum:
"It is absolutely amazing, so beautiful – she couldn't be anywhere better. She loves birds and the staff turned her bed so Mum could see the birds here.
Maisie added: "I used to have Blue tits at home".
Michael reflected: "It's so quiet!"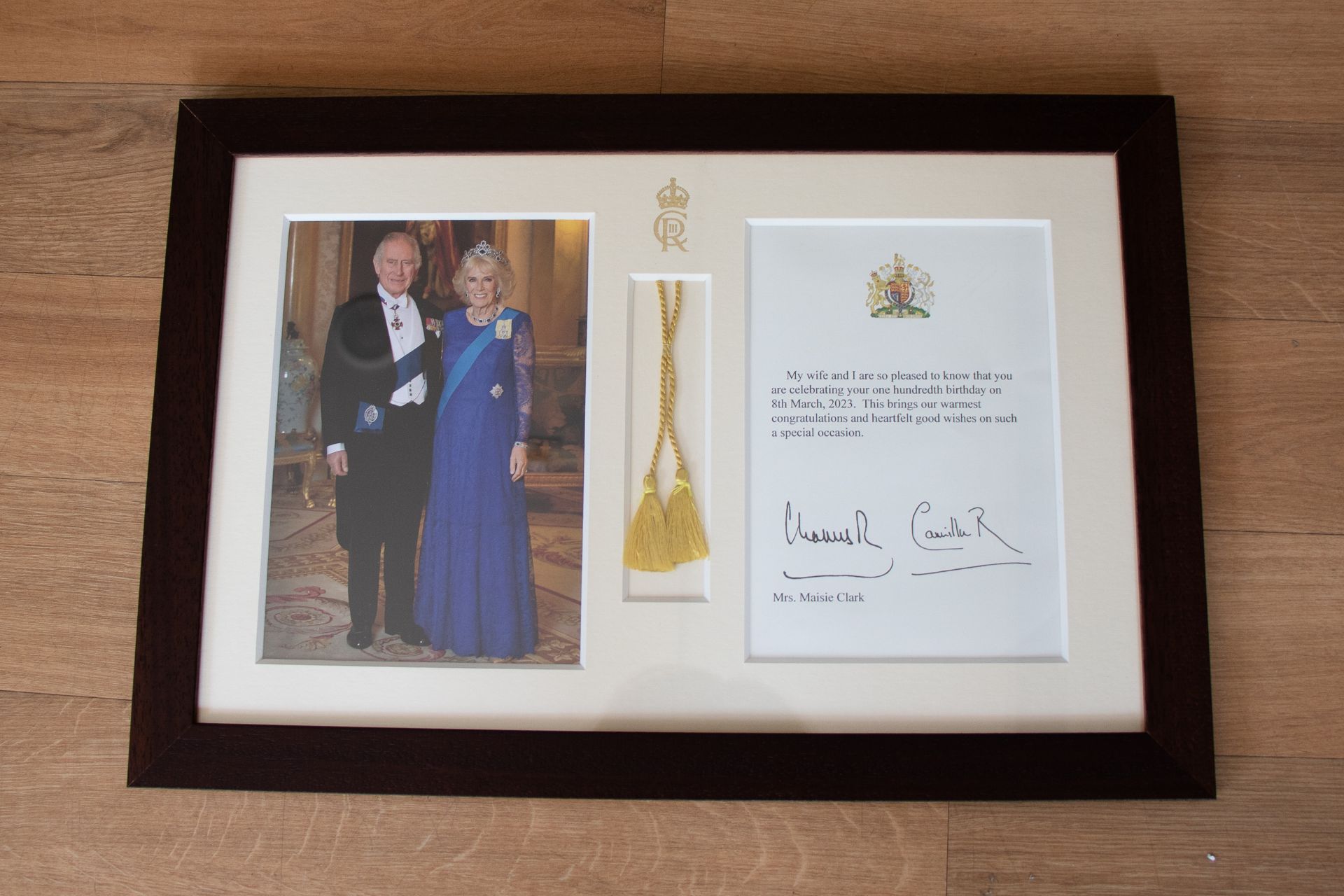 Just before Maisie took the opportunity for an afternoon nap, she was photographed with the framed, personalised, signed card – which reads 'My wife and I are so pleased to know that you are celebrating your one hundredth birthday on 8th March, 2023. This brings our warmest congratulations and heartfelt good wishes on such a special occasion', from the King and Queen Consort.
Also beside her was her precious pillow, which was a gift from her only remaining sibling, Tony, aged 95, with photos of him, which Tony's son, Barry, had had made. Not forgetting Paddington Bear that Tricia bought for her when they celebrated Coronation Day together on 6 May 2023.
Michael added:
"She's really at peace here – the staff are doing a wonderful job."
1 bbc.com