Education & Conference Centre Privacy Notice
This notice explains how we collect, hold, and process data about you, if you use our Education and Conference Centre or Library for venue hire, learning or training.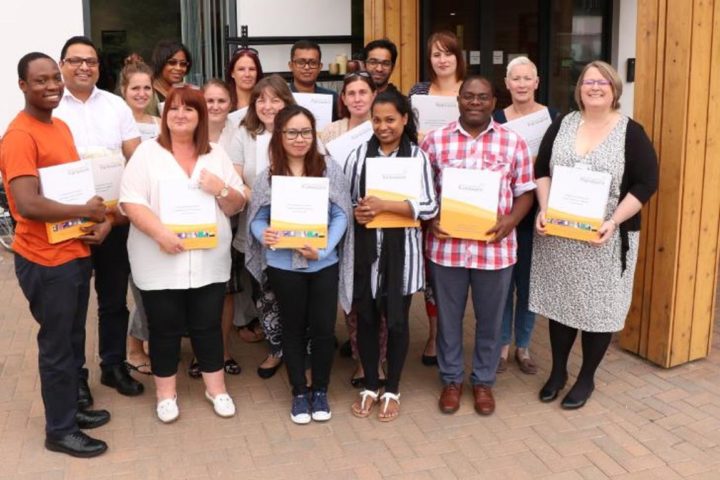 The Arthur Rank Hospice Education Team deliver education and training for clinical staff, and healthcare professionals working with palliative care patients and families. Our services include:
Study days and bespoke education and training to health and social care professionals either in their care home, hospital or work setting or at the hospice's Education & Conference Centre

Library and information service for staff, volunteers, students and other health professionals

Venue hire service for use of our meeting and conference facilities for NHS partners, charitable organisations and corporate clients
We are committed to protecting and respecting your privacy and aim to be transparent and open about how we collect, store and use your personal information.
Please note we reserve the right to access and disclose individually identifiable information to comply with applicable laws and lawful government requests, to operate our systems properly and to protect both our users and ourselves.
All our processes conform to the latest Data Protection legislation and our commitment to confidentiality. We keep our Privacy Policy under annual review and we will make you aware of any updates.
NOTE: The wording in this document reflects the requirements of the General Data Protection Regulation (GDPR), which will come into effect in the UK on 25 May 2018.
Read more about the data we process and store
Definitions of Personal Data
By personal data we mean any information that might allow you to be identified, such as your name, address, date of birth, job title, organisation or photo.  
What data do we collect about you?
We collect information about you in order to provide our services to you.  The information and data we collect may be in different formats including digital, paper, video/sound recordings or photos and may include:
Your name, contact details, job title and organisation
We may keep a record of your communication exchange (digital and/or print)
For venue hire enquiries we also collect information about your event/venue requirements and invoice details which are shared with our Finance Team
We may record and/or photograph for live streaming online or repurposing in digital e.g. on our website; YouTube channel, or paper format. This will be for the purpose of promoting and providing our educational resources and services.  We maintain copyright and any other intellectual property in photographs taken and/or in digitised recordings belong to Arthur Rank Hospice Charity.
Where practically possible we will seek consent in advance to provide the lawful basis for processing data, and at all times, will provide clear instruction on how you can opt-out of any photography or filming.
In return for access to our training, you consent to any such filming, photography and/or live streaming and to us in reproducing and publishing your words and/or likeness in any transcript of or publication relating to the event and/or for the purposes of publicising the services of Arthur Rank Hospice Charity.
Photos and recordings that contain personal data will be protected and disposed of securely in accordance with data protection legislation. If at any point you wish to withdraw your consent or request that we stop using your data, please contact us at education@arhc.org.uk or telephone 01223 675780.
How we store and share your data
Your data will be held securely on our own databases in compliance with our Data Protection Policies for up to five years and only for longer with your permission.
1/ Education Programme  
We use Eventbrite for leaner registration of our Study Days.  Please visit here for Eventbrite's privacy policy.  Arthur Rank Hospice is a regional centre for the Gold Standards Framework and we share data for care homes who are participating in the programme with the national GSF Centre who manage the programme. Visit here for GSF Privacy Policy.
2/ Library Services
When you register for our library services, your personal data is stored on a secure database and may be accessed by the external organisations listed below in order to process it, based on our instructions and in compliance with our Privacy Policy and all other appropriate confidentiality and security measures:
NHS Library Services in the East of England
Sirsi Dynix, developers and suppliers of the software for our Library Management System
Health Education East of England and Midlands who fund the system and provide technical and administrative support.
3/ Venue and Meeting Room Hire
When you make an enquiry for hire of our meeting room facilities, we collect additional data about your event and all data is stored on our database for legitimate business purposes, and will only be used for the purposes of client engagement.
How we use your data
The data we collect is for legitimate business purposes in order for us to provide our services to you. We need your contact details to process the course booking, allocate you a place and use the relevant details for funding and to process invoices. Information is also required to ensure refreshments are booked and that any requirements are met, such as hearing loops or special dietary requirements. In some cases data about your current qualifications or job role is needed to ensure you are applying for the relevant course.
Data held by the library service is used only for the purposes of delivering library and information services, including loans of library resources, reminders and overdue notices and interlibrary loans and document supply.
If you are booking a meeting room, we process your personal data because it is necessary for us to perform a contract or to take steps at your request, before entering a contract.
If you have opted to receive marketing from us, your personal data will be collected for the purposes of sending you news about our education programme, library services or conference facilities and will not be shared, sold or rented to any third party organisations.
You can opt out of receiving marketing at any point by contacting education@arhc.org.uk for education and training or venuehire@arhc.org.uk for meeting room hire.
Access to the information we hold about you
You have the right at any time to request a copy of the information we hold about you.  We aim to ensure your personal information is accurate and up to date and you may ask us to correct or remove information you think is inaccurate or opt out of receiving our marketing material at any time by sending us an email as above.
Raise a Concern or Complaint
Arthur Rank Hospice Charity aims to meet the highest standards when collecting and using personal information and we take any concerns or complaints very seriously. We encourage you to bring concerns to our attention if you think that our collection or use of your data is unfair, misleading or inappropriate or wish to raise a concern.
Please direct your comment or complaint to the Head of Education and Practice Development, Arthur Rank Hospice Charity, Shelford Bottom, Cherry Hinton Road, Cambridge CB22 3FB email: education@arhc.org.uk tel: 01223 675780or via arhc.org.uk/professionals/education-training/