You're invited to Bridge the Gap 2020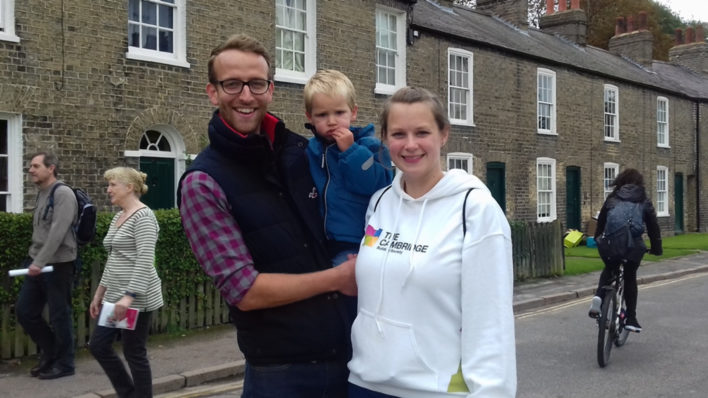 This August and September, you are invited to reunite with the beauty of Cambridge, by taking part in a novel alternative to the City's traditional Bridge the Gap Walk. The walk can be completed in one day, or over a number of days, between Saturday 29 August and Sunday 20 September. This walk with a difference will be raising funds for Arthur Rank Hospice Charity and Romsey Mill.
Bridge the Gap, sponsored by The Cambridge Building Society, has historically hosted upwards of 2000 walkers each year, who have enjoyed a close up view of the City. The highlights from previous years include stepping behind the walls of the stunning Colleges, and visiting their beautifully manicured gardens. Due to obvious reasons, the walk is unable to access the Colleges this year. Therefore, the organising committee has turned its attentions to the history and beauty of the City itself.
This event is a special opportunity to get to know Cambridge's quirky streets, enchanting corners and historical landmarks better. The carefully crafted route covers a distance of around 2.5 miles. This will be self-guided and can be walked all in one go, or in sections on different days.
The event opened for registrations at arhc.org.uk/btg, on Tuesday 21 July with anyone welcome to register, at a cost of £20 per household. The fee covers the registration pack. This includes a booklet, with a map detailing the route walkers will embark upon, two quiz sheets and an answer sheet. The pack is well suited to either a household of one or a family of two adults and two children. In the week prior to the walk commencing, participants will also receive a link to a podcast providing a flavour of some of the highlights they can expect to see on the route.
A proportion of the fee, as well as any sponsorship raised by those taking part, will be split evenly between the benefiting charities, Arthur Rank Hospice Charity and Romsey Mill. The route is wheelchair and pushchair friendly, although those taking part should be aware that this is a self-guided walk. Therefore, we will be unable to marshal the route in the usual way, so participants will be responsible for their own safety.
Events Officer, Angeline Liles comments:
"We're so delighted to be able to put on Bridge the Gap walk this year, despite all the challenges. Participants have a window of three weeks to do the walk, meaning social distancing rules can be maintained and whilst this might mean a different atmosphere to usual, we think it will still provide a memorable summer highlight for households and families. Full guidance will be provided in the registration packs on how to navigate and enjoy our amazing City from a new perspective."
Neil Thompson, Fundraising and Communications Manager at Romsey Mill, explains how important the funds raised by the walk, will be this year for people living in Cambridgeshire:
"Everyone has been affected in some way by the impact of the Coronavirus pandemic. And that is also true for both charity partners involved in Bridge the Gap, who have seen an immediate and significant drop in income. Bridge the Gap is such a lifeline for the work that the charities do, helping to fund vital work. We are confident that everyone taking part in our alternative event this year will have fun and enjoy themselves. We also know that their participation will help to generate essential funds towards the work of both charities, helping to plug the gap in lost revenues, and ensuring that vital care and support reaches those in our county who need it most."
Carole Charter, Chief Commercial Officer at The Cambridge Building Society, adds:
"Supporting our community is at the heart of how The Cambridge operates and now more than ever we are delighted to continue working with these important local charities. As headline sponsor for 12 years we know first-hand the difference funds raised from this event makes for people local to us. We are therefore proud to be able to support this new version of the walk and we will once again be encouraging our members and our teams to get involved."
Over the eighteen years since it began, more than 37,000 walkers have taken part in Bridge the Gap and £550,000 has been raised for local charities.
If you would like to join this special event, please visit our dedicated Bridge the Gap page to learn more and find out how to register. What will you discover in Cambridge this summer?