Your Hospice Lottery Prize Fund is getting bigger and better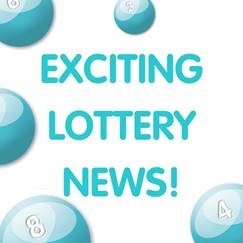 Did you know that Arthur Rank Hospice Charity is part of Your Hospice Lottery?
Your Hospice Lottery is a fun and easy way to raise vital funds for our Hospice, plus you have the chance of winning one of 187 guaranteed cash prizes every week ranging from £10 to £1,000 and a rollover jackpot up to £25,000!
New weekly prize funds 
From 1 April 2021 our prize fund is getting BIGGER and BETTER! The new weekly prize fund will be: one prize of £1000, one prize of £250, 185 prizes of £10, PLUS a rollover of £500 that increases weekly to a maximum of £25,000!
There are also two new ways of playing:
Try your luck with lottery single tickets!
It is now even easier to support us by purchasing single tickets online for each Your Hospice Lottery weekly draw. Whether you play regularly and want to boost your chances of winning as the rollover gets higher, or just want to try your luck one week – single tickets are an easy way to play.
Simply pay for the amount of plays you would like in the next draw – each ticket costs just £1 and keep your fingers crossed! All tickets must be purchased before 9am on Thursday to be entered into the draw on a Friday. Go on- give it a whirl!!!! Simply visit this 'Play – for this Friday's Draw' page on the Your Hospice Lottery website and we will send you your lotto numbers via email!
Play & Save coming soon!
Play & Save is a brand new initiative by Your Hospice Lottery giving loyal players of 3 months or more access to exclusive discounts at local and national businesses. The saving potential could add up to much more than the cost of your annual membership.
This exciting new reward scheme has so far launched in Essex and the South West and will soon be rolling out nationwide, so watch this space!
This is a way of saying 'thank you' to lottery players for their ongoing support and to give something back as a token of appreciation.
How to support us whilst playing Your Hospice Lottery 
Your Hospice Lottery is one of the best ways to support us and is a regular income that we can really rely on and plan for, so thank you to all our loyal players who continue to support us through this difficult time, you truly are amazing!
Go on give it a whirl! If you'd like to find out more about supporting us regularly in this way with a monthly 'play', simply visit yourhospicelottery.org.uk/play
Please note that from April 1st 2021, the minimum age for playing the lottery will be 18, and not 16.
Thank you and good luck!